Winter in Miami means something different than everywhere else. A "temperature drop" is really a light breeze. "Bundling up" means putting a T-shirt over your bathing suit. Instead of building snowmen and going ice skating, we have boat shows, outdoor art and food festivals, carnivals, and other things you can do when your "winter" hits a staggering low of… 75 degrees. Read below for more of those things!
Through January 6
Santa's Enchanted Forest
Whoever thought it was a good idea to erect a seasonal carnival in a random park off the side of the Palmetto, fill it with shady Santas, serve coquito, and play "Mi Burrito Sabanero" a million times clearly understands the true Miamian. The rides are just as questionable as they were when "Santa's" launched 36 years ago, but that won't stop the locals from paying $60 for season passes.
Cost: Single-day tickets start at $35
Drink cocktails straight from a cement truck
Through December 15
Various locations
A 27-foot cement truck with a 2,400-gallon cocktail shaker attached to it is rolling through Miami, and it's parking at bars all over South Florida. On select dates, whisky lovers can find it at Gramps, Drunken Dragon, Total Wine, Beaker & Gray, Death or Glory, and other locations. Go to one of its events and get a "Mixed Up Monkey" cocktail poured straight from the shaker -- it's a mix of Monkey Shoulder Whisky, mint, simple syrup, lemon juice, and soda.
Cost: FREE during official events
Through December 23
Order Gingerbread Flip, Christmas Carol Barrel, or The Jingle Balls Nog cocktails from bartenders wearing ugly Christmas sweaters. Miracle, the Christmas-themed pop-up bar from NYC, has completely taken over the back room of Gramps, which is now covered in garlands and tinsel.
Cost: FREE
Through January 1
Brightline Fort Lauderdale
Like most things winter, we don't actually HAVE a Polar Express, but we do have a train, and that's practically the same thing. For a short time only, Brightline's Fort Lauderdale station will be decked out like the North Pole, and the train will take Christmas fans on a magical 62-minute journey to West Palm a la The Polar Express. The ride comes with dancing chefs, Santa, hot chocolate, cookies, Christmas presents, singers and more, and Christmas pajamas are welcome.
Cost: Tickets start at $50
Through December 30
ZooMiami
Christmas lights are to Miamians what snow is to Northerners: everywhere, just another reason we have traffic. Get off the Florida Turnpike at ZooMiami, and you'll see what we mean. Through the end of December, the zoo will stay open Friday and Saturday nights to show off its half a million animal-shaped light sculptures and tree lights, carousel rides, Christmas carollers, Santa, Snowman's River Boat Rides, hot chocolate, and cookies.
Cost: Tickets start at $14.95 when you buy them online
Through January 31
Loews Miami Beach Hotel
Throw it back like grandpa used to at The Bellhop Bar. Here for a short time only, this vintage pop-up bar serves apothecary-style cocktails out of a retrofitted steamer trunk. There's an opening bell ritual to open up the bar every night at 5pm, and for two hours, guests can drink Old Fashioned con Mangos and Miami Startinis.
Cost: Drinks priced a la carte
December 6-December 9
Everywhere
This is that weird time of year where you can justify buying expensive cardboard drawings "because they tell a story," and then drink away your buyer's remorse at a 4am sex show. Art Basel Miami Beach brings the world's top artists, art connoisseurs, and celebrities to Miami for a long weekend of satellite art fairs, celebrity events, parties, pop-up nightclubs, and questionable life choices.
Cost: Varied by event
Advertisement
Between the holidays and finishing out the year at work, your calendar can fill up fast in the colder months. But whether your winter plans involve heading out to a new bar opening, onto the open road, or to the office, Wrangler has new styles and comfortable fits made for wherever life takes you -- so you won't have to think twice about what to wear.
December 14-December 24
Adrienne Arsht Center
George Balanchine's The Nutcracker is back. Look out for the Mouse King, the Sugar Plum Fairy, toy soldiers, and screaming children in the audience who have no idea what's going on.
Cost: Tickets start at $30
December 15
Downtown Fort Lauderdale
One of the greatest joys of any Floridian's lifetime is being able to wear a tank top in December and rub it in the rest of America's face. Having a "winter boat parade" is probably along those lines. During this annual event, crowds flock to the water to watch boats decked out in holiday lights, parading 12 miles down New River (in Downtown Fort Lauderdale), through the Intracoastal Waterway, and eventually ending at Lake Santa Barbara, in Pompano Beach.
Cost: FREE to watch
December 18-January 20
Broward Center for the Performing Arts
Hamilton is probably the only reason Millennials know about anything that happened before the invention of smartphones, and for that, Lin-Manuel Miranda is a living hero. The show is finally coming to South Florida, and it's so popular that you can snag what is normally a $34 balcony seat for... a measly $250.
Cost: Tickets really do start at $250
December 25
Burlock Coast
Only a Ritz-Carlton could build a life-size gingerbread house out of 1,000 pounds of dough, put it in the lobby, and charge families $13,000 to eat breakfast in it. In the Ritz' defense, the package also comes with a two-night hotel stay over Christmas with two hours of photography, a private dinner at Burlock Coast, a custom video slideshow of the event, a visit to the pretend North Pole, cabana and spa packages, breakfast and present-opening with Santa, and five wrapped gifts: an American Girl Doll, custom Adidas sneakers, a Pandora bracelet, a bottle of Island Company Rum, and a voucher for a Private Rum Room Experience with Burlock Coast's in-house mixologist.
Cost: $12,999 plus tax
December 31
Fontainebleau Miami Beach
The Fontainebleau always does it big for NYE, and this December, it's throwing a massive concert by the pool. Ticket prices are steep, but you get what you pay for: You'll get up close and personal with the Latin chart-topper and DJ themselves, and premium open bar until Midnight.
Cost: General admission starts at $250
January 6
Hard Rock Live
The only thing more iconic than Diana Ross' voice is her hair, and this January, South Floridians get to see both at once. Head to Hard Rock Live and watch her perform her greatest hits like "I'm Coming Out," "Endless Love," "Ain't No Mountain High Enough," and "I Will Survive."
Cost: Tickets starts at $51
January 10-January 24
Everywhere
The Magic City is home to the third largest Jewish film festival in the world. Back for the 22nd year, this two-week event will welcome 62 films from 20 countries, 50 filmmakers and special guests, and more than 30,000 Jewish film buffs from Miami and beyond.
Cost: Varies
January 18-January 20
Lummus Park
Pay tribute to the architecture that defines South Beach with Art Deco Weekend, a three-day fair filled with 85+ activities like architecture tours and mixology tours, pop-up lounges, lindy-hopping, live jazz, outdoor movies, cabaret, a dog show, a vintage antique and fashion shows, artist demonstrations, activities for kids, and more. This year marks the 41st edition of the festival, making it the longest-running free community cultural event in Miami Beach.
Cost: FREE
January 19
BB&T Center
This is Cher's first tour in five years, and if her recent performance in Mamma Mia 2: Here We Go Again is any indication, she's here to show us she's still got it. The 72-year-old dancing queen will perform both the classics and hits from her new ABBA tribute album… so Fernando, let's do this.
Cost: Tickets start at $54
January 27
AmericanAirlines Arena
If your "thing" is getting up early, humidity, and running 26 miles at ungodly hours on a weekend, then your life's purpose is to run this race. There's a weekend of activities surrounding the big race, like a 5K, a kids race, a fitness "expo," and even a post-race party.
Cost: Registration starts at $130; free to attend for onlookers
February 14
AmericanAirlines Arena
Don't know how to charm your lady on Valentine's Day? Buy her a card and a tickets to Andrea Bocelli's show, and the let suave, Italian singing sensation do the rest. When the night's over, you might even owe him a thank you card.
Cost: Tickets start at $79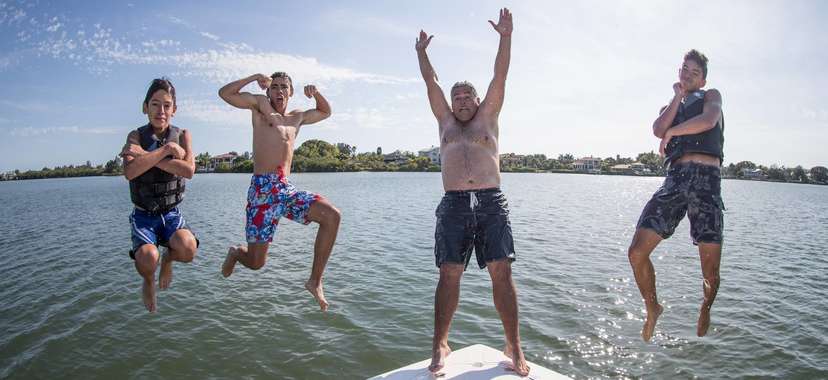 February 14-February 18
Miami Marine Stadium Park & Basin
The 1,300+ boats and super yachts with helipads were apparently not enough for Miami's bougie boating crowd, so this year the annual event will step up its game with more boats, more yachts, a Strictly Sail Miami tent with the latest and greatest sailing equipment and apparel, and a brand-new VIP experience for extra-bougie boaters. Snag a VIP ticket and you'll get exclusive access to a luxury tent with free food, open bar, live music, an outdoor viewing lounge, and free hair and makeup services from GLAMSQUAD.
Cost: Single-day tickets start at $25
February 15
BB&T Center
Bublé is BACK! And he's hotter than ever. His new album Love was released in November, and the four-time Grammy winner is going on tour to sing his sexy renditions of classic hits like "When I Fall in Love," "Love You Anymore," "Unforgettable," "I Only Have Eyes for You," and a bunch of other songs that will probably make every woman fall in love with Michael Bublé.
Cost: Tickets start at $79
February 15-February 18
Mana Wynwood
III Points Festival is the "Ultra" of Wynwood, and for its 6th edition, it'll be bigger and better than ever. Parties and sets will go until 5am all weekend, and 100+ artists will grace the stage, like SZA, Herbie Hancock, Tyler, the Creator, James Blake, Beach House, A$AP Rocky, Erykah Badu, Blood Orange, Virtual Self, Yaeji, Four Tet, Peggy Gou, Ben UFO, SOB x RBE, Dean Blunt, &Me, DJ Stingray, and more.
Cost: Single day tickets start at $65
February 16-February 18
Peacock Park
Whether you go for the 360+ professional artists, the Italian ices guy, or because your child's school is volunteering and you thus feel obligated, this arts festival has been going strong for 56 years. Taking over Coconut Grove like it does every President's Day Weekend, there will be food, live music, a family area presented by iHeartRadio, a new artists program, and thousands of wandering Miamians with FOMO.
Cost: Tickets start at $5 for Grove residents and $10 for everyone else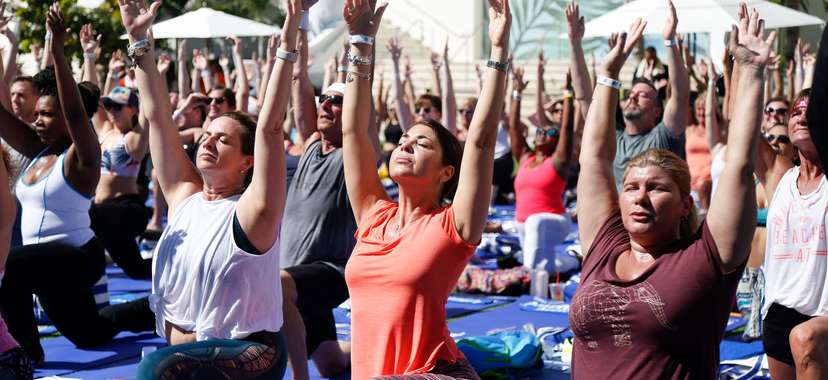 February 20-February 24
Various locations
This is the only time of the year where you can do happy hour with Martha Stewart, eat burgers with NPH, BBQ with Guy Fieri, party with Cassadee Pope, and workout with Robert Irvine all in one weekend, and it's completely normal.
Cost: Events vary in price
February 23-February 24
Miami Beach Convention Center
Despite the fact that many Miamians think its cool to trick out their Honda Accord, Miami is actually home to one of the most exclusive car shows in the United States. And, like Art Basel, this new event is the brainchild of MCH Group, is scheduled to appear in Basel, Miami and Hong Kong, and at its core, is all about art. Car and cultural aficionados can go here for 200+ of the most dignified and luxurious classic cars, one-off contemporary editions and technically-advanced concept cars from across the globe.
Cost: Tickets start at $45
February 28
Hard Rock Live
Pour yourself some scotch -- the Texan Tater himself is coming to Broward County. See him without the rest of the Blue Collar Comedy Gang, and you'll understand why he's pure gold on his own. (Hint: He snagged two Grammy noms, hosted three of the top-rated one-hour TV specials in Comedy Central history, wrote a New York Times bestseller, and has sold over 10 million copies of his standup.)
Cost: Tickets start at $35
February 26 - March 3
Adrienne Arsht Center
When six-time Grammy nominee Sara Bareilles decides to write an entire Broadway musical, she makes sure it's a hit. Enter Waitress -- the story of a small-town server and pie master trying to make it big in the world. So, like a Hallmark movie, but with a plot and a solid soundtrack.  
Cost: Tickets start at $34
March 1
BB&T Center
Every time we think P!NK couldn't possibly get any better/stronger/deeper/more inspirational, she comes out and proves us wrong. Her 2019 Beautiful Trauma World Tour is no different. Kick-off March 2019 by seeing her jaw-dropping performances of "Beautiful Trauma," "What About Us," "Secrets," "Barbies," and "Revenge" live.
Cost: Tickets start at $54
Sign up here for our daily Miami email and be the first to get all the food/drink/fun in town.