In Miami, we do what we want, and we don't apologize for it. OK, sometimes we have to apologize for it (Hey, Jeffrey Loria!). We're unlike any other place on earth, and we prove that daily by doing things that aren't socially acceptable anywhere else. Case in point:
Doing anything and everything in flip-flops
Cleaning your house? Wear flip-flops. Going to a wedding? Bring flip-flops. Sitting on a chair? Throw on those flip-flops. Is it 69 degrees outside? That's fine, we have zero reason to wear boots here. Just make sure they match the parka you're probably wearing.
Wearing shorts in February
With flip-flops. Then we'll Instagram the whole ensemble, but only because it makes our friends north of Boca Raton jealous.
Wearing sunglasses in the rain
We actually wear sunglasses everywhere here (even indoors: we all think we're celebrities). But in the summer, despite what's on TV, our weather goes from perfect, sunny day to full-on, hurricane-like torrential rains in a matter of seconds. There's literally not even enough time for the sun to go away during a downpour.
Getting lost on a jet ski and becoming a viral sensation for it
See: DJ Khaled circa December 2015, where he got lost jet-skiing home from Rick Ross' house and turned to Snapchat world to find out how to get home. Because, also only in Miami, do you 1) ride a small sea-motorcycle from waterfront mansion to waterfront mansion, and 2) use Snapchat for directions instead of, you know, Maps.
Getting free Cuban coffee from strangers, just because
Timing is everything, and in Miami, so is Cuban coffee. Hangout at your neighborhood La Carreta or on Calle Ocho long enough, and if you're not drinking it, random strangers will probably just start handing it to you. It's cheaper than water here.
Using Spanglish as a real language
If you haven't learned by now, "Spanglish" is the unofficial language of Miami. You can actually flip between English and Spanish in one sentence, and that's totally acceptable. However, if you're not from Miami, you will be terribly confused.
Showing up to parties on yachts
Because who uses Uber, amiright?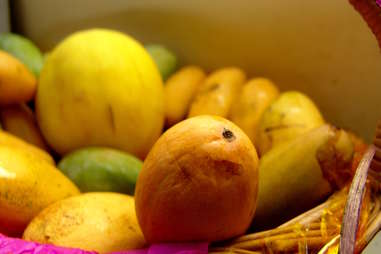 Using mangoes as a form of currency
Only in Miami, where the amount of illegal activity rivals the number of mangoes we consume annually, would someone take bartering to a new level and use said mangoes as money. That's right -- there's an ice cream shop in South Miami that will actually give you ice cream in exchange for mangoes. This is brilliant. And probably the only legal bartering you'll find anywhere in the greater Miami area.
Jumping off bridges
Seriously, who hasn't taken a leap off Snowden's bridge? Not that we would ever recommend such a criminally fun act!
Going bar- and food-hopping on a kayak
Only at a sandbar in Miami does the city bring the alcohol to you. Go to Haulover Beach on any Saturday or Sunday morning, paddle your kayak out to the sandbar, and spend your day partying. You'll have everything you need there, from food- and bar-boats selling homemade ceviche and beer, to your own personal bathroom: the ocean.
Showing up to things whenever we want
Be at work at 9am? Maybe. Brunch at 10am? See you at 10:45. Dinner at 7? Well it's 6:45 and I just got to happy hour sooo...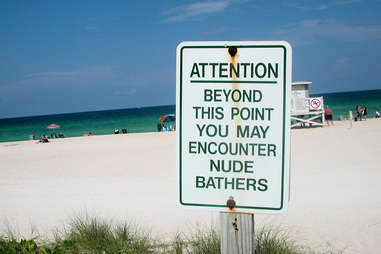 Riding bikes in public wearing a gold thong. And only a gold thong.
This may come as a shock, but Miami has been home to celebrities that are not LeBron and Pitbull. Like the guy who rides his bike down Brickell Ave and the Boardwalk EVERYDAY wearing nothing but a metallic gold thong. OK, I use the term "celebrity" loosely here, as he has no fans, but rest assured: everyone knows who he is.
Or walking down the street half-naked, in general
But then again, in Miami, we all are some version of the golden-thonged man. Go to Publix or a restaurant on South Beach, and you'll find someone wandering around in a bikini and chancletas. On the beach, old men in banana hammocks. In Kendall, girls walk pata sucia. We're a city on a beach. We have zero shame.
Going to the Keys every weekend
Forty-five minutes to paradise? I'll bring the Coronas.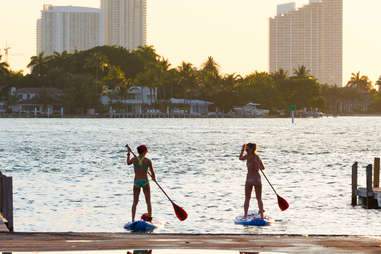 Paddle-boarding to business meetings
Miami traffic sucks, so sometimes we need to take drastic measures to get around. Like when there's a 90% chance your work meeting is closer to the water than a road, and it makes more sense to just paddle-board there and avoid street traffic altogether. Caveat: beware of yachts.
Dressing up in drag and skateboarding through fancy restaurants
Since the evolution of The Palace, South Beach's most popular drag bar, people in drag walking -- or singing and dancing -- down Ocean Dr is no longer surprising. Walk a few blocks down, to fancy South of Fifth, and it's also not uncommon to see those same people skateboarding through the Smith & Wollensky patio... while people are eating there.
Eating the best Colombian food at 4:30am
Los Perros is a Miami staple. They're most known for their "perros," which are basically the Colombian version of a giant hot dog smothered with cheese, piled with chili, chicken or potato chips, topped with Los Perros' "secret sauce," and surrounded by "salchipapas," or fries with cheese and quail eggs in them. So yes, you want it, but only after a night out on the town. No one eats at Los Perros before midnight. No one.
Mixing a little dinner with a lot of celebrity-stalking
You go to Prime 112 for the truffle lobster mac & cheese, yes, but also because there's a 99% chance that you'll leave with one (or seven) Instagram-worthy photos of you posing with celebrities. This place is a goldmine for everyone from Shaq and Floyd Mayweather, to Timbaland, Queen Latifah, Kim Kardashian, and even Miami's classiest celebrities, like Alex Rodriguez. Wait...
Openly discussing any and all plastic surgery
We have outpatient centers here that are like drive-thrus for nose jobs, and girls and guys BOTH will get Botox as young as 16. Equally annoying is the fact that these same people love telling us they got it… as if we couldn't already tell.
LIVin' it up
We all hate LIV. We really do. But we have to go at least once to say we did, and to be able to use the phrase "LIVin' it up."
Walking along the beach at sunrise... to end the night
If you don't stay out 'til 8am, you should move away. You've failed at Miami.
Sign up here for our daily Miami email and be the first to get all the food/drink/fun in town.
Jennifer Agress is a Miami-based freelance writer who always brings flip-flops to a wedding. You can follow her to the inevitable next one by finding @jenniferagress on Instagram.