We're entering that special time of year in Miami where we wear layers in 79-degree weather, send Snapchats from the beach, roast way more pigs than usual, and do weekends in New York solely to take photos in a hat and scarf. Despite the fact that it's never cold, however, we Miamians do have our own ways of getting in the holiday spirit. From fake snow at fancy hotels and bar-hopping dressed like Mrs. Claus, to Christmas-themed roller coasters and nights with Diplo and Bieber, here's how we ring in the holiday season in the Magic City.
Visit the world's largest holiday theme park
If you're wondering where Santa's Enchanted Forest is, look for the never-ending line of Christmas lights that have been off the side of Bird Rd and the Palmetto since the first week of November. Go for the Christmas tunes and holiday spirit, but stay for the roller coasters, semi-scary clowns, shows, games, carnival food, and the tallest Christmas tree light show in all of South Florida. Santa's Enchanted Forest is running daily through January 8th, from 5pm - midnight, and you can buy tickets for it here.
Watch the snowfall at Jack Frost Happy Hour
Through December 30th, drink holiday-themed cocktails and eat appetizers out of your very own snow globe at the Bar at LvL 25, in the Conrad Miami. To really draw you into the non-Miami kind of Christmas spirit, this Jack Frost Happy Hour (which takes place on weekdays from 4-7pm) even hosts an indoor "snowfall" every 30 minutes.
Dress like Santa at the ninth-annual Miami SantaCon
As Miamians have known for nine years now, it's not Christmas in Miami without scantily clad elves, snowmen, and naughty "Santas" running through the streets of Coconut Grove holding red solo cups full of beer. Or at least, that's what happens at SantaCon. Running from 6pm to 1am on December 17th, this annual shindig is sure to get you in the Christmas spirit... or at the very least, celebrating.
Follow the Mouse King to The Nutcracker
The Miami City Ballet puts on on George Balanchine's version of "The Nutcracker" every year, and considering it's one of the only ballet companies in America to do so, it's worth seeing. Taking place at the Adrienne Arsht Center from December 17th - 24th, you can book tickets here to go see the only ballet 97% of Miamians have actually heard of... or book to go watch dancing human snowflakes and find out what a "Mouse King" is.
Go ice skating... outdoors... in Florida?
Hoffman's Chocolates, The Florida Panthers, and the City of Fort Lauderdale have teamed up to create the largest outdoor ice skating rink in South Florida. From now through January 8th, go to Fort Lauderdale's Huizenga Plaza -- now Panthers in the Park Ice Skating Rink -- to reenact your favorite Michelle Kwan routine, and also to eat chocolate and see holiday lights, sculptures and a 20ft Christmas tree.
Put on your favorite ugly Christmas sweater and grab a drink
On December 15th, don your worst grandpa/ma sweater and head to American Social Bar & Kitchen for its annual Ugly Sweater Party. The event takes place at both AmSo locations -- in Brickell and on Las Olas -- and the drinker with the ugliest sweater at each will be rewarded for their bad taste with a $100 gift card to come back to the bar.
Go to Y100's Jingle Ball
Get your jingle on at Y100's Jingle Ball 2016, a huge concert where you can celebrate the season with Diplo, Meghan Trainor, The Chainsmokers, Fifth Harmony, Nicky Jam, Alessia Cara, Charlie Puth, Tove Lo, Lukas Graham, Hailee Steinfeld, and other artists you've probably definitely heard on Y100. This year's Jingle Ball will take place on December 18th at 7:30 pm at the BB&T Center, and you can buy tickets for it here.
Bar-hop, Santa-style
Following in Coconut Grove's footsteps, Brickell-lovers also like to dress up like a human candy cane, run around like a reindeer, and drink like a recently fired elf. Start at Brother Jimmy's, in Mary Brickell Village, on December 19th at 12 noon, and Brickell-bar-crawl your way late into the night. All Santas welcome. Grinches are not... unless they're sexy ones, of course.
Get festive with Hornitos® Black Barrel® Tequila
If experimenting with your cold-weather cocktail lineup is your idea of festive good times, try mixing in this premium aged Añejo further matured in deep charred oak barrels for four months to get a rich smoky flavor, and another two months in specially toasted barrels that add more depth and distinct complexity.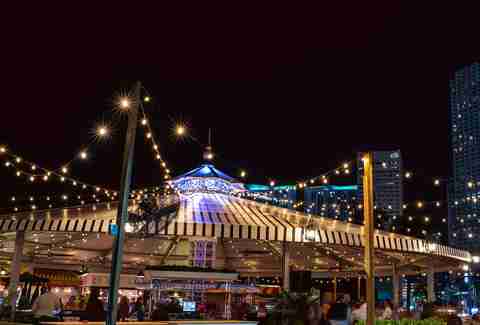 This NYE, eat grapes, drink Champagne, and pretend you're in Spain
On December 31st, head to La FERIA by Mercado de San Miguel, Downtown Miami's own Spanish pop up, and get your 12 grapes at midnight. A Spanish tradition, La Feria will give you the grapes with a complimentary glass of Champagne, along with dancers, live entertainment, and 12 chimes at midnight.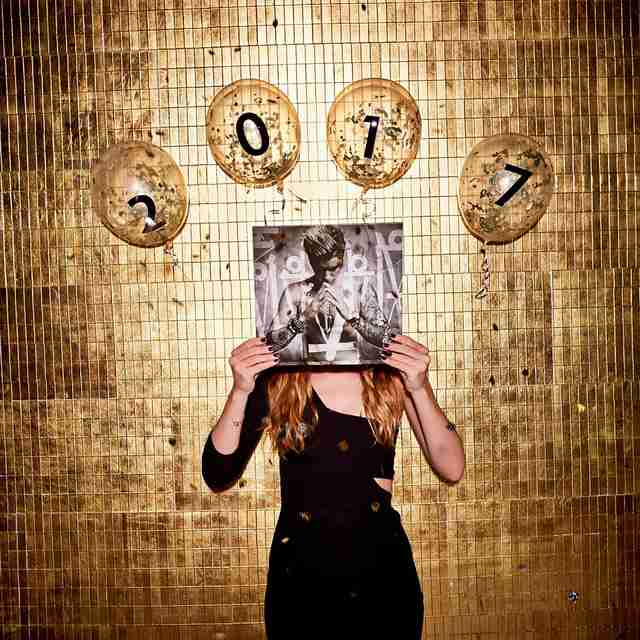 Watch out Miami: the Biebs is back
Every year, the Fontainebleau Miami Beach throws one of the biggest NYE parties in Miami, and this year, Beliebers who are 21+ can ring in 2017 with their fearless leader. That's right: Justin Bieber is coming to Miami, and in light of the new year, he might not even get arrested this time! Buy tickets here, and on December 31st, start your night partying poolside with the Biebs at the Fontainebleau Miami Beach and end it with Skrillex at LIV. Happy 2017, indeed!
Plunge into 2017... literally
Kick off the first day of the new year with Beauty & the Feast's Third Annual New Year's Day Polar Bear Plunge. If you're still celebrating NYE by 10:30am the next morning, head to Lifeguard Tower 11 on Fort Lauderdale Beach in your best walk-of-shame attire and join the masses jumping into the Atlantic Ocean. After you've finally washed away 2016 (or at least last night), dry off at The Atlantic Hotel & Spa and celebrate with a lobster omelet, classic eggs Benedict, and bananas Foster French toast at Beauty & the Feast's New Year's Day brunch. The plunge is free, and if you take it, you get your prix-fixe brunch for just $29.
Sign up here for our daily Miami email and be the first to get all the food/drink/fun in town.