Florida is a veritable peninsula of nightmares. Just read the headlines: "Florida man sits on gun, shoots self in penis." "Naked Florida man runs through woman's home, tries on clothing." "Florida politician says aliens took her on a spaceship; now she's running for Congress." (We have the receipts of headlines past to prove it). 
 
And those are just the Floridians who live in the realm of the living. There are wild spirits here, too. Just in time for Halloween, we've rounded up Florida's most haunted spots -- all of which you can visit yourself… if you're up for it. We promise every place will bring you a ghost or two… and probably a couple of weird locals with even more bizarre stories to tell. This is the Sunshine State after all.
Daytona Beach
Non-believers always want proof of paranormal activity, and The Plaza Resort & Spa has it. In August 2013, security cameras captured late-night footage of a shape-shifting ghost roaming the hotel's Veranda Bar & Grille. But that's not the first or only spook-story at the hotel. The original building was destroyed by fire in 1909, and current staff will testify that they've seen the ghosts of victims caught in the blaze, including a little girl who now spends her nights messing with the elevators and raiding the restaurant kitchen.
St. Augustine
St. Augustine's fanciest hotel is also its most haunted. In fact, this five-star, Mediterranean-revival haunt is a hotbed of spectral activity. Children are heard running along the fourth floor, but no one is there. The radio in the Ponce de Leon Suite randomly comes on, but no one is there. Guests of Room 411 wake up to people staring at them, but no one is there.
But it's the three-story Flagler Suite, high in the tower, that's most haunted. Maids have seen a child's handprint appear on the first floor bathroom mirror, and after knocking, one heard a man say, "We've been expecting you," from an empty bedroom. Its spookiest claim to fame, however, is the male ghost staring out of the top tower window. He's believed to be the ghost of one of two people: either Franklin Smith, the architect who built the hotel, or Henry Flagler, the man who purchased it.
Coral Gables
Gambling in Miami is rarely a good idea. And I think gangster Thomas "Fatty" Walsh -- who was fatally shot over a gambling dispute at The Biltmore Hotel in 1929 -- might agree. While hotel staff hoped he'd be over it by now, it turns out he isn't. As legend has it, ol' Fatty still hangs around, mysteriously shaking glasses at the bar, chasing good-looking women, appearing in bathroom mirrors, opening doors and staying particularly close to the 13th floor, where he was killed.
Palmetto Bay
Charles Deering's former home is a 444-acre archaeological preserve built on Indian burial grounds… so no wonder it's home to Miami's largest concentration of spirits. Ghost hunters have recorded a total of 60 voices in the mansion, on one night alone. Now, investigators from PRISM (Paranormal Research & Investigative Studies) lead regular ghost tours and use pendulums, dowsing rods and EMF meters to show believers exactly what's lurking in the dark.
Palm Beach
The fashion brand wasn't always based at its famed Worth Avenue location. Pre-2010, it was a few blocks down… but employees were driven out by a poltergeist. The playful ghost was known for calling out employee names, flickering lights, opening doors and moving things around. Multiple paranormal researchers were brought in, and a number of exorcisms were performed to try to get rid of the phantom. But nothing worked. Gucci's solution? Dropping hundos of thousands in cash to move to a new space.
Key West
We all have those people we blame for everything; fortunately, they aren't usually demonic and can't hex us in return. Four-year-old Robert "Gene" Otto wasn't so lucky. In 1904, a Bahamian servant girl gave him a handmade 4-foot tall doll, stuffed with wood wool and painted with a creepy-looking face. Gene, obsessed with his gift, named the doll Robert and made it his new best friend. As he got older, he started to blame Robert for all sorts of mishaps. For that, Robert decided to haunt the house, even long after Gene had passed (it's now a bed and breakfast called Artist House). Robert's facial expression would inexplicably change, or he'd move position in the attic. In the end, the owners got so freaked out that they donated Robert to the Fort East Martello Museum -- and rumor has it there's been an eerie energy there ever since.
Cassadaga
Florida is weird, so perhaps it's no surprise the psychic capital of the world is right here, in Cassadaga. The historic community of spiritualists was founded in the late 1800s by medium George P. Colby (because a Native American spirit told him to), and is now a 57-acre camp made up of just 55 homes. It's been on the National Register of Historic Places since 1991, and attracts believers from far and wide for spiritual healings, drum circles, group meditations, and more. Whatever you do, if you visit the town cemetery, don't sit in the Devil's Chair -- it's said to be haunted by Satan himself. Leave a beer there, and some say he'll even drink it, leaving you weirded out AND thirsty.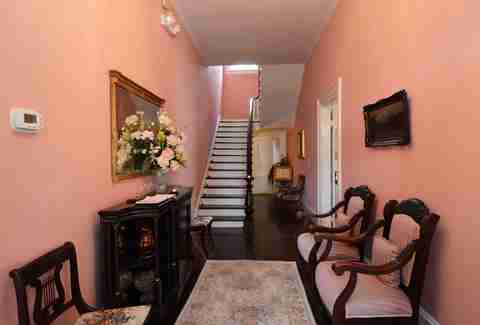 Monticello
This bed and breakfast was once the home of a school marm named Sarah… and rumor has it she still "lives" there, in a sense. No need to fear, though! Sarah is a friendly ghost who spends her nights in a rocking chair in her old room, tucks visitors in bed and pats young children to sleep.
The Blue Anchor Pub
Delray Beach
This pub was built in 1840s London -- during Jack The Ripper times -- so it should be no surprise that it's haunted. The story goes that the bar was razed in London, but its facade and wooden interior was sent to New York City, then onto this sleepy SoFla town in 1996. Little did anyone know that the pub's original elements came with the ghost of Bertha Starkey, a cheating wife who was murdered by her husband. Today, she can be heard rattling pots, knocking things over, and wailing in the middle of the night at The Blue Anchor. Every night around 10pm (the time she was murdered), Bertha likes to remind everyone she's still here -- so the current owners ring the "ship's bell" to scare her away.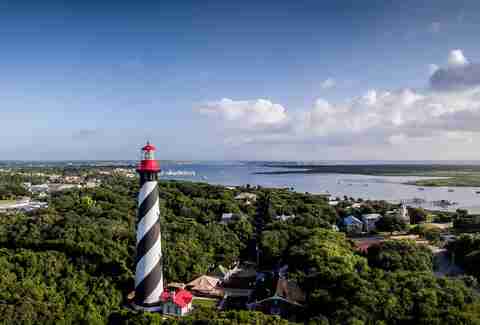 St. Augustine
St. Augustine's iconic lighthouse is a Florida landmark built in 1874. But climb up its 219 steps and it's not just the views that will take your breath away. First, there's the ghost of Joseph Andreu, the original lighthouse keeper who fell to his death while painting the 165-foot tower. Then, there are Hezekiah Pity's two daughters, who were playing with a building cart when it broke loose and slid into the nearby bay, drowning them both. While the girls giggle and run up and down the lighthouse steps, Joseph has been reported smoking cigars at the top of the lighthouse, keeping watch over his forever home.
Sign up here for our daily Miami email and be the first to get all the food/drink/fun in town.