Zest Fest Is a Celebration of Miami's Eclectic Music Scene
The DIY festival with a lineup of Miami-based artists showcases a growing scene that's not just EDM and house DJs.
Presented By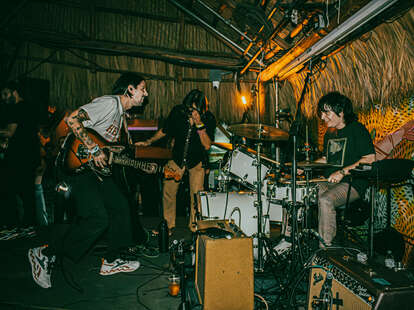 Mustard Service

| Photo by Opal Estelle
Mustard Service

| Photo by Opal Estelle
Like most indie groups, the Miami-based band Mustard Service came up hopping on bills and getting on any stage they could to showcase their dazed-out, surf-infused indie pop. But in 2019, after three years of playing shows together, the five-piece group was ready to curate their own event, says lead guitarist Gabriel "Nuchi" Marinuchi.
So they booked out an old church—but the vision wasn't to host just any show. "We wanted to make it like a festival," says drummer Adam Perez, explaining how they wrangled a handful of their friends from the area and beyond onto the bill and found local vendors to sell art and food.
Friends were staffing the bar, Miami Guitar Center was there selling custom guitars, and outside of the church—which their friend managed to deck out in lights—there was a food truck and games set up. As for the band, vocalist/guitarist Marco Rivero Ochoa and keyboard player Leo Cattani were busy acting as the door guys, not realizing until just before their set that they'd have to find someone else to hold their post when they actually performed their headlining show.
While the band agrees it was "really DIY," Zest Fest—the event named after their first album, 2017's Zest Pop, and their self-described sound of the same name—is still going strong today.
The festival has since expanded into other cities outside of their South Florida home like San Diego and LA and their biggest-ever Miami iteration is coming up on August 5. To celebrate the release of their third album Variety Pack (out August 3), the group will be throwing their latest Zest Fest with a lineup of all Miami-based bands at the Miami Beach Bandshell.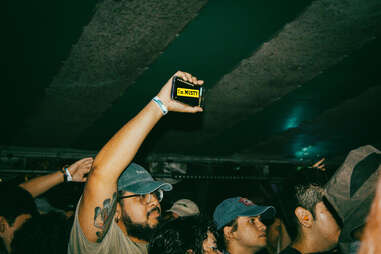 The festival has become a way for the band, made up entirely of Miami natives, to show some love to the local scene they came up in. While Miami has a reputation for churning out Soundcloud rappers and DJs—thanks to its copious clubs and EDM festivals—Mustard Service is among the bands putting the DIY scene on the map and highlighting the eclectic Miami music landscape.
"This [Zest Fest] will actually be even more local," says Marinuchi, noting it's at a "Miami-ass venue" near the beach and considered, as Cattani says, "a very, very big name for Miami Beach residents."
The lineup is an ode to their hometown, too. Because while the first iteration of Zest Fest included a group from New York, this time around features exclusively fellow scenesters. They asked their "closest homies" in the post-punk group Donzii, the jazz-indie fusion quartet Seafoam Walls, and indie outfit Better Than This to join them, with Fish Dip Freestyle on as MC. After playing Zest Fests on the West Coast, they all agree they're "absolutely" looking forward to this record release homecoming.
The Miami scene has expanded quite a bit in the wake of Mustard Service and their cohort of friends in other DIY groups. Rivero Ocho says the city was mostly home to hip-hop, salsa or world music, and a bit of EDM, until indie bands like Jacuzzi Boys and Magic City Hippies started to break out in the mid-2010s.
"I remember going with Nuchi to a Folktale San Pedro show, which is another local Miami band, and they were playing a house show," says the lead singer. "I remember thinking like, 'Holy fuck, people are playing indie rock in Miami,' which was, for me, unheard of."
The band also explains the importance of places like Sweat Records in the expansion of the scene, and the now-defunct venue Churchill's Pub, where Perez says crowds were growing over the years from regulars to bigger groups.
Aside from one of their friends who managed to squeeze several hundred in his backyard for events, most of the gigs from rising acts were held in spaces in the outskirts of the city that had the "spirit" of house shows ("because Latino parents don't let their kids throw parties," Rivero Ochoa jokes), taking over spaces like dance studios after hours; warehouses, including one called Lucid Gallery; and storage units.
"People would rent out a storage unit for a month and one weekend would be rap night, another weekend would be psychedelic rock, another weekend would be everything mixed," River Ochoa explains.
That sonic diversity is what Mustard Service identifies as the most unique aspect of the Miami scene—and perhaps what's most worth celebrating. A reputation for clubbing, lack of smaller music venues, and Miami's location in a difficult region to tour, "kind of forced the Miami sound to be eclectic," Marinuchi says.
"Sometimes you'll say, 'They have an LA sound,' 'They have a Brooklyn sound,' but here it's a free-for-all," the guitarist shares. "We'll have the hardcore band, the indie band, and then the folk band all playing together."
Cattani chimes in, "I've been to shows where a punk band opens for an indie band, which then opens for a ska band"—only for Rivero Ochoa to interject with, "We've played those shows."
"And then there's a rapper somewhere in there," Cattani continues, with Perez adding, "And a DJ set at 1 am."
That eclecticism is what they love about their scene and one of the main reasons they've stayed, in addition to reasons like financial stability, comfort, and their love for the city's Latin culture. In fact, all of Mustard Service comes from Latin descent, and they constantly find themselves inspired by the Latin music they hear throughout Miami.
"Some of the best musicians that I've seen play live were playing salsa," Roberto Ochoa says. "Sometimes you'll randomly catch a set of salsa musicians in some corner playing, and they're incredible. They can be playing to five people, but they love the music so much that they would play to zero. For me, that's super inspiring."
There are many reasons Mustard Service loves their city, but the band themselves are a reason to love Miami, too. They're among the musicians continuing to make the scene all the more eclectic and give it the space to thrive with projects like Zest Fest. If you make it to this year's, you're sure to see that energy radiating from the band and the rest of the bill as they take the bandshell stage.
Sadie Bell is a Brooklyn-based music and culture writer and the former Entertainment Associate Editor at Thrillist.