Miami is a city known for clubbing all night, sitting in the sun with a frosty beer, and sipping cocktails at sunset. But as much as the 305 has a reputation for spring break and booze-fueled debauchery, more people in Miami are choosing to stay (at least somewhat) sober—and best believe we're not cutting out the fun.
"Non-alcoholic cocktails are great—and that's something I never pictured myself saying," says Ben Potts, co-owner of Beaker & Gray, The Sylvester, and partner in Unfiltered Hospitality, a beverage consulting company. As the owner of two top bars in the city, Potts is on the frontlines of the zero-proof cocktail movement and is finding more ways to enjoy life in the 305 without a drink in hand.
"It's not just about having the zero-proof options for people who are totally sober, it's an option to mix in with regular drinking to keep your consumption down." Potts says. "There are so many non-alcoholic spirits now like Seedlip and Lyres, so these drinks aren't just soda water and juice anymore."
Although he wishes more places carried 0% ABV beer options (these days he's partial to Athletic Brewing's Run Wild NA IPA), Potts notes he's really impressed with some of the non-alcoholic wines available at places like James Beard-nominated Itamae and its newly opened sister restaurant, Maty's.
While there's no shortage of NA options out there, Miami is also home to plenty of ways to kick back that don't involve a bar (boozy or otherwise) at all. From top-notch museums and shopping destinations to special events centered around wellness, you'll find plenty of fun in the 305. So we tapped Potts for his suggestions on the best NA drinks and racked our brains to create the ultimate sober guide to exploring Miami. Whether you've completely cut out alcohol, are sober curious, or just want to take a night off, here are the best events and things to do in Miami that are completely booze-free.
Non-Alcoholic Food and Drink Things To Do in Miami
Do a zero-proof beverage crawl
With so many bars and restaurants featuring dedicated non-alcoholic cocktail menus, it's easier than ever to plan a dry drinking crawl around town. Potts suggests exploring Wynwood. "I'd start at Itamae for a glass of Proxies' NA wine, then I'd swing by Beaker & Gray for a zero-proof cocktail (probably the Aguachile made with Seedlip)." Next Potts would scoot over to Uchi for their "sick" happy hour food deals and a Run Wild IPA by Athletic Brewing, followed by a visit to 1-800-Lucky for the Club Passion cocktail, and "finish it all off at Bubba Tea for a taro boba tea with lychee jellies—my new super weird obsession," he shared.
Drink tea and vibe at all hours of the day and night
If you're not looking to drink booze, no problem. JoJo Tea has your back with teas that can energize or mellow you out, and everything in between. This award-winning tea company offers private tea tasting ceremonies with reservations available via Tock and "office hours" where the tea room is open for walk-ins on Wednesday afternoons. For those looking for booze-free entertainment in the wee hours of the night, JoJo Tea hosts Up All Night tasting parties on the last Saturday of the month from 10 pm to 4 am, where $18 at the door gets you in and includes any teas they are pouring that night. They are also starting a late night tasting with local DJs on deck—check out the shop's Instagram to keep updated on that programming and check out founder Michael Ortiz spreading tea knowledge in ridiculously hilarious ways.
Sip high tea at various hotels
Sure, you could gossip over pricey cocktails at some rooftop bar. But why not class up the experience by dishing with friends at high tea? Grab a few friends and head to one of the many hotels around the city for tea and a gorgeous tower of tiny sandwiches, scones, and delicious dessert. There are many options, but some spots known for their afternoon tea service include Biltmore Miami Hotel, The National Hotel, and St. Regis Bal Harbour.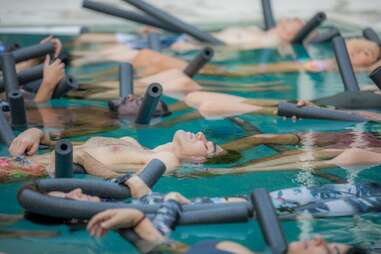 Wellness Things to Do in Miami
Go on a meditative journey with MindTravel
Check out MindTravel, a group that hosts immersive, meditative music experiences. The events happen throughout South Florida roughly once a month—usually in line with a new or full moon. Created by Murray Hidary, a composer, pianist, and visual artist, these multi-sensory meditative journeys have guests listen to improvisational music created by Hidary on a piano via wireless headphones. The events often take place on the sand in Miami Beach just before sunset, where guests are invited to bring blankets and picnics to enjoy the evening. The music creates a connection with listeners allowing them to tap into their subconscious and achieve emotional healing. Check out MindTravel's often updated calendar of events here.
Sports Things to Do in Miami
Enjoy a game of padel tennis
One sober activity Potts is really enjoying right now is padel tennis. "It's new on the scene and a great social activity," he says. "You have to have four people to play, but once you have your group, there are a bunch of new courts popping up with lounge areas to hang out and some of them are even along the water." Reserve Padel, Wynwood Padel Club, and Ultra Padel Club are all great places to check out and if you're just starting out have no fear—most of these courts offer clinics for beginners.
Play a round (or two) of high-tech mini-golf at Puttshack
Head over to Brickell City Centre for a cutting-edge mini golf experience. Puttshack is an indoor golf course that's great for escaping the heat and getting a little competitive with friends. Not happy with your score? Puttshack is offering half-price rematches during the week before 4 pm During the day, it's a family-friendly venue that's open to all ages, but once 8 pm hits, it's an adults-only situation with a full food and drink menu that includes a selection of non-alcoholic cocktails and beers for those that want to keep it booze-free.
Rent a paddleboard and get out on the water
Paddleboarding has been a popular activity in Miami for quite some time, but it's gotten even easier lately with the installation of several self-service paddleboard rental stations around Miami. From Margaret Pace Park to Peacock Park in Coconut Grove, there are options for just about every neighborhood. All you have to do is download the PADL app on your smartphone and find nearby stations using the app's interactive map. Follow the prompts on the app to unlock and return the board for $25 per hour.
Other Things to Do in Miami
Take in the beauty of Fairchild Tropical Botanic Garden
Another one of Potts favorite sober activities is strolling through Fairchild Tropical Botanic Garden. "It's so big that it's hard to do in one day, so it's always fun to come back and check out things you might have missed last time," he says. Beloved by locals and tourists alike, the garden features tons of events throughout the year like an annual Mango Festival in July, Night Garden over the holidays, and a Dragons and Mythical Creatures event now through September.
Jam out at a concert at Bayfront Park
Whether you opt for an assigned seat or bring a blanket to sprawl out on the lawn, there's nothing like a concert in the heart of downtown Miami at the FPL Solar Amphitheater at Bayfront Park. With acts like Milky Chance, Kim Petras, and Eladio Carrion on the docket, there's a range of genres and no pressure at all to drink. Honestly, it's the smarter choice since everyone knows drinks at concerts are wildly overpriced anyway.
Take a walk or bike ride around a new neighborhood
If you don't mind the summer heat or happen to be around during those few cooler Miami Whether you're a local or just passing through, Miami is a sprawling city with tons of cool neighborhoods to explore. From the ever-changing graffitied walls of Wynwood to the lush parks and waterfront sidewalks of Miami's founding neighborhood, Coconut Grove, there's no shortage of people watching and interesting places to check out. Shops, galleries, and restaurants galore are all at your fingertips—and you can check it out on foot or by Citi Bike.
Catch some rays at the beach
This might sound like an obvious one, but you simply can't talk about things to do in Miami (sober or not) without mentioning the beach. It's summer all year long here and truthfully, we don't take as much advantage of the 35-mile stretch of beaches found in the 305. Make a pitstop for a Pub Sub and some snacks along the way, fill a cooler with your favorite NA beverage, and get out there.