There are a lot of things you have to do to be a Miamian. But simply getting towed in South Beach or having excessive flood damage doesn't capture the full experience. In a city that's as full of transplants as it is of people getting the hell out, our residents suffer much that makes them go from wide-eyed newcomer to bitter local.

For those who move here from other US states, the experience is especially unique. And while people from other countries might have a very different experience as a Miami transplant, these are the seven phases an American goes through after moving to Miami.
Phase one: The vacation phase
Where you're living: South Beach. Probably the Flamingo.
Where you're going out: South Beach. Exclusively. And your rotation of nightspots is pretty much relegated to somewhere where you'd run into Drake.
Your mantra: "You should totally move here!"
Go-to activity: Instagramming pictures of yourself on the beach in February to all your friends who live in cold weather.
After four weekends here and a LOT of Real Housewives, you felt you had a "special connection" with Miami and decided to move. To South Beach, obviously. Not because it was convenient, or you had a job there, but because it's the only part of Miami you actually know exists. You are a giant ball of new Miami optimism who won't stop talking about the clubs, pool parties, and "great people" you've met here... who you will later learn were all just trying to steal your identity. You are essentially a tourist with a long-term lease, a fact you desperately try to overcompensate for by saying "Croqueta" with a terrible Spanish accent, inventing an addiction to cafecitos, and refusing to drink "American coffee." Which, until three weeks ago, you just called "coffee."
Phase two: The starting-to-feel-like-a-local phase
Where you're living: Brickell. Or, if you just can't bring yourself to end the fantasy of South Beach, somewhere around Flamingo Park.
Where you're going out: South Beach happy hours, Brickell, or Wynwood on nights when you feel like going somewhere "interesting." Nights end at this cool "dive" bar you just discovered called Better Days.
Your mantra: "Yeah, so, living here is a lot different than being on vacation."
Go-to activity: Waiting for people to show up, and getting flaked on.

The novelty of living in Vacationland has worn off, but you still see the city through pastelito-colored glasses. Sure, the club promoter/model you dated turned out to be living with his parents (or was he an escort?), and you're confused as to why people who say they're 15 minutes away never show up. But the weather is still great and the beach is still RIGHT THERE. Although you haven't gone in -- wait, when was the last time you went? -- you're learning the traffic patterns, and can bitch about the causeways with the best of them. And you've even dipped your toes into mainland Miami, because you're convinced Brickell is where the "real Miami" is.

Phase three: The actually-a-local phase
Where you're living: Coral Gables, South Miami, (or if you're not making much money) Kendall.
Where you're going out: Anywhere that's not on South Beach
Your mantra: "Fuck the Palmetto."
Go-to activity: Shopping all the wholesale stores on NE 1st St, then bragging to your friends who paid retail for the same dress at Blush.

There's a big difference between thinking you're a local and actually being one. You no longer think it's weird to kiss people on the cheeks when you meet (maybe even initiating it yourself), and when you visit other places, you're a little confused when you show up 45 minutes late and people are offended. You not only spend most of your time on the mainland, you've realized things other than the airport exist west of I-95, and you have a solid group of friends who likely went to Columbus or Lourdes. $19 vodka sodas on South Beach have given way to smoking on a friend's balcony in Brickell.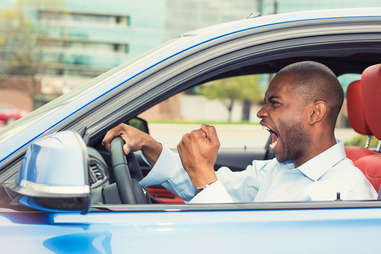 Phase four: The WTF??!! phase
Where you're living: Your second or third year in wherever you were during the "actually-a-local" phase
Where you're going out: Coral Gables.
Your mantra: "Does ANYONE here get me?"
Go-to activity: Looking for apartments in Ft. Lauderdale. It's like Miami without all the bullshit, right?

Maybe it was after your eighth consecutive date with someone who couldn't explain what they do for a living. Or maybe it was when you missed a concert because your friend was "running on Miami time," and didn't even bother to show up. Or apologize. But there is one moment in every Miami transplant's life where they say, "WTF is wrong with this place??" and start to seriously question why any sane person would live here.
Phase five: The tipping point phase
Where you're living: Midtown
Where you're going out: The Stage
Your mantra: "I don't want to deal with the Beach."
Go-to activity: Taco Tuesday at Wood Tavern
You've calmed down from the WTF phase, and learned to avoid the things you hate about this city (which is why you moved to Midtown, to avoid having to EVER drive west at 4pm). But now that you've seen the ugly side of Miami, the romantic luster is gone. And so you find yourself at a crossroads. Everyone who has ever lived in Miami -- whether they admit it or not -- will inevitably encounter this crossroads at least once. That moment when you debate leaving, but you're not sure why, because nothing is really wrong. You also know that you've about reached the limit of what you can do here, and it gives you a chronic itch that's always there. Sometimes you just put After Bite on it.

Phase six: The "I'm done. I'm outta here" phase
Where you're living: Midtown. Now next to a condo construction site.
Where you're going out: You're not.
Your mantra: "I can't. Like, I can't."
Go-to activity: Two-for-one margaritas at Lime
That's it! You're out. You're done. You probably reached this epiphany as you sat in a two-hour traffic jam in Pinecrest that was somehow caused by the Boat Show, but you've looked at the crossroads and decided to take the one that goes north. No matter what your reasons were, they were probably pretty good, but you've likely been looking for jobs in other cities for months now, and finally got one that sounds good. Most of your friends have moved, and you realize you haven't actually gone to the beach since 2014. So what's left?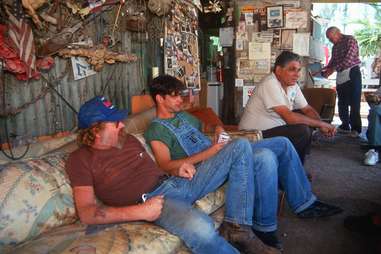 Phase seven: Resignation
Where you're living: Coconut Grove
Where you're going out: Ft. Lauderdale. Even Delray, if you've got somewhere to stay.
Your mantra: "Where else am I gonna go?"
Go-to activity: Sitting at Scotty's Landing, talking about how it's going to get torn down next week, and complaining about how much nicer Miami used to be.
If you don't leave after phase six, you come to the realization that once you've lived in Miami long enough, you really don't know how to live anywhere else. You resign yourself to people being undependable, the government being corrupt, and not always being understood in what you say. But everywhere has its flaws, and Miami is home now. You've become very good at meeting new people, and without realizing it, you're all of a sudden a salty local. And as you sit at Scotty's enjoying a cold domestic draft on a warm April evening, you say to whoever's sitting next to you "Well, there's a lot worse places to be."
Sign up here for our daily Miami email and be the first to get all the food/drink/fun in town.
Matt Meltzer is a staff writer with Thrillist who owes that job to another editor reaching the "I'm outta here" phase. See the local side of Miami on his Instagram @meltrez1.