Florida's High School Football Games That Are Better Than Most in College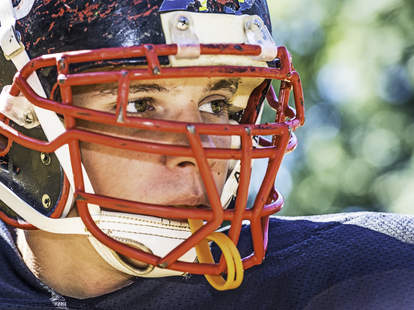 Go ahead, joke about Florida all you want. We don't mind. Sure, some people might rank us last on a list of all 50 states, and sure, almost every bizarre news story you've read in the last decade came from the Sunshine State. But we've still got a lot of things going for us.
 
Chief among them: football. And even though this year the Gators, Noles, and Hurricanes don't exactly look like national title threats, we've still got the best collection of high school talent in the country. Which means we also have some of the best high school football games -- games that a football fan with no kid/relative in high school who's totally not afraid of being that creepy dude in the stands would drive 200 miles across the state to watch in person. These are the top eight.
Muck Bowl: Pahokee vs. Glades Central
Belle Glade/Pahokee
There is one side of Palm Beach County that's full of old money and old people. Then there's the west side, out among the sugar cane fields near Lake Okeechobee, known as "The Muck." One of the poorest areas of Florida, it also produces some of the NFL's top talent, most notably from these two schools -- Pahokee and Glades Central. The annual game for PBC supremacy showcases not only some of the top athletes in Florida, but is also often attended by Muck Bowl alums like Rickey Jackson, Anquan Boldin, and Santonio Holmes.
Killian vs. Southridge
South Dade
The school districts for Killian and Southridge are separated by a single street, so the crowd at this game is literally neighbor versus neighbor. And since the two teams are often ranked 1-2 in the county, the hatred/rivalry runs deep. The game routinely draws crowds of over 30,000 and has been played at both the Orange Bowl and Joe Robbie/Pro Player/SunLife Stadium. Yes, more people are watching a high school game than some of these colleges. 
 
Traz-Powell Stadium: any game
Miami
This stadium in Northwest Dade County is technically part of the Miami-Dade North campus, but since the Sharks don't have much of a football tradition, the real scene is on Friday nights. Traz-Powell  is shared by a bunch of public schools from the county, and on any given weekend, you're almost guaranteed to see a future pro play in a game between teams like Miami Northwestern, Carol City, Jackson, or one of the area's other traditional powerhouses.
Gainesville vs. Eastside
Gainesville
The football itself? Not always the best. The in-game experience? Tough to beat. These two north-central Florida rivals square off annually on Halloween weekend at Citizens Field, which if described as "old and rickety" would be overstating its condition. The place makes East Dillon's field in Friday Night Lights look like Levi's, but that's just part of what makes going there so great.
And while the game itself is entertaining, the real show comes from the bands. Gainesville's is one of the top traditional, Big 10-style marching bands in the state that typically outdoes UF's during homecoming. Eastside's is more what you'd see in Drumline, with an unpredictable show where you're as likely to hear a Lil Wayne track as the school fight song.
Booker T. Washington vs. Miami Central
Miami
There have been several years when Booker T. and Central were the two top teams in Florida, which should be reason enough to check out this game. But the atmosphere is pure Miami -- everything from real-time bets being placed in the stands like a Tijuana Jai Alai match, to soul food grilled to order, to a coach on the sidelines named "Ice." No joke. Until 2014, Booker T. was coached by Ice Harris -- he even led the school to the 2013 national title. Beyond that, Booker T's band is probably the best in Miami, and rivals most colleges for showmanship and entertainment.
 
William T. Dwyer High School: Any Game
Palm Beach Gardens
This is a game fueled by Jack Daniels. No, you're not wading through liquor bottles in the parking lot like you might at an Oakland Raiders game, but Dwyer's coach actually shares a name with your favorite mass-produced bourbon. Throw in the fact that this school in northern Palm Beach County has only lost six home games this century, has won two state titles in the last five years, and has produced the likes of Rashad Butler, Matt Elam, Gerald Christian, and Nick O'Leary, and you've got the single most compelling team to watch north of the Dade/Broward line. And if the game is out of hand by the fourth quarter -- a not wholly uncommon occurrence -- the yuppie playground of Downtown at the Gardens is only a mile away.
Belen vs. Columbus
Miami
Betting on high school football games is almost as Miami as being late or having a job you can't explain. But the bets on Belen-Columbus aren't your typical Miami hustlers making quick cash. Nope, these bets are being placed by alum of the top-two boys-only private schools in Miami, feeder schools to University of Miami, and a primary source of many of the city's lawyers, bankers, and aforementioned unexplainable job holders.
So, yeah, every office about town has a Belen-Columbus trash-talking war, and the stands for the game are packed with locals who've bet big money on their alma-mater. On a citywide rivalry level, there's nothing bigger than Belen-Columbus.
The Soul Bowl: Jackson vs. Miami Northwestern
Miami
For years, this game would regularly draw 30,000-40,000 fans to the Orange Bowl -- or roughly three times what the pre-1980s Miami Hurricanes drew. And while the OB is long gone, this rivalry lives on between two schools from Allapattah and Liberty City. The Soul Bowls has produced stars like Antonio Bryant, Fred Robinson, Brett Perriman, Teddy Bridgewater, and dozens of others.
Sign up here for our daily Thrillist email, and get your fix of the best in food/drink/fun.
Matt Meltzer is a staff writer at Thrillist. Follow him @mmeltrez.