The Most 'Miami' Things That Happened in 2015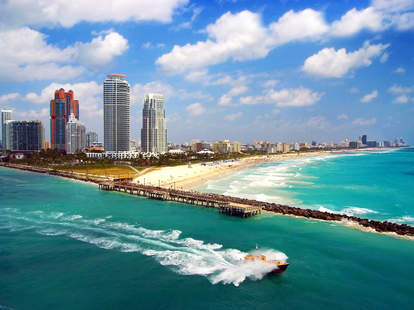 There are a lot of problems with Miami and anyone who's lived here more than the mandatory six-month honeymoon period will be quick to point many of them out. But one thing we're not is boring. Whether it's a cockfighting ring in southwest Dade, a dad who takes his daughter to strip clubs, or a sitting mayor trying to pay an ethics fee in pennies, we -- like the rest of Florida -- just love to give the country something to laugh at. Here are a dozen things that happened this year in South Florida that made us all shake our collective heads and say "Only in Miami."
And you thought
the food at Columbia
was the grossest thing you could put on a table on Ocean Dr? Hah! Just before Halloween, 22-year-old Angelic Valle decided it would be fun to stroll into the venerable burger-and-shake palace completely topless, untie her bottoms, and stick a bar stool between her buttocks. Many patrons opted not to finish their burgers, and rather, sped out of the restaurant like Tony Montana was running down the staircase again. The male clientele stayed, however, and covered the naked woman in ketchup while she lay naked on a table. In retrospect, Valle said "That shit was fun, now that I remember it."
Clearly, father of the year Jose Manuel Arguelles is an avid Thrillist reader, and just wanted to get his daughter and her friends
some good pizza
, right? Good pizza, and cocaine apparently, as Arguelles was arrested on charges of child neglect, promoting sexual performance by a child, and delivering controlled substances to a child after it was discovered he brought his 16-year-old daughter and her 17-year-old friend to the Pink Pony to, well, do blow with strippers. Repeatedly. When the girl's mother discovered pictures of said drinking, coke consumption, and cocaine on the girl's cell phone, she brought charges against the father. Police alleged there were allegations of "underage activity" going on at the club, but did not elaborate.
In all fairness, "poverty" is a pretty relative term. At least it is if you're a major South Florida developer who's donated $45,000 to Homestead City commissioners. Shell out that tidy sum and all of a sudden your plan to improve a golf course in the middle of your high-end home development immediately qualifies for $3.5 million in HUD funds that was earmarked for run-down areas and "Greenways." Taking that second part a little too literally, the Homestead City Commission voted 4-2 to fund Wayne Rosen's golf course improvement at Keys Gate.
Any old city can have cops bust a grow house. But a grow house AND cockfighting ring? Only in Miami. Police investigating another very-Miami crime involving gas theft and discount resale in South Dade happened upon a grow house on the 12000 block of SW 46th St. The house led them to another domicile with over 100 roosters, purported to have been used in that favorite of South Florida sports, cockfighting.
Getting rain on your parade sucks. Getting your parade ticketed is even worse, which is what happened during the Friends of Lubavich's annual Hanukkah parade. Though the parade did have an official permit, the Hanukkah revelers began a little before the 7pm start time. And while one might think it was a civic violation to start something early ANYWHERE in Dade County, the tickets were actually issued for drivers running red lights -- allegedly after police escorts had waved them through, proving that the only time Miami Beach Police will ticket old people for running red lights and endangering pedestrians is when they've got giant menorahs strapped to their cars.
Oh
Hialeah
. Just when you're
about to become legitimate
your mayor pulls some shit like this. In an obvious attempt to out-sensationalize legendary
Hialeah Mayor Raul Martinez
, current Mayor Carlos Hernandez attempted to pay his $4,000 ethics fines... in pennies. Never mind he received said fines for getting 36% interest payments (technically considered loan sharking) from Ponzi schemer Luis Felipe Perez, then lying about it -- in English and Spanish. That doesn't even bat your average Hialean's Navarro eyelash. But paying those fines in pennies? That'll get their attention, especially after you're outraged when the ethics commission declines the payment, saying it only takes checks.
That meme about Cuban coffee and meth going around is cute, though it was even funnier when we
made that joke a year ago
. But apparently glass is starting to make its way to South Florida, hidden in that classic drug-smuggling apparatus, the piñata. This meth was wrapped in plastic and disguised as candy. The man apprehended with said methamphetaminata led DEA agents to the original source of the drugs, which to absolutely nobody's surprise came from Bradenton.
If you're going to go out, you may as well go out doing 110mph on Alligator Alley with two naked girls in your car. While this kind of rockstar behavior is typically reserved for, well, rock stars, you can also do it if you're Noe Dejesus, who in early December was pulled over for doing triple digits on Alligator Alley. When a Florida Highway Patrolman approached the vehicle, he noticed Dejesus was completely naked with an open 12-pack of Corona and an empty bottle of Crown Royal in the car with him, along with two also-naked female companions. In
his mugshot
, Dejesus looks exactly like a guy who just spent the night drinking in his car with two naked women.
Fifty-four-year-old Susan Surrette -- aka Kayla Kupcakes -- was arrested in August for disorderly intoxication. At her bond hearing, Miss Kupcakes claimed she had been assaulted by a club bouncer and police, and in order to make those injuries crystal clear to judge John Hurley, lifted up her top to give him a view of the goods. "Well, I guess that kind of sums everything up," the judge said. Not surprisingly, he ordered her to undergo a mental evaluation.
At least Jarvis Lamar Nelson-Fernandez pays attention to all those highway signs warning you not to leave your child alone in a hot car. When he abandoned his 2-year-old in a Nissan so he could go smoke flakka -- yes, flakka -- he at least had the decency to crack the window. When a Broward County Sheriff's Deputy approached the vehicle he found the child inside with the A/C off (gotta save that gas money). When the father returned, the deputy searched the car and found a bag of flakka that Nelson-Fernandez later admitted he'd brought to smoke. But not in front of his child.
What better way to welcome the newest residents of Miami-Dade County than by giving them an instant lesson in how to speak
Miami slang
? When a group of Cuban rafters landed in South Beach -- a not-at-all-uncommon occurrence on your average morning in South Beach -- beachgoers showered the passengers with blankets, food, and water. But listen close and you'll hear one of them congratulate the group with a hearty, "You guys made it, bro!"
What do you do when the unlicensed plastic surgeon who botched your penis enlargement surgery skips the country? Find a guy convicted of four felonies who got his license revoked four years ago to fix it, duh. Because despite paying out $15,000 to four women whose surgeries he messed up, Mark Schreiber was actually hired by a 55-year-old man to fix his problems. When the patient awoke to find, according to the warrants, his penis "incredibly small, yet very swollen (with) the skin around the shaft... removed and raw... retracted so far that it protruded less than one inch," the doctor simply told him to "put two sticks [on] either side of his penis and wrap it up to keep it straight."
Sign up here for our daily Miami email and be the first to get all the food/drink/fun in town.
Matt Meltzer used to read the Miami Herald online during class in high school, because stuff like this just didn't happen in Seattle. Follow his Miami stories on Instagram @meltrez1.