Incredibly Ridiculous Celebrity Moments That Happened in Miami
Jeff Kravitz/FilmMagic/Getty Images
Aside from actual normalcy, there are few things considered not normal in Miami -- like celebrities casually floating around in mega yachts, Rick Ross getting shot at, DJ Khaled Snapchatting while riding a jet ski into the unknown, and all of these. And with so many celebrities using Miami as their go-to party place, it should come as no surprise that it's also where they tend to do something stupid... or, you know, lots of things.
 
Diddy and Bruce Willis take boat to VMAs. Confuse nation.
In 2004, Sean John Combs-turned-Puffy-turned-Puff-Daddy-turned-P-Diddy-turned-Diddy showed (er, sailed) up at the MTV VMAs on a white yacht in a matching suit. With Bruce Willis in tow. Why? Who cares. Talk about squad goals. 
 
Rick Ross has birthday. Almost dies.
What Rick Ross thought was just a birthday dinner with his girlfriend and friends, actually turned into that time Da Boss almost died. After celebrating his 37th birthday in 2013 at the 24-hour diner, The Floridian, he and his girlfriend got in a Rolls-Royce, started driving home, and lost control of the car when an unidentified gunman shot at it (and the diner) 10 times. Luckily, no one got hurt, but he did crash his Rolls into a nearby apartment building, which is the WORST start to a birthday ever.
 
Uri Schanker/Getty Images
Miami police arrest Justin Bieber. Earn respect of Bieber haters everywhere.
As a day that will likely go down as one of Miami-Dade Police Department's finest, on January 23rd, 2014, Justin Bieber was arrested for drag racing down a neighborhood street in Miami Beach. Adding fuel to the fire, he was under the influence, driving with an expired license, had a young model in the passenger seat, fought with the cops, and did it all in a bright yellow Lamborghini Gallardo that he rented for $260,000. It's still not too late to say sorry, Biebs.
 
Diddy goes 0 to 100. Punches Drake at LIV.
When producer Boi-1da wrote "0 to 100/The Catch Up" in 2014, he gave it to Diddy and Drake to record together. Well, Diddy basically did nothing for eight months, so Drake went and made it his own track. And then got two Grammy nominations for it (which we can only assume he gave out on his Instagram). Diddy saw Drizzy for the first time after that at LIV and proceeded to punch him as he felt disrespected. Diddy is essentially the Rodney Dangerfield of rap.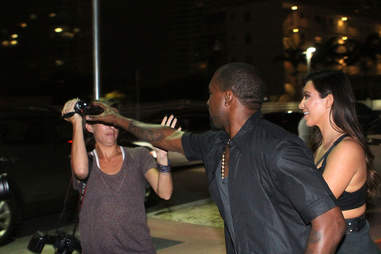 Aaron Davidson/Getty Images
Kanye defends Kim's honor. Socks paparazzi.
Paparazzi stalking Kimye and entertaining the rest of us with the details of their private life is pretty common. But then there was that time in October 2012 when Kanye punched one of them at Prime 112 because she started harassing Kim about ex-husband Reggie Bush, and we all decided to pay attention. In Kanye's defense, he later "became a better person" and hugged it out with her publicly. Whether or not he's currently writing a rap song about how he made her famous remains to be seen.
 
DJ Khaled rides a Jet Ski. Gets lost.
If you're going to have a casual dinner at Rick Ross' oceanfront mansion, it only makes sense that you arrive on your jet ski. What makes less sense is not knowing where you are, attempting to leave on said jet ski in the dark, and then Snapchatting all of America about it to help find your way home. Thankfully, DJ Khaled made it home that night and continues to furiously yell on other people's tracks.
Ryan Seacrest Productions
Kourtney Kardashian takes a paint class. Makes out with woman.
During filming for Kourtney and Khloe Take Miami in 2009, Kourtney Kardashian went to art class (?), met singer-actress Jackie Cruz (or "Flaca," from Orange Is The New Black), took her clubbing, and then made out with her to make Scott Disick jealous. As we all do when we decide to take a paint class.
 
Female rapper Trina goes to Kendall. Fights man.
When the self-proclaimed "baddest bitch in Miami" goes to a bar in Kendall on a Sunday, you know things are about to get weird. In 2016, Trina got into an altercation with an "unruly guy on her party bus." After kicking him off, he went to grab her... and then ran away for his life when Trina attacked back because who the hell messes with Trina?!?!?!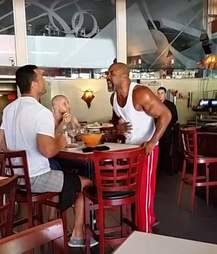 Screenshot via YouTube
Shannon Briggs takes Wladimir Klitschko's pizza. Get's covered in water.
Note to self: don't take heavyweight champion Wladimir Klitschko's pizza. Fellow boxer and upcoming opponent, Shannon Briggs, learned this the hard way when he showed up uninvited to an Italian restaurant where Klitschko was having lunch. Briggs sat down, and literally grabbed Klitschko's food off his plate. While Briggs continued to taunt him, Klitschko kept it cool. That is, until he poured a glass of water, threw it at Briggs' face, and won more respect than he ever did in a boxing ring.
  
Cops go to Lil Wayne's mansion. Take $2M worth of stuff.
Apparently Lil Wayne missed the memo that says when you order a private plane, you have to pay for it. Stupid fine print! So when he refused to pay the $1 million he owed, a judge ruled that he had to pay that, $800K in late fees, and almost $200K in lawyer fees. When he refused to pay THAT, Mrs. Officer went "wee oh wee oh wee" all the way to his Miami mansion and took $2 million of Weezy's personal assets to pay it off.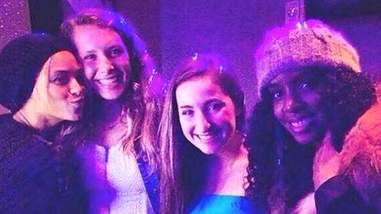 Screenshot via YouTube
Beyoncé and Kelly Rowland sing karaoke. Heads explode.
The only thing better than belting Beyoncé on karaoke night is... doing that exact same thing with Queen B herself. Cue the magical night at Sing Sing Karaoke on South Beach, circa January 2014, when Beyoncé, Jay-Z, and Kelly Rowland showed up out of the blue, saw two girls singing to Beyoncé's Party, and Kelly and the Queen joined in. Then Beyoncé photo-bombed their friend who was passed out on a nearby bench and missed the whole thing. That friend probably still hates herself.   
 
NFL wife forgets she doesn't play football. Head-butts cop.
While Miami Dolphins player Brent Grimes was in the locker room doing God-knows-what, his wife, Miko, was busy sticking her head where it shouldn't be -- quite literally. Apparently, the hotshot wife tried to go into a restricted area after cops told her not to, which resulted in fighting, her head-butting cops (plural), and then her being pinned to the ground and arrested. Not surprisingly, that's probably the most exciting thing to happen at a Dolphins game in decades.
  
Solange Knowles wields inflatable banana. Cops get involved.
In 2011, when Beyoncé's little sister tried to get into Cameo nightclub with a 5ft, inflatable banana and was told NOPE, she got angry and started calling everyone racists. To try calming her down, Miami Beach policemen pulled her aside, but when she did not calm down, a policeman allegedly pulled out a knife and threatened to pop her yellow wingman. Solange later went on a Twitter rampage to tell the whole world about it because... no one puts banana in a corner.
Sign up here for our daily Thrillist email, and get your fix of the best in food/drink/fun.
Jennifer Agress is a Miami-based writer who is now in the market for a 5ft, inflatable banana.