Refresh Your Wardrobe at These Cool Thrift Stores in Miami
Shop for vintage accessories, designer clothing, and more.
Being sustainable is all the rage these days (as it should be) and one of the best ways to make a difference is to thrift shop. By giving clothes, housewares, and accessories a second life, you're helping to keep these things out of landfills and in use, plus you're helping to prevent waste of energy and resources that go into making new clothes. You're reducing your carbon footprint, but also finding cool gems that really let you show off your own personal style.
Miami has no shortages of fun and funky thrift shops where you could find your new favorite jacket or set of wine glasses. Plus, many of Miami's thrift stores give back to the community by donating a portion of their proceeds to local charitable organizations. So grab a pal and make a plan to spend the day sifting through racks of previously loved retail at one of these 13 awesome thrift stores in Miami.
Little Havana
You'll know you're in the right place when you see the massive UM-colored flower mural. Run by a group of volunteers from the Women's Cancer Association of the University of Miami, the proceeds from this shop support cancer research, patient care, and education at Sylvester Comprehensive Cancer Center and UM Miller School of Medicine. Inside the recently renovated store (it's been around for more than 60 years) you'll have tons of clothing, accessories, home goods, furniture, artwork, and more.
Westchester
This is the place to go if you're looking for antique furniture pieces or collectible housewares. Overflowing with incredible finds, Classy Not Trashy often hosts sidewalk sales and discounts on the entire store Inside the store you'll find a mix—it's one of those places you need to browse slowly and carefully to ensure you don't miss a piece of treasure.
Sunset Harbor
The first and perhaps most superior luxury consignment store in Miami, this Sunset Harbor store sells only 100% verified, authentic designer pieces. Step inside and you'll find an array of brand-name handbags and accessories in every style and color imaginable. From Hermes to Valentino to Gucci, it's all here. And they offer a buy now, pay later program so you can take home your gorgeous goods today without having to make the full investment immediately.
West Flagler
A narrow, well organized shop filled with vintage and designer goods, you'll find outfits and accessories for every occasion at Dragonfly Thrift Boutique. While browsing in-store is the most fun part of thrift shopping, the shop's website has high-end designer luxury drops every Tuesday featuring what's new and up for grabs that week. All proceeds from this store benefit the Ladies Empowerment & Action Program, a nonprofit organization that helps formerly incarcerated women with education, housing, and employment.
Various locations
Okay, so it's not a super trendy one-off thrift store, but there are a few Goodwill locations in Miami that stand out among the rest. The one located on 8th Street near FIU is always filled with great finds, as is the Palmetto Bay location, but the true winner is the outlet in Allapattah where you can get access to the unsorted bins that are home to untouched treasure troves of secondhand goods, including designer if you look hard enough and get lucky.
Upper Buena Vista
You know those scenes in movies where the awkward main character does a dressing room montage and comes out as a whole new person? That's what it's like at this Upper Buena Vista secondhand store. You'll surely find some of the most wonderfully zany items that are sure to be your new favorite statement piece. From costume jewelry to fur coats, ruffled dresses and full on tulle ball gowns, there's a never-ending array of looks to be found here.
Allapattah
Here you'll find a solid selection of nicely organized and well-curated clothing, jewelry, and home decor. Every dollar spent not only gets you fun new items that you'll be sustainability giving a second life, but funds from this shop go right back into Lotus House to provide shelter, meals, and other services to women and children who have experienced abuse and homelessness.
Westchester
A little pricier than most thrift stores, Miami Twice has been a family-owned and -operated staple for second hand goods for more than 40 years. You'll find a wide variety of designer and vintage goods. It's the kind of place that you go when you're looking for that perfect piece to complete a costume or really need something with sequins and a bit of pizzazz. From boho chic to Miami Vice goddess, you'll find it all here. Oh, and if you're in the market for some hats or sunglasses to shade you from the Miami sun, you'll find rows and rows of them here.
Edgewater
It's nearly impossible to miss this bright pink and teal building when cruising down Biscayne Blvd. Out of the Closet is part secondhand store, part free STD testing center. Park in the free lot (those are hard to come by in the area) and head inside to shop through popular brand names at extremely affordable pricing. Proceeds from shopping here fund AIDS Healthcare Foundation's lifesaving services.
North Miami Beach
From color-coded purses to clothing, toys, and knick-knacks galore, you'll find rows and rows of super organized goods at this thrift store. Items are newly marked down and there are 50% off specials nearly every day of the week. Come with plenty of time as you'll likely find yourself immersed in the store for a while.
Salvation Army
Wynwood
Another well-known chain, but this particular location is constantly filled with new things. It's highly recommended if you're looking for kitchenware and even table lamps as they always have a ton to choose from. Right off Wynwood's main drag, it's a go-to dropoff spot for those in the area who tend to have a bit more eclectic taste.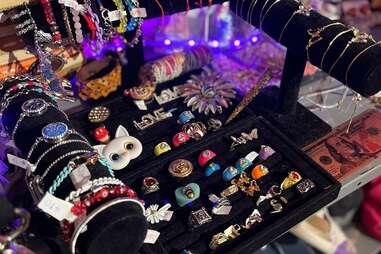 Little River
Take a trip to the '80s inside this thrift shop that's located at The Citadel in Little River. Filled to the gills with graphic tees, denim goods, action figures, records, board games, and vintage children's toys, it's easy to slip into a full state of nostalgia. While the space is small and it might be a little tough to navigate, there's no shortage of cool stuff to browse and they are open to haggling when it comes to their pricing.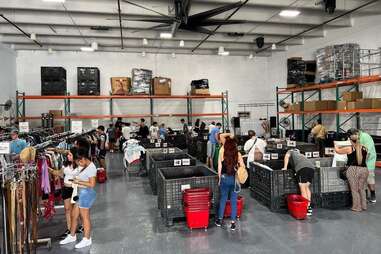 Hialeah
Another family-owned Hialeah thrift store, this one is all about its inexpensive bins. Inside you'll find tons of retro clothing all priced from $3 to $12 and rack items that start at $15. They are all about helping customers create one-of-a-kind looks and are committed to teaching sustainability through fashion. Find a piece you like and let them help you turn it into a whole new outfit.