Not to besmirch the value of National Margarita Day, but, honestly, these made up holidays don't do much more than give us an(other) excuse to slam two-for-one drinks on a Wednesday. Earth Day, however, leads us to devote every April 22 to cleaning up our environment—a noble quest no matter the month.
Earth Day also falls in April, which, conveniently, happens to be National Volunteer Month. And you don't need to be a genius to figure out that makes this the perfect month for pledging your time to greening up South Florida. Still, there are plenty of other ways to give back this spring as well, from reading to kids to sorting through literal tons of donated food. Here's how to get out there and give back.
North of all the madness on Lauderdale Beach you'll find the serene wilderness of Hugh Taylor Birch State Park, a swath of seaside nature so rare and valuable it has an entire non-profit devoted to keeping it pristine. The Friends of Birch State Park offer plenty of ways for you to help their mission, whether it's clearing dead brush from the island in the middle of its picturesque lake or cleaning out nature cabins so youth organizations can use them for environmental education. You can even spend the day driving a tram around the park, shuttling other volunteers and breathing in the spectacular scenery.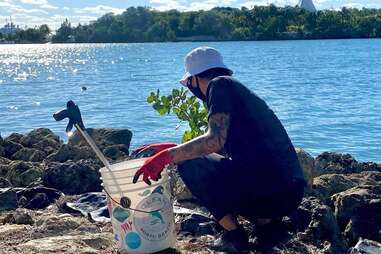 The past spring brought with it a lot of images from South Beach we'd rather forget, chief among them the sea of red solo cups left by careless spring breakers. While those are mostly gone by now, there's still plenty of unsightly trash and plastic waste littering our shores. Clean Miami Beach sets out every week to help beautify the area, where a group led by Miami Beach resident Sophie Ringel meets to pick up trash around a local beach or wetland. Volunteers also get an education in the harmful effects of single use plastics, as each cleanup begins with a short explanation of how all of us can use less of them.
The Surfrider Foundation is best known for its frequent beach cleanups and dune restorations, but the ocean conservation organization does other important action items, too, and those lesser-known programs need volunteers to grow. The Blue Water Task Force will have you and your group traveling to new locations each week, gathering water samples so they can be tested to determine where resources should be focused. Surfrider also maintains the Ocean Friendly Restaurants program, where volunteers can approach their favorite restaurants to get them onboard with more ocean-friendly practices. Contact volunteercoordinator@miami.surfrider.org for more info on both initiatives.
Optimistically, most of us are eager to help clean up our beaches and waterways to make them nicer places for everyone, but finding an organized group to join can sometimes prove tricky. Enter VolunteerCleanup.org, a kind of Eventbrite for beach cleanups where folks running the events can search for volunteers and aspiring do-gooders can peruse upcoming cleanups to see if any look appealing. You can also sign up for a weekly email blast that'll tell you where you can help out each weekend with each newsletter offering two to six new ways for you to make a difference.
If you enjoy those crazy things called "books" and hope future generations don't forget what they are, take one hour a week and join the United Way of Broward County as a ReadingPal. The Pals help promote literacy along with social and emotional development by reading to local grade schoolers once a week for 25 weeks. All reading materials and other literacy tools will be provided, so no need to dust off the old Calvin and Hobbes collection just yet.
The cleverly-abbreviated Museum Volunteers for the Environment are running a few springtime programs designed to make Miami a more eco-friendly place. On April 17, they'll be out at North Point Beach Park in Virginia Key, planting native shrubs and pulling up invasive ones. Come May they're at it again, this time giving you the chance to help Miami win the City Nature Challenge by taking pictures of biodiversity all over the park .
Believe it or not, our local hunger-fighting organization helping food insecure folks from Palm Beach to Monroe County has grown to become the second-largest food bank in the world. And with 119 million pounds of food to sort through annually, Feeding South Florida is always looking for help. Sign up to spend a day at their massive warehouse, where you and your group will get acquainted with FSF and its mission before moving on to inspect and sort donations bound for those who need it most.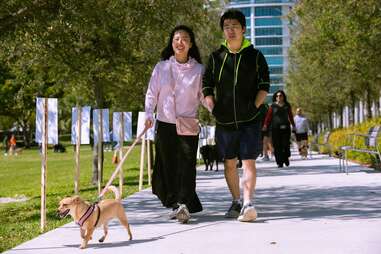 Admit it: Cuddling adorable cats and dogs barely seems like work. And at the Humane Society, you can volunteer to do said cuddling, or any other number of tasks that aid in the organization's goals of finding homes for stray pets. Volunteers do everything from administrative tasks to walking dogs to planning events and community outreach. So, even if you're not a pet person, the Humane Society has a volunteer role for you. But, honestly, once you see those little faces you'll want to spend more time here than at home.
There is no better way to get to know South Florida's most unique landscaping than taking some time to volunteer in Everglades National Park. The Volunteer-in-Parks program allows you to do anything from working directly with park rangers to taking part in complex restoration projects. The program is one of the best in all the national parks, earning the coveted George P. Hartzog Award for going above and beyond to increase awareness. Volunteering is especially nice to do this time of year, when the Glades aren't sweltering and the mosquito population is down.
Sign up here for our daily Miami email and be the first to get all the food/drink/fun in town.