Once Monday morning rolls around, most people would rather go to the dentist than actually head back to work. But while the weekly grind may take a heavy toll on lowly peons like us, there are some people in Milwaukee who really, genuinely, authentically love their jobs -- mostly because their jobs are incredibly cool. Check out who's lucked into (OK, earned) the coolest jobs in Milwaukee -- and what makes them tick.
Bango, Mascot of the Milwaukee Bucks
How he got the job: "I was recruited when I was still a young buck because of my passion for basketball," Bango says. "They asked me to take my talents to Milwaukee as the team's official mascot, and I began on October 18, 1977. I have been sharing my joy with Bucks fans at home games and community events around the city of Milwaukee and the state of Wisconsin ever since."
What he does: Bango is a Milwaukee Buck, and the face of the franchise as the team's mascot and No. 1 fan. "I wake up at the crack of dawn in Wisconsin's fields, foraging for healthy plants to keep me fueled for work," Bango says. "I gallop my way to the big city of Milwaukee most days, dodging traffic (and trying not to get caught in the headlights!) to get to the BMO Harris Bradley Center.
"I get to excite fans, especially kids, during all our games and events in Wisconsin and across the world. My job is physically demanding with all the flipping, dancing, and dunking, but it's relatively safe (at least until Robin Lopez comes to town). I get to fly from the rafters, inflate myself up and shrink myself down, fire the most powerful T-shirt cannon in the world, race against other mascots, and ride a Harley around the Bucks court. Sometimes I even chime in on the current events of the day. The other deer in my herd are pretty jealous."
Best part of the job: "Making kids smile. If I didn't have this job, I'd have to see if Santa had any openings up north."
John Slawinski, Head Cheese Maker at Clock Shadow Creamery
How he got the job: "I was looking for something to do that would allow me to work with food," John Slawinski tells Thrillist. And when a retail position opened up at the creamery, he thought that looked like a good way to get his foot in the door.
"As soon as I was hired, I volunteered for everything and anything that was part of production," Slawinski says. "With a good deal of persistence, I was given more and more cheese making responsibilities. After about a year, I was an assistant cheese maker with a cheese making license, and in three years of hard work and eagerness to learn, I took over production after the previous cheese maker went back to Cedar Grove Cheese, our sister creamery in Plain, WI."
What he does: Slawinski oversees the production of cheese at Milwaukee's only creamery. "To get our delicious, squeaky cheese curds out to our customers the same day they were made, I need to start turning milk into cheese at 10:30 the night before," he says. "First pasteurized milk, some of which we get from the dairy cows at the Milwaukee County Zoo, is cultured to produce flavor and preserve the cheese. Second, using an enzyme, the still-liquid milk is made into a gel. At this point, the vat is full of curds and whey, something Little Miss Muffet would be very familiar with. Then the whey is drained off, and only the curd remains. As the sun starts rising, the last of the salt is added to the curd, and the squeaks are ready for snacking, fresh or fried."
Best part of the job: "The connection it has with Milwaukee -- a connection to not only the many restaurants that use our cheeses on their menus, but also to the people who enjoy our cheese. Also, fresh cheese curds!"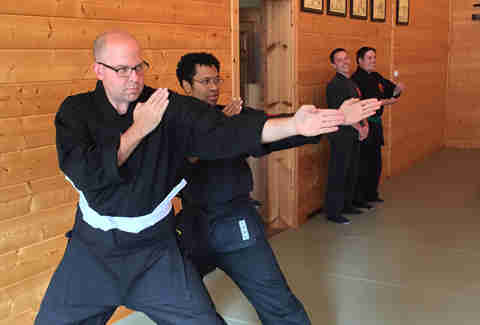 Brian Kramp, Real Milwaukee Roving Reporter at WITI - FOX 6
How he got the job: "Luck and a great barber," Brian tells Thrillist. "I heard about this gig from one of the news anchors, who told me that there was an opening for a creative and energetic reporter for a specialty show. My previous radio morning show co-host position 'went away,' so I decided to take a chance on something new. Thankfully, the management team at FOX 6 took a chance on me as well, and so far, everything has worked out... which is nice, considering I had never worked in TV before, and have now been here almost 3 years."
What he does: Basically everything. "I'm pretty much the guy that gets dared into doing things live on TV, which typically leads to me making a fool out of myself," Brian says. On workdays, Brian goes out into the public to provide viewers with new perspectives of life in Milwaukee, by showcasing the people, stories, and places that make this city unique. He covers everything from restaurant openings to local businesses to popular events and attractions -- everything, as he says, that makes Milwaukee a special place to live, eat, and play. "Usually, we head out to a story shoot or live location to start the day. Any planning, social media, and last minute show prep is squeezed in on the drive to our location... and then it's go time!"
The best part of his job: "I wish I could say it's the free stuff, but they won't let us keep anything! Honestly though, it's the joy of telling the story of someone who never thought they had a story to tell. I believe every person has one, but not everyone gets the opportunity to share it."
Pamela M. Anderson, Artist in Residence at The Pfister Hotel
How she got the job: "I submitted work samples and a proposal of how I envisioned what my residency would bring to the hotel, and to me personally for my term," Anderson says. "I created a video that supported my proposal, and presented my ideas so that I would stand out from other contestants."
What she does: Make art all day -- just like we all did in our high school classrooms while pretending to take math notes, only, you know, Anderson is actually good at it. "I produce work in the studio, allowing the public to watch my process. It's fun to describe how my works are created; it's such a dynamic experience for individuals to see how artwork is made versus viewing pieces as completed art in a static gallery. And as an ambassador for the hotel, I get to interact with guests and staff." This relationship extends to the dog-friendly hotel's non-human guests, too. "I keep doggie treats on hand," Anderson says. "I want to believe that canines are also art lovers."
"Conducting tours of the hotel's ornate and beautiful décor, as well as sharing its fascinating history, and our large Victorian art collection is another enjoyable job function," she says. "As a Victorian era history buff, I have enjoyed learning about the hotel's place in Wisconsin's history, and sharing that with interested parties."
Best part of the job: "Sharing my artwork and process with the public is essential to me. As a creative, I'm always trying to perfect my work and grow. Being in this environment and engaging in dialogues with the public gives me new insights about myself and my work."
Brian Cottrill, Food and Beverage Director at Ian's Pizza
How he got it: "The short answer is that I applied online and received a call offering me a position as a delivery driver," Cottrill says. "I had known about Ian's as company for many years prior to me working for them. I was a big fan of the food and the type of business it was. I had worked in the food industry for a little over a decade at the time, all in a more corporate atmosphere, but the idea of working for a local company had always appealed to me. My wife was planning on attending school in Milwaukee, and so when we decided to relocate, I immediately knew that I wanted to work at the Ian's here. Nearly three years later, I'm thrilled it worked out."
What he does: Cottrill oversees all things related to food and beverage at Ian's, which in food service translates to 12+ hour days. "I'm in charge of ensuring the quality and standards of our pizzas, and making sure we have everything in stock. We carry over 48 toppings and nearly 40 drink options, so that can be a tall order. We run a very high-volume business with a barebones staff, so it takes a lot of concentration and awareness to make sure everything runs smoothly," he says. That includes the conception and rollout of the new brunch slices, which he helped develop. 
The best part of the job: "Overall, I would have to say the best part of my job is the people. When someone experiences everything we do for the first time, that's just one of the more rewarding interactions I can have after the 13+ years I have had working in the industry."
Guy Roeseler, Chef and Co-owner at Ono Kine Grindz Hawai'ian Market, Deli & Catering
How he got the job: "I thought that it would be fun to have a little store." Well put.
What he does: As a small business owner, Roeseler does a little bit of everything: "I'm a plumbing repair person, cook, wedding planner, accountant, psychologist, dishwasher... " On any given day, he's up early answering emails, paying bills, writing checks, and mailing them. By mid-morning, it's errand time before scrambling to get ready for the lunch crowd that's ravenous for poke and kalua pork. After lunch, there's more prep for dinner, catering bookings, and studious avoidance of telemarketers. By 10pm, it's time to clean up and head home. It's a packed schedule, but Milwaukeeans appreciate the sacrifice so that we may experience everything Hawaiian. 
Best part of the job: "Interacting with all the wonderful people throughout the day!" ... except those telemarketers. Naturally.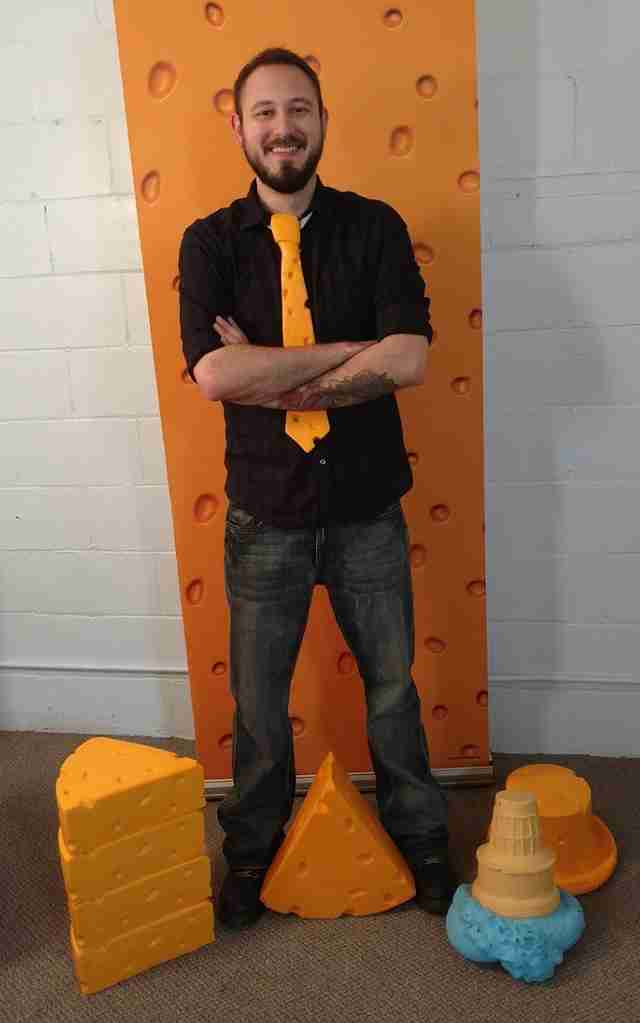 Mario Busalacchi, Cheese Sergeant at Foamation, Inc.
How he got the job: OK, technically, Busalacchi's job title is "Production Manager & Supervisor of Custom Product Development," but "Cheese Sergeant," just has a certain je ne sais quoi. He started working for Foamation almost six years ago when a neighbor of some of his relatives worked at Foamation, and mentioned they were looking for help. "I started a few days later in production, and over the years worked my way up to the Production Manager position," he says.
What he does: Busalacchi oversees cheesehead and other product production. "There's your basic day-to-day operations like any manufacturer, such as quality control and determining standards, overseeing daily operations for our production process, testing different polyurethane formulas for density, and customer service and relations," he says. "Most of the time, I'm running custom jobs, staying in touch with customers, and providing them with updates on the project. Much of the day is hands-on and down in the dirt (or polyurethane)." Who knew all that went into foam cheese?
Best part of the job: "Bringing these unique hats to life on a larger-than-life scale... and the excitement behind it all."
Caitlin Moyer, Director of New Media at Milwaukee Brewers Baseball Club
How she got the gig: These days, Moyer goes by "Twitter Girl" and "Ms. Instagram" at work... but it wasn't always this way. "I started with the Club as an intern in 2003, before most social media even existed," she says. "I got a job in marketing, and as each social media platform was invented, we added it to our arsenal. It became apparent that if we wanted to be present on social and do it right, we really had to dedicate someone to it full time. That became me, in the fall of 2013."
What she does: "Bottom line? Engaging our fans year round and helping stoke their excitement for Brewers Baseball. We do that by creating and executing content strategies for all of our social media platforms (and we're on pretty much every single one you can think of), and working with all of our internal departments to effectively communicate their messages, too," Moyer says.
"During the season, we work a lot of long hours. Sometimes I have an agenda -- a player whose photo I need to take, or ask a question of, a video I want to shoot -- but other days, it may just look like I'm hanging out," she says. "The other day, I got a great video of a couple of little girls interacting with one of our infielders. The girls were in the dugout and extremely cute and giddy. Even before Rivera came out, something just told me to roll video on them. Something was bound to happen."
Best part of the job: "No two days are alike. One day you could be attaching a GoPro to the catcher and filming a reliever tell his mom's jokes, and on another day, you could be hosting a Lip Sync Battle at Brewers On Deck... or even end up attending the World Dog Awards in LA."
Sign up here for our daily Milwaukee email and be the first to get all the food/drink/fun in the Brew City.