So maybe the absolute best things in life aren't free, but there sure are some pretty awesome things in MKE that just happen to cost $0 -- Midwesterners are a frugal people, after all. So whether you're visiting Milwaukee or you've lived here since you were freeloading with your parents, here are 31 free things to do in the city.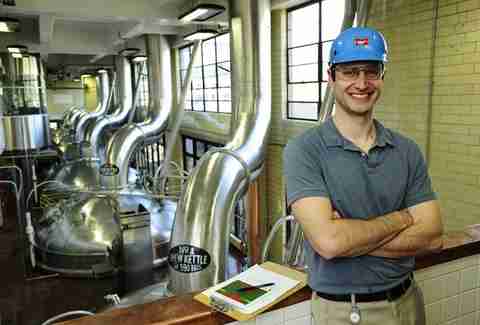 Yes, you get beer at the end. Score!
Not many people know about this art museum tucked on Marquette's campus. It's free all the time, so you can gaze at a Goya and ponder a Picasso whenever you feel in need of a little more culture in your life.
3. Play Atari at Koppa's
There's a mini living room in the middle of this little deli and grocer, complete with retro furnishings and free Atari.
This is better than it sounds. There's a designated parking lot just for plane-watching on Layton Ave right next to one of the airport's main runways. There's also an FM radio station that broadcasts the control tower chatter so you can pretend you're earning your wings. Good luck getting a spot in this lot during the Milwaukee Air and Water show, or while Air Force One is in town.
... And while you're at the airport, head inside the main terminal to the Mitchell Gallery of Flight, a non-profit aviation museum. See stuff like artifacts from James Lovell and fighter pilot Major Dick Bong. Seriously, Dick Bong. He must've been a badass.
The Riverwalk runs through Downtown and the Third Ward along the Milwaukee River. Bar hopping along it is fun, but that costs money, so stick to sightseeing the architecture, public art, and interesting people all along it.
The Mitchell Park Domes are free to MKE County residents every Monday before noon. The desert and tropical domes are the best, because the third one rotates with the season and somehow it's mums 80% of the time. Don't touch the cacti.
Both the Milwaukee Public Museum and the Milwaukee Art Museum are free the first Thursday of every month. While art is cool and all, you must walk the Streets of Old Milwaukee and find the rattlesnake button at the MPM if you haven't already.
Every Sunday. Free bacon. No-brainer.
One neighborhood in West Allis comes together after Thanksgiving and goes so nuts with holiday decorations that you can probably see it from space. It's for charity, so while it's technically free, you should probably not be a total cheapskate here.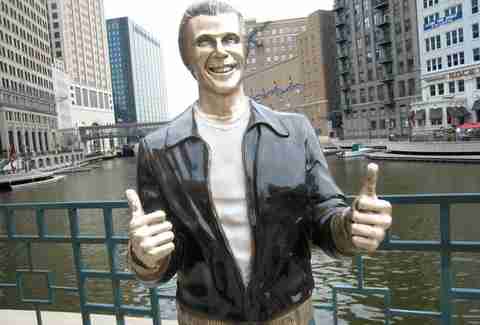 11. Give your selfie stick a workout with the Bronze Fonz
It's located on the Riverwalk south of Wells. Ayyy.
We have an STD clinic that's totally free. Imagine how many more matches you'll get on Tinder or Grindr when you can definitively state you're DDF.
There's lots of free music and comedy shows at Potawatomi, in hopes of luring you in to gamble. Jokes on them; you don't have any money to lose. Bonus: free soda from the soda machines on the gambling floor.
14. Take in an outdoor concert
Both Jazz in the Park and Chill on the Hill offer music weekly all summer long.
There's always a nice breeze at the lake, so dig that old kite out of your garage and get down there. Prime spot is by the Gift of Wings kite store in Veteran's Park, where you can buy a kite if you need to, or just watch the pros with those crazy trick kites.
Practically every parish throws a summer festival for fundraising, and there are usually multiple festivals every weekend. There's free music of the cover-band variety, and lots of great people-watching. (And beer, but of course that's not free.)
17. Picnic in the park
The best place to park it when you've got a picnic in hand is at one of the many beer gardens. Estabrook Park, Hoyt Park, and Humboldt Park are the best, and generally have live music. You can bring picnic baskets (and dogs!) into any of them.
The Swing Park under the Holton St Bridge on Water St has had a rocky history, but it's still there thanks to the dedication of its fans. Tire swings were not originally planned for the space, but were installed guerrilla style in all shapes and sizes and embraced by the community. Revitalizing an unused urban space has never been this whimsical.
There are only six free days a year, but that just means you make it a priority when those days come. You can splurge and use your admission money on a really cool black bat Mold-a-Rama instead.
Screenings of experimental films, documentaries, and classics are free and open to the public.
The trail, from near the park entrance to the beach, winds through ravines and woods over seven bridges (though there are 10 in the entire park). It's a great secluded spot to escape the city and explore.
22. Eat pizza at Just Art's Saloon
Art buys the bar pizza on Wednesdays, because he's just a cool dude like that. 
Sure, libraries are always free, but the Central branch of the Milwaukee Public Library is housed in an 1898 building on the National Register of Historic Places. Look up at the rotunda inside the main entrance, then wander around and gaze at the art on the walls.
You can listen to WMSE for free, but you can also volunteer your time and skills, too. While you probably won't be appointed your own on-air show (all the DJs are volunteers!), you can help this 35-year-old station with marketing, promotions, and general office work.
We don't get a whole lot of chances to sunbathe here, so when summer finally does hit, Bradford Beach gets packed with people trying to increase their vitamin D.
26. "Ooh" and "ahh" at some fireworks
July 4 is the time when most communities have fireworks, but MKE's also got the Big Bang that opens the first day of Summerfest, every night during Festa Italiana, and at various other festivals throughout the summer.
If you're even remotely interested in history, retro design, or reminiscing about the Darkwing Duck action figures you had as a kid, then head to this huge antique mall. Browsing is, of course, free.
Yes, people do use Craigslist for something other than missed connections. Haven't you always wanted free (living) goldfish, or wooden pallets for your latest upcycle project?
Every fall, buildings all over the city open their otherwise-closed-to-the-public spaces for exploring. Take in the view from the top of the US Bank Center or descend into the crypt of the Calvary Cemetery chapel.
There are three different centers in the city where you can commune with nature and learn about everything from growing sustainable food to local bird populations.
Learn how your favorite caffeinated beverage is roasted at the factory of this local coffee company. Tours (and smells) are free every Sunday.
Sign up here for our daily Milwaukee email and be the first to get all the food/drink/fun in the Brew City.