25 Signs You're a Packers Fan
Forget Christmas: the start of the Packers season is the most wonderful time of the year. Packers fans are a loyal and dedicated bunch, both to their team and to each other. While in Wisconsin, you can generally assume everyone else is a Packers fan. But if there's any doubt, just look for these telltale signs…
Your church services never overlap with a game
A Reggie White jersey can be considered your Sunday best, thanks to your pastor, who makes sure services end at 11:45am.
You jump at the chance to shovel snow
No one likes shoveling out their driveway, but shoveling out Lambeau is another story. The Packers call on local fans to shovel the seats out when there's a heavy snowfall before a game. People line up early in the morning just to get a chance, and the Packers even pay them $10/hour.
You put your newborn baby on the Packers season ticket list
There are over 81,000 people on the waitlist, with an average wait for season tickets of about 30 years. So you can look forward to many, many yearly postcards detailing baby Jordan's spot on the list.
Any pregame party is a tailgate
You don't need a truck to tailgate. As long as you're drinking, eating, and having a good time with people before a game, you're tailgating.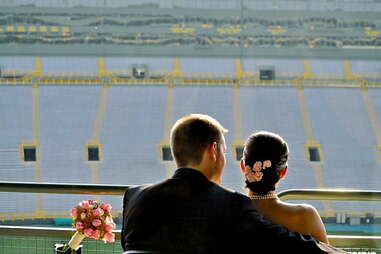 You're getting married at Lambeau Field
Yep, you can do that. They even have a Facebook page.
Your grandma crocheted you a green & gold hat
It gets cold out there at Lambeau, and you need to cover your ears!
You're not a big fan of bears, generally
Except that one named Cutler, because he sure throws some good passes to our defensive guys.
You're a regular at the bar on Sunday afternoons
When you're not actually at Lambeau, chances are you're watching the game with 30 of your closest friends, or the other regulars at your favorite corner tavern. You may even have a usual seat.
You own the team
Who else can say they partially own their favorite team? No one. That's why the Packers are so awesome: they're truly a team for the people.
Your junk drawer is filled with hand and foot warmers
Because you always forget to grab them on your way to those 10-degree games, and then you end up buying more. You can never have too many foot warmers when you're standing on that cold concrete, though.
You dress as Packers for Halloween
It's kind of a cop-out, since most people wear Packers jerseys year-round, but when else are you going to get a chance to sport that helmet without people looking at you funny?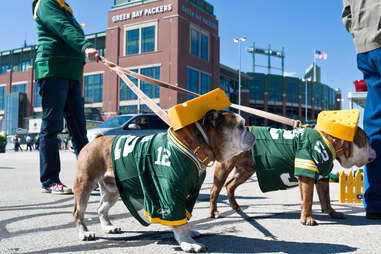 Your dog's name is Curly
Or Lambeau, Fuzzy, Willie, or Reggie.
Brett and a Brooks and an Edgar and a Reggie, Jackson and Chmura and a Holmgren and a Jacke, Jones and a LeRoy and a Newsome and a Dorsey...
You own at least one foam cheese product
Cheeseheads are great and all, but there's a wide world of foam cheese accessories just waiting to be bought: bras, top hats, bow ties, can koozies…
You know who made the first Lambeau Leap
There's a lot of history to the Packers, including LeRoy Butler's first Lambeau Leap in 1993. Though it seems like that's a tradition that's been around forever...
"Fall colors" means green and gold
We deck our homes and bodies in green and gold, the true colors of fall. None of this burnt orange stuff for us (...unless it's in conjunction with green and gold).
You cried when Favre played that game after his dad died
Brett's father passed away the night before a game, and Favre went out there and passed for 399 yards, completely shredding the Raiders. It was a super-emotional time for him, and every Packers fan felt for him. Even if you were a kid, chances are, you remember that game.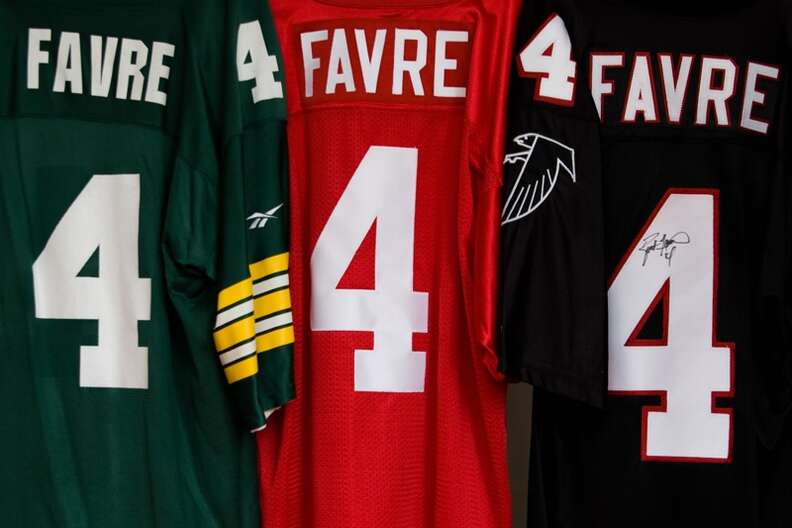 ... then you hated him when he signed with the other guys
Deciding you actually wanted to play again? Fine. Playing for one of our bitter rivals? Not cool, man.
... and now you love him again
The wounds are healing, and we haven't worn our "Brent who?" T-shirts in years. He deserves that Hall of Fame spot.
You know people who talk about the Ice Bowl as if they were there
Whether they actually were or not.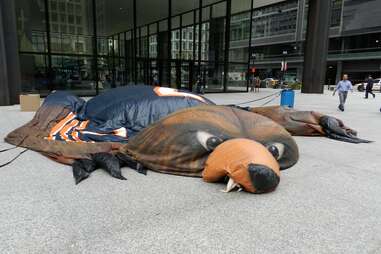 You actually do hate your in-laws for being Bears fans
You joke about them being FIBs and laugh at them when they talk about how the Bears are actually a good team, but deep down, you really, actually, genuinely despise them when they wear Bears stuff to your Packers parties. Even if they grew up in Chicago rooting for the Bears.
You've gotten free hot chocolate at a game
It's not called the Frozen Tundra for nothing. Yes, Wisconsinites are a hearty people, but we're also just plain nice, so a little free hot chocolate during those sub-zero games is greatly appreciated for defrosting your lips.
Your den is decked out in gear
You don't need autographs from Fuzzy Thurston and Paul Hornung, though everyone will admire them greatly if you do. Some wooden signs you bought at a craft fair, a bright neon G logo, and a couple 1996 Super Bowl champions afghans will do just fine.
You remember exactly where you were for every Super Bowl the Packers have won
Fun fact: I was on a cruise ship during the 2011 Super Bowl, and damn right, I skipped hanging by the pool for football.
You draft all Packers on your fantasy team
OK, we get it, you're a Packers fan and only in this league because we needed a replacement owner, so you only want to draft players you "know." Thanks for your money, sucker.
Sign up here for our daily Milwaukee email and be the first to get all the food/drink/fun in the Brew City.
Lacey Muszynski is a Milwaukee native who of course owns an Eddie Lacy jersey (even if he spells it wrong). Follow her on Twitter at @worthhersalt.