Summer is here, and that means it's wedding season. If you've never attended a wedding outside of Wisconsin, you may not realize precisely how unique our traditions are (most brides from other parts of the US don't think to go barhopping, or grab a slice of their favorite pizza, after getting hitched… their loss). We do a lot of drinking, a lot of weird dances, and just can't seem to give up our favorite teams for even one day. Here are the biggest signs you've found yourself at a Wisconsin wedding.
Somebody's wearing a cheesehead
Your Packers pride doesn't stop during the offseason, so why should it slow down during your wedding? At any Wisconsin wedding, you'll always be able to find at least one person wearing a Badgers tie, Packers cufflinks, or a Polish racing sausage necklace. In fact, we should turn this into some sort of local wedding game... guests who wear something Wisconsin sports-related take shots?
The bride can drink more than the groom (and does)
Wisconsin ladies are capable of maintaining our composure and poise... while completely drinking our male counterparts under the table. Brides in Wisconsin don't hold back, but usually, they're smarter about drinking than grooms, and perceive the night as a marathon, not a sprint -- which helps them remember the entire evening. Keep up the good work, ladies.
At least one polka has already played
No matter where in Wisconsin the wedding is located, there will be family and friends of German and Polish ancestry in attendance. Grandma expects a polka, and she's going to get one, gosh darnit. The big upside: a polka always brings everyone out on the dance floor because it requires less coordination than the Electric Slide, but can actually be considered a dance (we're looking at you, YMCA).
...and the Chicken Dance is up next
Similar to the polka, the chicken dance allows even the most uncoordinated, rhythmically challenged guests to strut their wings… er, stuff. Plus, kids love this one, and we're with them. Just give up on looking cool and dive into the fun.
The UW Marching Band and/or Bucky Badger show up
If the bride or groom are big UW-Madison sports fans, then don't be surprised if the marching band or Bucky Badger make an appearance. Bucky generally tears up the dance floor, performs his super-fly headstand, and gets everyone to join him in "Jump Around." And the band will lead everyone 5th Quarter-style with "On Wisconsin" and "Hot Time." No Badger faithful can resist the chance to sing "Heeeey baby, I wanna know-ow-ow, if you'll be my girl?" to his bride.
You know to bring small bills for the dollar dance
As horrible as Miss Manners thinks it is, the dollar dance is pretty ubiquitous around this state. Legend (aka Wikipedia) has it that the dollar dance originated in Poland, so it only makes sense that it's got a strong foothold here. There are many variations, but they all involve giving the bride dollar bills for a dance (no, not that kind of dance), whether by pinning them on her dress, or stuffing them into an apron or purse she puts on. The couple usually earmarks that money for a particular purpose, like their honeymoon or their first child.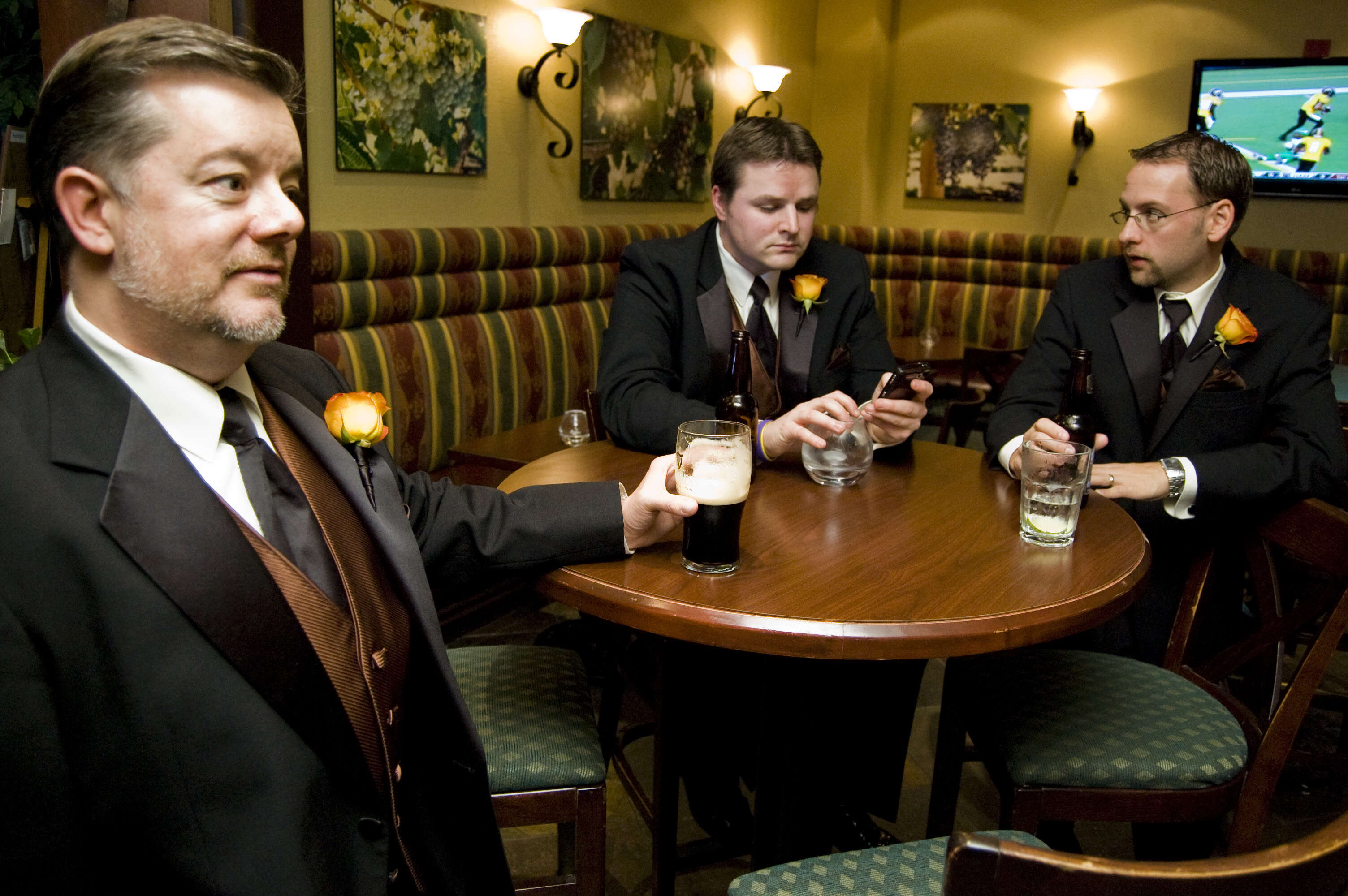 There's time scheduled between the ceremony and reception for barhopping
Everyone gets annoyed when there's a two-hour gap between the end of the wedding ceremony and the start of the reception. But in Wisconsin, we've figured out the perfection solution: go straight from the pew to a barstool. Often times, this is a formalized affair: once the entire wedding party finishes photos, they'll take off for a few bars. But for most guests, this gap time is used to build up a base of beer before the reception -- or catch a Badgers or Brewers game on TV.
And you go barhopping after the wedding, too
If your reception hall closes at midnight, that leaves plenty of time to grab a few more drinks -- with the bride and groom included. This is especially true for Downtown Madison weddings, where you may find groomsmen in tuxes roaming State St on any given Saturday night. All that beer requires some carbs to soak it up, so late-night eats are also a must. It's not unusual to see a bride and groom in line for a slice of Ian's at closing time.
If it's early spring, everyone's wearing their winter coats
Not everyone can get married in the summer, so couples who choose to get married outdoors in spring and fall are at the mercy of Mother Nature. April showers tend to stick around through May, as do the accompanying chilly temps. And the end of October can see flurries. In those cases, it won't just be Auntie Ruth wearing five layers; it'll be everyone, including the bride. I bet fancy white shawl-makers rake in the dough up here.
The beer runs out before the party is over
Only in Wisconsin can we drink a wedding dry. It doesn't happen often, because the booze budget is usually accordingly high, but couples that underestimate their guests' chugging ability will never hear the end of it for the rest of their happily married lives. When this happens, usually a (sober) 18-year-old is tasked with driving a less-than-sober family member to the liquor store... and saving the party with a trunkful of booze.
The flower budget is cut before the beer budget
Not that every Wisconsin wedding skimps on flowers, but if the budget needs balancing, the beer will be the last item to get cut. Every couple will supply their guests with free alcohol of some sort, whether it's a keg of Miller Lite, or a full, top-shelf open bar for the entire night (a very dangerous and expensive, but appreciated, proposition in Wisconsin). This is of the utmost importance… not providing some form of free booze is so uncouth here.
Sign up here for our daily Milwaukee email and be the first to get all the food/drink/fun in the Brew City.
Lacey Muszynski is a Wisconsin native who's been to a wedding with Bucky, a wedding with the UW band, and has gone to Ian's with the bride and groom. Follow her on Twitter @worthhersalt.