The temperatures are finally dropping, but we're not yet into the bone-chilling stage of the year -- which is why Milwaukeeans treat fall just like an extension of summer, packing in as many things to do as possible before we hibernate. Autumn's still got plenty of activities, events, and parties lined up, from chili competitions and wine fests to art shows and Oktoberfest, which means you'll have no trouble deciding what to do each weekend from now until Thanksgiving. Here's a handy rundown of fun fall must-dos to keep you busy before snow-shoveling season hits.
Recommended Video
Winter Starbucks Beverages Around The World
September 10-19
Multiple locations
You know Downtown Dining Week? Well this is Wauwatosa's answer. Head to almost 30 different restaurants in Tosa and take advantage of discounts, deals and special prix fixe menus.
Cost: Varies
September 15
Downtown
This is the 18th year of the 3-mile long crew race that includes a 90-degree turn; the best spots for spectators are along the riverwalk, and on any of the bridges downtown.
Cost: Free
September 21-23
Wisconsin Center
Got a cool tat or just plain appreciative of the art of tattooing? Head to the Tattoo Arts Convention, where you can probably see more tattoos than you ever have in your life, along with famous tattoo artists, seminars, and tattoo contests.
Cost: $20
September 22
Miller Park
Combine your love of running with your love for the Brewers into one tiring event. You pick a half marathon, 10K, or 5K, which is why it's called a mini-marathon -- but those are all plenty long as far as I'm concerned. You get to run the field warning track in Miller Park, though!
Cost: $40+
September 22
North Avenue at 66th
This is a street festival centered around a chili competition, which should be all the information you need. There's also live music, fashion show, outdoor yoga, and a bouncy house -- you may want to save the chili eating for after those last two activities.
Cost: Free
September 22
Reed Street Yards Park
Formerly the Journal Sentinel Food & Wine Experience, the wine has been moved to the front of the name because -- surprise surprise -- drinking is the best part. Watch cooking demonstrations, eat food from local chefs, and mingle with the crowd while sipping your rosé.
Cost: $50+
September 22
Summerfest Grounds
We know you adore your yappy little dog just as much as he annoys the rest of us, but at PetFest, you'll be surrounded by dog owners who are just as obsessed as you are. Good luck getting your Pomeranian through that agility course, though.
Cost: Free
September 22
Walker's Point
Walker's Point didn't have its own street festival until they remedied that fact in 2017 -- now, you can expect a couple of stages with everything from drag queens and ballet to delicious food and art & crafts.
Cost: Free
September 22-23
Multiple locations
Anyone who's a history buff or simply loves Milwaukee (we all do) will love this popular event. Buildings -- often historic and otherwise closed to the public -- open their door for touring for free. Head into a closed cemetery crypt, or to the top of the U.S. Bank building.
Cost: Mostly free, though some organized tours cost $10
September 28-30
State Fair Park
This annual free festival celebrates the beginning of autumn, with farmer's market stalls, pumpkin and apple pie to be eaten, festival cover bands, plenty of kid-friendly stuff to do, and a stuff-your-own scarecrow building area.
Cost: Free
September 28-30
State Fair Park
Always the same weekend as Harvest Fest, the Maker Faire is housed in the adjacent Expo Center. You can do everything from battle robots to buy crocheted crafts, or just chill in the trippy, darkened back room with light and electricity shows.
Cost: Free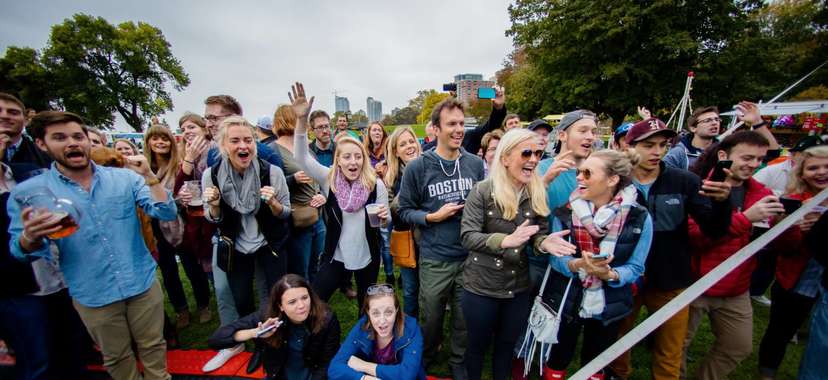 October 5-7
Fiserv Forum plaza
This year Oktoberfest moves to the brand spanking new Fiserv Forum plaza, the first-ever event held in that space -- and what better way to break it in than with plenty of beer, polkas, and a cornhole tourney?
Cost: Free
October 6
Schlitz Park
Sure, we've got plenty of beer fests, but what about cider? This fest has 40+ ciders and cider cocktails to sample, plus nano batch brews for good measure -- and yes, the Badger football game will be on a big screen.
Cost: $45+
October 18 - November 1
Multiple locations
For a city that's not huge, we have a pretty robust film festival: There will be over 300 films screened, along with plenty of lectures and discussions, and there's usually a local filmmaker focus as well.
Cost: Varies
October 19 - 20
Multiple locations
A few times a year, art galleries, museums, boutiques, and businesses open their doors to people wanting to learn about local artists. While it's still centered in the Third Ward, it's growing with locations participating in other parts of the city as well.
Cost: Free
October 19-21
Wisconsin Center
The Pow Wow is three days of singing, drumming, and dancing with Native Americans from all over the country competing for over $100,000 in prizes. It's free to attend, so there's no reason not to check it out.
Cost: Free
October 26
Mitchell Park Domes
The desert dome is getting decked out for Dia de los Muertos for the first time this year. Candles, orange marigolds, and other decorations will be up, along with a mariachi band, kids' activities, and Mexican food and beverages.
Cost: $8
November 1-11
UW-Milwaukee Union Cinema
The day the Milwaukee Film Festival ends is when the LGBT Film Festival begins. Run by the UWM Peck School of the Arts film department, expect to see feature films, documentaries, visiting artists, and talks about LGBT portrayals in film and media.
Cost: $5+
November 3
Downtown
You know the drill: marching bands, local news "celebrities," and most importantly, over a thousand veterans in various groups march in this parade. It always ends at the War Memorial, where special displays and services are being held as well.
Cost: Free
November 3-4
Crown Plaza Hotel and Convention Center
This may be the only event that brings together comic book artists, memorabilia dealers, and the entire cast of Land of the Lost in one place. Get autographs, photos, and sketches from TV and pop culture celebrities.
Cost: $10
November 9
Riverside Theater
Check out the host of The Daily Show on his stand-up tour; while you won't be seeing a taping of the show, you'll probably still get plenty of political humor and making fun of President Trump, which is a pretty good consolation prize.
Cost: $45.75+
November 16-18
State Fair Park
The Expo Center is filled to the brim with cultural exhibitions, including a traditional dance and music theater, international foods, heritage booths, and, perhaps the most important with the holidays coming up, the bazaar.
Cost: $12
Sign up here for our daily Milwaukee email and be the first to get all the food/drink/fun in the Brew City.