The Insider's Guide to Having Great Craic at Irish Fest This Weekend
Courtesy of Milwaukee Irish Fest
Milwaukee's Irish Fest is bigger than Gulliver in the land of Lilliput. Every year, more than 120,000 people come from all over to celebrate everything Celtic for four days in August.
"As the world's largest celebration of Celtic music and culture, festival goers can look forward to experiencing the best in Irish and Celtic music, delicious Irish food and drinks, and fantastic activities," explains Patrick Boyle, executive director of Irish Fest.
The 2016 version, which takes place August 18-21, marks the 36th time that Irish Fest has spread good craic across southeast Wisconsin. Having an excellent time at the fest is pretty easy, but follow a few of these insider's tips to really make the most out of the long weekend.
Courtesy of Milwaukee Irish Fest
Stay for the afterparty
Revelry doesn't end when Irish Fest ends. Make the short walk to County Clare afterward, the go-to post-fest hangout. With just a little luck, you may find an impromptu jam session by Irish Fest musicians staying at downtown hotels. Stories of the late-night music sessions that go down in the lobby and on the roof of the Park East Hotel are the stuff of legend.
"I had the pleasure of watching Tommy Makem and some of the Clancy Brothers play together one night at the Park East," says Jamie O'Donoghue, a bar owner whose family has been a part of Irish Fest since its inception. "It was one of the coolest things I've ever seen."
Explore Irish beer... beyond your standard pint of Guinness
Not a drop of the iconic Irish stout is poured on the Irish Fest grounds, but plenty of other great stout options are: snag a Sprecher Irish stout, Lakefront Snake Chaser stout, or a Water Street Irish Whiskey stout instead. There are well over 25 beers and ciders (sorry, no Magners, either) to choose from, so you won't go thirsty.
Experience award-winning Irish dancers
The Trinity Academy of Irish Dance wins Irish dancing world championships -- no kidding, dozens of them. The amazing group draws big crowds at Irish Fest, and their positively electric shows are a must-see. But don't miss out on other groups that make Milwaukee an unlikely Irish dancing powerhouse. Dancers from the likes of Cashel Dennehy, Glencastle, Kinsella, McMenamin, and Beglan deserve support too. You won't be disappointed.
Courtesy of Milwaukee Irish Fest
See the headlining bands, but also dance a jig with the locals
Irish Fest books plenty of international Irish musical acts, but its long history is built upon great locals. Be sure to see imports like the ridiculously energetic (and awesomely named) Red Hot Chilli Pipers, and fest regular Gaelic Storm. But don't miss out on homegrown talent that includes Reilly, Frogwater, and Leahys Luck. The locals appreciate it.
"To be a part of the event, with such a lineup, is always special to us," says Reilly's Tinker Tierney. "Reilly has played Irish Fest for something like 15 years now."
Courtesy of Milwaukee Irish Fest
Be sure to hurl
No, not from overindulging. Head just to the north of Irish Fest to check out hurling -- a fast-moving sport that looks like a lacrosse without all the padding and fancy sticks. Watch exhibition matches and try your hand at hitting a sliotar (a ball) with a hurley (a large wooden paddle). The Milwaukee Hurling Club is a big one, and they'll show you how the game is played.
Courtesy of Milwaukee Irish Fest
Never miss a Sunday
Despite thinning crowds, the atmosphere on Sunday stays festive -- and there are some strong reasons to stick around. On Sunday night, the Aer Lingus stage hosts The Scattering, and an amazing scene plays out when dozens of musicians who have played the Fest get together and give festival goers one last chance to get together, sing, and dance before another great year winds down.
"I never miss a Scattering," says O'Donoghue. "Everyone sings along and it's really powerful. On Sunday, you can start with the Mass and make it to The Scattering, and have a great day."
Take heed, though: food vendors occasionally run out of the good stuff, but the good news is that the beer never runs out.
Go green without spending green
You never have to pay full price to get into Irish Fest. Thursday is free with a donation of school supplies. Friday is half-price. Saturday is free to runners of the Run/Walk to Irish Fest 5K, and Sunday is free if you attend morning Mass on the grounds. If you're not into churchin', you can donate a non-perishable food item by 11am to get in.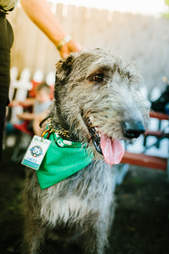 Courtesy of Milwaukee Irish Fest
Relax with the hounds
Irish Fest can get a little hectic. The Celtic Canine area provides a respite from any blarney and lets you chill with some great dogs. Irish Setters are cool and all, but it's the oversized Irish Wolfhounds that are mesmerizing. If you've never spent quality time with one of these gentle giants, make time for the dogs.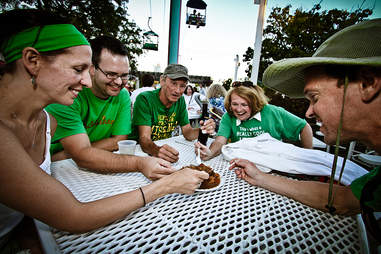 Courtesy of Milwaukee Irish Fest
Get to the food early
Lines form quickly at the Irish Baker for the baked potato topped with Irish stew, and there's usually a wait for the corned beef sandwich at O'Donoghue's. Irish Fest is best accomplished with a solid base. Don't miss that opportunity by thinking you can easily get great Irish food whenever you want to; make sure you start your day at one of these standouts.
Courtesy of Milwaukee Irish Fest
Bring the family (or be prepared for folks bringing theirs)
Unlike a few other Milwaukee summer festivals we can think of, the idiot factor at Irish Fest is extremely low, so people bring kids in strollers without too much trepidation. The crowds are manageable, the knuckleheads are few, and Irish music is soothing -- it makes sense, really.
Try running to the Fest
Burn off the pints of beer, Irish stew, and fried stuff before you even pass through the festival gates. The Saturday morning Arthritis Foundation Run/Walk to Irish Fest 5K accomplishes the goal of boosting your cardio, and it gets you into the Fest for free (once you've paid your race fee). The first beer after the scenic run along the lakefront is one of the most refreshing you'll have all year.
Give in to your need to travel to the Emerald Isle
It's natural to feel a strong desire to travel after being immersed in Irish culture for a weekend. Forget your inhibitions and plan a trip while you're at the Fest: head to the Travel Ireland area just inside the Main Gate, and you can actually book your flight on Aer Lingus, at a price that rewards you for spontaneity (however, parting with this much cash is best done after a pint or three). Irishness is not something to fight. Give in with a plane ticket to Dublin.
Sign up here for our daily Milwaukee email and be the first to get all the food/drink/fun in the Brew City.
Patrick Follett writes about the beers and bars in Milwaukee for Thrillist. He enjoys spending plenty of time with both.