Courtesy of Visit Milwaukee
Courtesy of Visit Milwaukee
When folks hear Milwaukee, odds are their minds paint some Candyland-scape of beer and cheese; a Wonka wonderland of fromage and fermentation. Either that, or they don't know anything at all about Milwaukee.
I'm here to tell you that Milwaukee is beer, cheese, and more. It's a vibrant, humble city with a great food scene, an incredible legacy of festivals, and a bar culture better than anywhere else in the world. But even if it was just beer and cheese, wouldn't that be enough? Beer and cheese are two of the best things on earth.
I live in New York now, and I can usually tell how cool people are based on their response to learning that I'm from Milwaukee. They fall into four levels, which I will refer to as Uecker's Inferno.
The first level is a cool person; someone who responds with, "I've been to Milwaukee -- really cool city," or "I've never been but I've heard good things" (by the end of this article you'll all be on this level).
The second level is someone who says, "Ah, Mil-ee-wau-kay, Algonquin for 'The Good Land.'" Sure, it's a movie reference (Wayne's World for the less cultured among us), but at least it's a good movie reference.
The third level is anyone who associates Milwaukee with That 70's Show, as notorious blowhard and Bar Rescue host Jon Taffer did when he attempted to "save" a local, albeit neglected, East Side tavern called the Y-Not III by turning it into the gaudy gong show that is Nick's House, some vague reference to a 70's basement. The move certainly didn't pay off: the city rejected this ill-advised change like an unvetted heart transplant.
The fourth level is anyone that comes back with some approximation of a Fargo accent. These are the same kinds of people who think any city that isn't a swaddling ground for white collar criminals must exist in a "flyover state," or that any state that doesn't touch the ocean is one amorphous mass in the midsection of America, or Mars, or whatever.
But whatever reference they ascribe to Milwaukee, it always comes back to beer and cheese.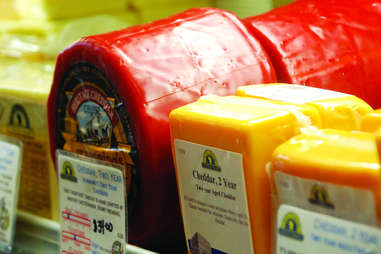 Milwaukee Is More Than Cheese
I grew up in New Berlin, Wisc., a suburb roughly 15 minutes west of Milwaukee. Every day I'm thankful that I had parents who were adventurous eaters. Whether it was jaunts into the city for dinners at African Hut (RIP), down to Walker's Point for Mexican, or to the East Side for Beans & Barley when my parents wanted something healthy. There were countless spots offering excellent food across a wide spectrum of taste.
When I go back to Milwaukee now, I'm baffled by how many great new restaurants seem to open every month. There have always been solid ethnic enclaves: the aforementioned Mexican, the stellar Vietnamese options -- the result of Southeast Asian immigrants, Hmong specifically, who settled in Wisconsin in the aftermath of the Vietnam War -- and down-home European (German and Polish especially) restaurants, to name a few.
But the new class of spots in Milwaukee embrace the locality more than I would've ever imagined. Wisconsin is an ecologically diverse state; there is no dearth of access to produce, grains, dairy, meat, and fish. And there's a richness and heartiness to Midwestern cuisine, a legacy of the German, Polish, and Scandinavian immigrants who settled there. When you throw these elements into a blender with creative chefs, you get really exciting restaurants that offer high-quality food, usually with great portions and at reasonable prices.
"It bugs me that after all this time Milwaukee is still only known for Laverne & Shirley, beer and cheese, etc.," says Ann Christenson, the dining critic at Milwaukee Magazine for nearly 20 years. "The progressive, fine dining scene, it's all growing. People like Ardent's Justin Carlisle (a finalist for this year's James Beard Awards in the category of Best Midwest Chef) are leading the way. There's a collective of chefs -- from Odd Duck, Goodkind, c.1880, Vanguard, Morel, Sanford, and Wolf Peach --that support each other and want to make this city known for far more than a beer-and-cheese town," she says.
These days you'll find countless trendpieces claiming that any podunk town is "A Great Food City" ("Is Tulsa the Next Great Food City?" PROBABLY NOT). Milwaukee may not be there yet, but the progress that's been made in the past few years is exciting, and its trajectory is bolstered by members of a tight-knit community that give a shit.
"It's evolving -- maybe not as fast as other cities, but it's happening," Christenson says.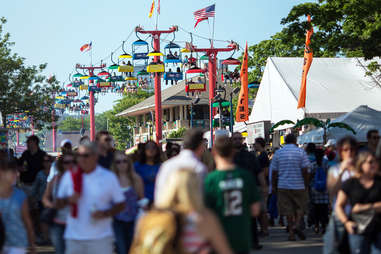 A Summer Town
I moved to New York six years ago, and when I left Milwaukee I had to wait until the fall to do so. I had to wait because, simply put, Milwaukee is about as good as a city can get in the summer. Its proximity to Lake Michigan keeps the seasonably hot weather tempered by a cool lake breeze ("Cooler by the lake" is a common Milwaukee expression/ethos).
This optimal climate is fully embraced by the city. In every neighborhood you'll find bars and restaurants with well-maintained patios for outdoor dining and drinking. Springs and falls in Wisconsin are fine, but horribly inconsistent (that's to say nothing of our Hoth-like winters). Summer is the three months a year when we Midwesterners can emerge from our caves and actually appreciate the city -- and appreciate it we do, in full force.
Summers in Milwaukee are defined by festivals. If you don't believe me, google "City of Festivals" -- all Milwaukee results. Between June and September there are more than 40 festivals and outdoor events in the city. There are so many festivals that there's a dedicated 75-acre festival ground in a picturesque part of downtown, right on the lake, Henry W. Maier Festival Park, named for the city's mayor from 1960-1988 who basically birthed the idea of Milwaukee as a festival town after a visit to Oktoberfest in Munich.
Playing off the city's proud tradition of cultural heritage appreciation, many of the festivals celebrate a unique ethnic group. Everybody has their favorite, but for me, highlights of the season include German Fest, Polish Fest, Festa Italiana, and Bastille Days. While ethnic celebrations existed for as long as immigrants began arriving in the Midwest, many of these festivals have been annual city-wide celebrations for more than 30 years, and they're as much a part of the fabric of the city as the notorious beer and cheese we can't seem to escape.
In addition to cultural festivals there are also neighborhood festivals throughout the summer. Locust Street Festival in Riverwest, Brady Street Fest on the East Side, and the Bay View Bash (to name a few) all celebrate the people and businesses within a community with multiple stages of live, local music and entertainment, and food and drink vendors.
The jewel in the crown of Milwaukee's festival season, though, is Summerfest. Over 11 days, the festival draws nearly 900,000 attendees, all geared up to see the more than 800 acts spanning the entire spectrum of music and performance. I'm a disgusting Brooklyn hipster and there's stuff I can sign off on without the slightest bit of irony. This year alone features Nelly, Taylor Dayne, Styx, and literally hundreds more. It's The World's Largest Music Festival, registered trademark earned, and it's in Milwaukee.
Milwaukee Is Beer and More
Of course, Milwaukee has a proud tradition of brewing. It's a tradition we embrace fondly, and celebrate every time our beloved Brewers take the field. It's a tradition you too can embrace fondly if you come to town and take one of the eye-/mouth-opening tours these breweries host.
But it's not just the beer that makes the city special -- beyond that, it's our bars and bar culture, the places those beers are served and the people who serve and consume them.
To understand why Milwaukee bar culture is so great, it's important to know that Milwaukee is a collection of neighborhoods, each with its own history, identity, and pride. And, as a working-class town and a town founded by tight-knit communities of immigrants, within these neighborhoods there was a need for places where neighbors could unwind and socialize. These meeting places were churches and taverns. Unlike other cities, however, the groundwork laid in the 19th and 20th centuries was never bulldozed to make way for incongruent development. Call it slowed progress or a genuine interest in historical preservation, but a disproportionate amount of the buildings that housed taverns, and the taverns themselves, remain to this day.
The fact that so many of these bars still exist earned Milwaukee SAVEUR magazine's 2015 runner-up for "Destination-Worthy Old-School Bar Scene" in their Good Taste Awards. The winning city? Dublin, Ireland.
One of the interesting traditions of Milwaukee bars was something known as "tied houses," named after the fact that they were tied to the breweries in town. In the late 19th century, breweries would buy bars or form exclusive contracts with bar owners and garishly furnish them with brewery fixtures and regalia in exchange for that bar only selling that brewery's beer. Despite tied houses being cracked down upon in the wake of prohibition, many of these structures exist to this day.
Beyond architecture and history, Milwaukee's bars are defined by characters: the character of the communities they're in, of the bartenders and bar owners, and of the patrons that visit them. And while a list of the Best Bars In Milwaukee would be instructive, a better illustration would be to touch on anecdotes that demonstrate that character.
One local legend is Wolski's, a neighborhood bar off of Brady Street that hands out "I Closed Wolski's" bumper stickers to anyone willing to stick around until 2am and somehow manages for it to not feel like a dumb gimmick. The city's bar scene is full of quirks like this.
My personal favorite is returning to Milwaukee over the holidays every year and visiting Cactus Club (a Bay View bar and concert venue) on Packer Sundays. Every time someone walks into the bar everyone claps them in. When you're here, you're welcome, and if you're drinking, you're family.
Drinking is a big part of Wisconsin culture. Going back to the Dublin connection, Wisconsinites have been compared to the Irish. Comedian Lewis Black once noted, "I had this feeling that the people of Wisconsin actually were the people who settled Ireland."
Milwaukeeans are a principled people. Whether we lean Conservative or Liberal, we tend to stand firmly on ideological issues (we were a Ted Cruz and Bernie Sanders primary state). This zeal has made Milwaukee home to both Sewer Socialism and Joseph McCarthy. But no matter what you believe, there's always the tavern, and the notion that everyone is the same with a beer in their hand. I have countless friends who I only interact with through social media and at the bar; and the bar is infinitely more civil.
A Gathering Pride
When I was growing up it was easy to find t-shirts saying "I'm From Milwaukee and That's Not Funny", or "Wisconsin: Home of Cannibal Killers and Happy Days". I always loved Milwaukee's standing as an underdog town. We grew up in the shadow of Chicago; the Second City's Second City. There was a humbleness and sense of humor about where we came from. Call us Cheeseheads? That's fine, we'll wear cheese on our heads as our self-deprecating way of saying that we're in on the joke and owning it. It was a pride engendered out of necessity -- working-class people making the best of their situation.
But these days the shirts read "Milwaukee Home". Millennials and others resettling in cities is affecting every corner of the country, but because of Milwaukee's tradition of neighborhoods, a revitalization in civic pride is hitting the city harder than other places. There's even an effort to change the city's flag to represent a new vision of Milwaukee.
Being a New York transplant forces one to consider the concept of Home as an idea versus home as a place. For me, Milwaukee encapsulates both, but for outsiders Milwaukee is undeniably the latter -- its residents eager to share the city they love with anyone willing to give it the time. Visiting Milwaukee is an invitation into that home. So pull up a seat at the bar, grab a beer, maybe eat some cheese, and hear it from locals why it's so much more than that.