15 Milwaukee New Year's Resolutions You'll Actually Want to Make
Courtesy of Visit Milwaukee
A new year calls for new resolutions -- when you look toward the future with endless optimism, only to crash back down to reality two weeks later after bingeing on a whole pizza chased with some cheese curds. We prefer goals that are attainable, or even fun, because then we won't feel like total failures. We can make these 15 Milwaukee resolutions happen.
 
1. We resolve to keep cheering for the Brewers
This period of rebuilding will be excruciating, but bandwagon fans are even worse. Besides, tailgating is always good.
 
2. We resolve to limit Facebook posts about our Caribbean vacation in the middle of February
We will post the obligatory toes-in-the-sand photo, but we won't post our new piña colada every 30 minutes. We understand there's a blizzard back home, and we won't rub it in.
 
3. We resolve to drink more water than beer
It's so easy to drink beer here, but hydration is important.
4. We resolve to take a polar bear plunge
Don't forget that you're choosing to do this one, so not complaining about the weather still applies. Feel free to brag after the fact, though.
 
5. We resolve to get that selfie with the Milverine
He's so manly prowling up and down KK Ave.
 
6. We resolve to hit more of MKE's festivals
There are other festivals in Milwaukee besides Summerfest, you know. And Summerfest lasts for 11 days, not just one night.
 
7. We resolve to stop complaining about the weather
No matter the weather, we will be complaining about it. It gets old.
Courtesy of Visit Milwaukee
8. We resolve to leave the turkeys alone
If we see an urban turkey, we'll leave it alone. Unless it's in danger, then we'll gently corral it to safety hopefully without getting attacked.
 
9. We resolve to venture out of Bay View and the East Side
There's a whole big city of neighborhoods that deserve love too. Riverwest, 'Stallis, Silver City, Washington Heights... there's no reason we can't explore outside our neighborhood, no matter how much we love it.
10. We resolve to try as many custard flavors at Kopp's as possible
Call it important local research.
 
11. We resolve to eat more pie
Yes to Honeypie Cafe, National Bakery, and Mr. Dye's Pies.
 
12. We resolve to drive faster than 50mph in the left lane on I-94
"Slower traffic keep right," grandpa.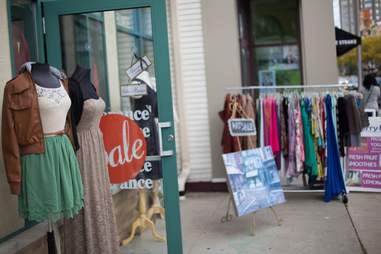 Courtesy of Visit Milwaukee
13. We resolve to shop locally
It's so easy to drop a couple bills at Anthropologie, but why not try Waxwing or Boswell Book Company instead?
 
14. We resolve to go bowling
Thanks to our German immigrants, bowling is a big part of Milwaukee's history. Just because we haven't bowled since high school doesn't mean we can't go make fools of ourselves trying. Plus there's always a bar in the alley (or vice versa).
 
15. We resolve to visit every brewery and distillery in town
If there are a few tours you still haven't gone on, now's the time. Plus, they're all pretty cheap. Don't forget to hydrate.
Sign up here for our daily Milwaukee email and be the first to get all the food/drink/fun in the Brew City.
Lacey Muszynski is a Milwaukee writer who doesn't do New Year's resolutions but probably should. Tell her what she should resolve on Twitter @worthhersalt.