Jason Hoffman/Thrillist
Jason Hoffman/Thrillist
Every state's got its share of "haunted" spots and creepy stories from the past, and Wisconsin's no exception: The Badger State is riddled with enough reports of paranormal activity to rival spook havens like Pennsylvania and Texas. Of course, ghost stories are always more unsettling when they're relatable, which is what makes our local hauntings especially creepy. Got a granny who went to a funeral in Siren in 1985? A great uncle buried in Dartford Cemetery? A long-lost cousin who really was in the Wood County Asylum? Then you're only a couple Kevin Bacon-degrees away from these most haunted places in all of Wisconsin. Just keep telling yourself ghosts aren't real -- maybe they're not, but that doesn't make these spots any less sinister.
Bloody Bride Bridge
Steven's Point
As folklore has it, a bride was killed in a car accident on the Highway 66 bridge over the Plover River in Steven's Point on her wedding night. Officially, the Steven's Point Police Department has no record of such an accident, but that hasn't stopped the ghost of a woman in a bloody wedding dress from making occasional appearances. Local legend tells of a police officer who thought he hit a woman with his car, but saw no one when he got out -- the police department denies this incident, too, and there's no real direct evidence of it happening... but still. Spooky! She can allegedly be seen standing on the bridge, but loves to appear in the backseat of cars, to be seen only by the driver in the rearview mirror.
Summerwind
Land 'O Lakes
The Lamont Mansion, aka Summerwind, was built in 1916 as a summer home, but it was believed to be haunted right from the start; the original owner fired two shots at what he thought was an intruder, but there turned out to be nothing there. The house changed hands a few times before a family in the '70s reported experiencing all kinds of paranormal activity, from objects moving by themselves to unexplained whispers. In 1988, the mansion burned down -- the official story is that lightning hit it, but some claim that the town intentionally burned it down because it was constantly being vandalized by ghost hunters and local kids. The destroyed mansion still remains to this day, and visitors still report floating orbs, mists that move, and the feeling of an unseen presence.
Wood County Insane Asylum
Marshfield
The paranormal activity at the Wood County Insane Asylum is strong enough that it's still occurring to this day, even after most of the buildings have been destroyed. The Marshfield Scrap Company now occupies the land the asylum was built on and documents the history of the site and current haunts, like the patient who saw the face of the devil in a boiler and jumped inside to his death. There's a still-extant tunnel that used to link the building with a farm where the patients worked, which is said to be haunted by a maintenance worker who committed suicide there, two patients who were killed, and a young girl with long, dark hair. No word on whether the ghost of the guy who saw the face of the devil in a boiler and jumped in to his death is still hanging around, though.
Milwaukee
If you had to pick a building that strikes fear into the heart of many MLB players, it probably wouldn't be a fancy hotel in Milwaukee. Still, The Pfister (where players stay when on the road in MKE) is notorious for being a haunting hot spot in the city. Players are not shy about retelling their experiences, like the most recent example when a number of Cardinals all slept in the same room after seeing a floating torso apparition in their rooms. Though the hotel doesn't exactly trumpet the fact that it's full of ghosts, it's well known that if you stay there -- MLB player or not -- you're pretty likely to experience something unexplained.
Dartford Cemetery
Green Lake
A cemetery might not be the most surprising location for a haunting, but the old Dartford Cemetery has a few ghosts who are said to make the rounds. The one most people report seeing is Chief Highknocker: a Ho-Chunk who died in 1911 in what's officially listed as an "accidental drowning" (although the local legend describes it as an attempt to cross a river without a canoe). His gravestone, marked with a carved portrait of the man himself, is almost as creepy as his purported apparition. If you sit on top of the small mausoleum built for Jackson Walker, you'll (allegedly) be pushed off by unknown forces, and folks have even reported seeing the shadowy figures of an entire Civil War platoon marching through the cemetery.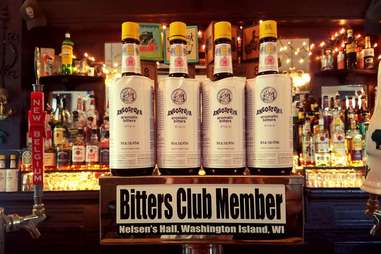 Washington Island
Nowhere else is it completely normal to throw back a shot of Angostura bitters like it is at Nelsen's Hall on Washington Island. That's thanks to founder Tom Nelsen who built the bar in 1899 and kept it operating through Prohibition with medicinal shots of bitters -- in fact, he loved his business so much that he's reportedly never left. Women, especially, report seeing him near the restroom and feeling chilled air across the backs of their necks, continuing his (admittedly problematic) ladies' man-type ways. Paranormal activities include closing doors, the radio station randomly changing, and occasional footsteps upstairs in the room he died in.
Fond du Lac
The long history of the 1856 Octagon House in Fondy includes purported stints as a safehouse on the Underground Railroad and a rum running haven during Prohibition. There are nine secret passageways and tunnels under the house that lead to the outbuildings, which would have come in very handy during those illicit (and completely necessary) activities. What's more, The History Channel show Hidden Passages named it one of the most haunted houses in the state -- and who's gonna argue with the History Channel? Weird occurrences and spectral beings drove a demand for ghost tours in the past, but it's currently a private residence, so don't go snooping around.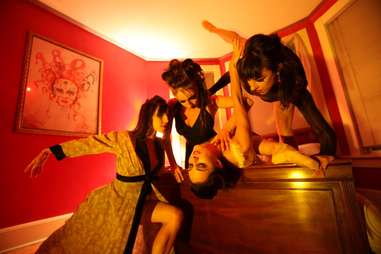 Milwaukee
There's no denying that Shaker's is the most haunted spot in Milwaukee, and maybe even the state. Unsettling historic incidents abound: A prostitute was murdered in the upstairs bedroom and buried on the grounds, Al Capone once owned it and operated a speakeasy there, a boy fell out of a tree and died, two men were murdered in the basement, and it was built on top of a cemetery. You can tour the facility, including the basement (where even some employees refuse to go), or stay in the upstairs bedroom where the prostitute reportedly met her untimely end. If that's all a little much for you, just swing by for bourbon and a cigar.
Siren Bridge
Siren
While many of these ghost stories spring from legends and folklore, the sad story of the Siren bridge is 100% true. On March 3, 1985, the family of Richard, Rose, and daughter JoDee Kringle all drowned when their car hit ice on a bridge outside Siren and overturned into the marshy river. Ever since then, locals have reported that when they drive over the same bridge, their car's radio cuts out and instead they hear the voice of a young girl yelling, "Help me mommy, I can't get out!"
Sign up here for our daily Milwaukee email and be the first to get all the food/drink/fun in the Brew City.