Often overlooked for its big sister to the east, Madison has a lot going for it. Even though it's the state capital, it still feels like a young city thanks to the influx of college students every fall. The city's attitude is progressive and inclusive, from bike lanes to supporting local music -- and since this is Wisconsin, there are plenty of restaurants to keep you fed and bars to keep you watered. Or beered, as the case may be.
Recommended Video
This Mojito Hot Toddy Is the Destroyer of Colds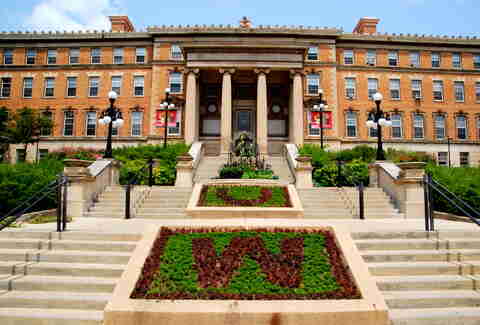 Explore the UW campus
If the Capitol is the heart of Madison, UW-Madison is a very close second. The university is the flagship of the UW system and a world-class institution. Bascom Hill lies at the west end of State Street and is the heart of the school; take a photo with the Abe Lincoln statue or 1,000 pink lawn flamingos, if you're lucky enough to be there during the annual fundraising campaign. Near the bottom of Bascom Hill is the Memorial Union Terrace where you can admire the view of Lake Mendota from its signature sunburst chairs. Head west to the student-run Babcock Hall Dairy Store for fresh Blue Moon ice cream, and if you're a sports fan, feel free to jump around outside of Camp Randall.
Meander down State Street
State Street only runs between campus and Capitol Square, and it's pedestrian (and bus) only, so you don't have to be worried about crazy drivers while you text and walk. The University Book Store is a one-stop shop for all things red and covered in Bucky, and the rest of the street is lined with an eclectic mix of bohemian shops, food carts, restaurants, bars, and other businesses worth popping into. It's especially fun to wander and bar hop after midnight, then join in when everyone heads to Ian's Pizza at closing time for a Smokey the Bandit slice. During the day, head east to Capitol Square where you can...
Tour the state Capitol
The Capitol building was built way back in 1907, and it's looking pretty good for a centenarian. The centerpiece of the Capitol is the open rotunda, which is covered in murals and mosaics: The four main mosaics at the base of the dome represent "Legislation", "Justice", "Government", and "Liberty", and at the very top of the dome is a painting of a woman named Wisconsin wrapped in the American flag (because paintings can never be too literal). Free tours of the building are offered every day without a reservation, or you can just wander around yourself.
Swing by one of Madison's great music venues
Since it's a city with a young population, including some 40,000 college students most of the year, there are plenty of great spots to catch a concert. The Majestic Theatre is located just off the Square and has a pretty packed schedule of national touring artists and local bands; it also hosts a free outdoor concert series, Live on King Street, during the summer. On the other side of the Capitol on State Street is The Orpheum, which was built in the '20s and restored and reopened in 2013. Smaller (but still well-known) venues include the legendary High Noon Saloon and The Frequency, which only has a capacity of 175.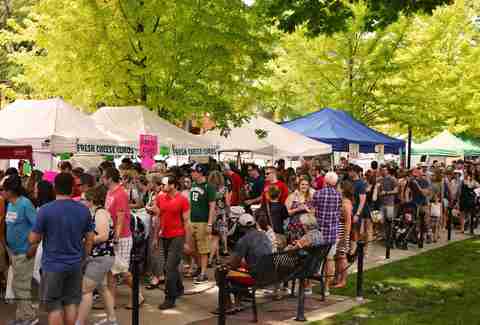 Shop local at the farmers market
Every Saturday from April through early November, countless farmers and other vendors descend on Capitol Square for the Dane County Farmers Market. There are plenty of fresh produce vendors -- many area chefs love to Instagram their hauls -- but you can also get locally made jams, soaps, hot sauce, sourdough bread, and fresh flower bouquets. Most people can't leave without buying spicy cheese bread from the Stella's Bakery stall, or lunch from one of the food carts.
Drink hyperlocal craft beer
Wisconsinites love beer, and in Madison, only the good micro stuff will do. Head directly for the local breweries or their taprooms at Ale Asylum, Karben4, One Barrel, and Parched Eagle. If you'd rather sit down at one bar and try beers from many local breweries in one fell swoop, then just take your pick: HopCat, The Malt House, and Dexter's Pub are all great beer bar options. You may be surprised how great the local beer selection is at just about any local bar, though, so don't discount any spot until you see the tap list.
Eat some of Wisconsin's best cheese curds
The stereotype is true: Wisconsinites love cheese just as much as beer. And the two go great together, which is why almost all bars and restaurants serve deep-fried cheese curds. They're usually battered -- sometimes beer-battered, naturally -- and served up with a crispy coating and squeaky inside. All curds are good (because when is fried cheese not good?), but some of the best can be found at Tipsy Cow, the Curd Girl cart, OSS, and Graze.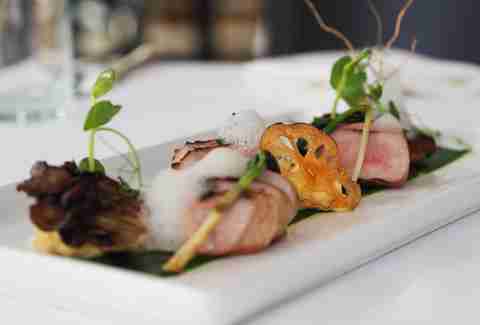 Dine at an award-winning restaurant
The James Beard Awards are the Oscars of the dining world, and Madison's restaurants and chefs have won and been nominated many times over the years. The most decorated restaurant is L'Etoile, whose founding chef (Odessa Piper) and current chef (Tory Miller) have both won best chef in the Midwest for their farm-focused menus; you can order dishes a la carte, but the chef's tasting menu will give you a more complete picture of why Miller has won. Other recent nominees include Dan Fox of Heritage Tavern, Francesco Mangano of Osteria Papavero, and Jonathan Hunter of Forequarter.
Take in Madison's natural beauty
Because Madison is situated on an isthmus between two lakes, nature is never far from anyone's mind. Located in the heart of the city south of Camp Randall is the Henry Vilas Zoo; admission is completely free, and it's got all the big African animals a small zoo needs, plus a number of badgers named after star UW basketball players (of course). For a little more flora, the Olbrich Botanical Gardens offer 16 acres of manicured gardens, along with an indoor conservatory. The serenity garden includes the picturesque Thai pavilion: a gift from the Thai government and one of only four like it outside of Thailand. Oh, and just southeast of the Botanical Gardens is a new beer garden, because nature makes you thirsty.
Eat every international food you can find
The laid-back, all-inclusive cultural atmosphere of Madison makes for some fantastic international restaurants. Park Street is lined with Asian and Mexican spots, like Double 10 Mini Hot Pot, Taqueria Guadalajara, and Asian Sweet Bakery, and on Willy Street (that's Williamson Street), you'll find fresh Vietnamese at Ha Long Bay and jerk chicken at Jamerica. And no trip around the culinary world is complete without a stop at La Taguara for Venezuelan arepas and tostones (crispy plantains).
Sign up here for our daily Milwaukee email and be the first to get all the food/drink/fun in the Brew City.