Why Milwaukee Is Just a Better City Than Chicago
Because there's nothing quite like a good old-fashioned fight, it's Rivalry Week. Keep tabs on simmering feuds across the country right here.
The rivalry between Milwaukee and Chicago is strong, stemming as much from sports border battles as anything else -- Packers/Bears, Bucks/Bulls, Brewers/asinine Cubs fans. On paper, the FIBs have the bigger, more popular flagship of the Midwest. But rivalry games aren't played on paper (they are played on grass fields with deity-level quarterbacks) and, as of late, it's not difficult to make the case that Milwaukee is the undeniably better city. Here are 11 reasons why.
1. Our sales tax isn't INSANE
Cook County recently voted to hike the already-high sales tax even higher into the stratosphere. Soon it will be 10.25%, the highest in the country. Corrupt churches don't even take tithings of 10.25%. Milwaukee's sales tax is at a much more reasonable 5.6%, so if you buy $1,000 worth of tighty-whities every year, you'll save $46.50 just by choosing not to shop at Lord & Taylor.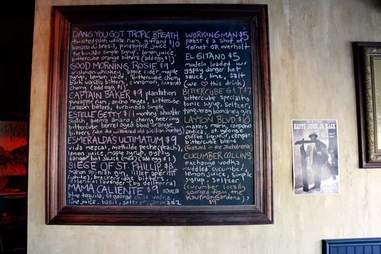 Lacey Muszynski/Thrillist
2. You won't go broke going out
Even in the places best known for fancy craft cocktails, you'll pay about $10 per drink. Even chefs' tasting menus at our top restaurants -- think Ardent and Sanford -- are under $100. Move any of those restaurants to Chicago (yes, they're the same level as Chicago's) and you'd have menus that are double the price on top of the rigged red light ticket you got on the drive over. 
 
3. Rush hour is reasonable
Sure, MKE has the usual highway congestion at rush hour, but at least there are boundaries -- there's no surprise rush hours at 2pm Sunday afternoons or 9am Saturday mornings. There's something to be said for predictability, and our traffic is much easier to predict than Chicago's… unless of course, you consider every hour rush hour on the Ike, in which case we actually feel kind of bad for you.
 
4. There is such a thing as "too big"
Chicago boasts that it's got everything you could ever want, even a Taco Bell that serves liquor, but all that comes at a price. Hopping on the 'L' for a 45-minute ride with two transfers just to get a quality Italian beef isn't my idea of fun. Driving from one side of Milwaukee to the other takes about, what, 30 minutes? The relatively small size helps give MKE a grounded, small-town feel, which probably explains why out-of-towners say we're all so nice.
5. Brew City is the far superior nickname
Does anyone really know where the Windy City nickname came from? You hear the weather explanation, a story about politicians being blow-hards, and the "something, something arrogant salesman" explanation. Some might say it's a thinking man's nickname, others might say it's worthless. Brew City, however, can't possibly be misconstrued -- Milwaukee was built upon beer, and upon beer we will stay. We're totally fine with your Second City moniker, though.
Lacey Muszynski/Thrillist
6. Kopp's and Leon's (and all the other custard stands)
Why this MKE staple hasn't quite caught on in Chicago is a mystery. Frozen custard is greater than ice cream in just about every way. There are barely a couple custard stands in Chicago proper, certainly a much lower density than Milwaukee's custard stand per capita. You have to go to the 'burbs to even get Culver's, which is a travesty.
 
7. A vacation escape route "Up North"
Wisconsin has clearly cornered the market on vacation spots, at least according to Chicagoans themselves. Just check the license plates in Lake Geneva and Door County. Milwaukeeans have, of course, known about these spots forever. While they're nice and all, we prefer to head "Up North" to our own cabins, something which hopefully doesn't catch on in Chicago.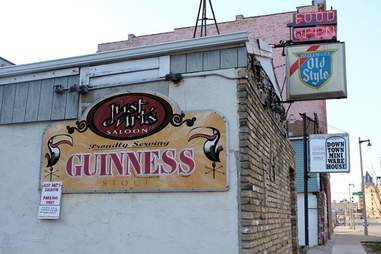 Lacey Muszynski/Thrillist
8. Bars, everywhere
Pick any corner in the city, and there's a 50% chance it'll have a bar on it. Residential neighborhoods have some of the best dive bars around, and most are old homes that have been converted into the local watering hole. Mini bowling only happens in Milwaukee. If it's hipster bars you want, we have a ton of those too, along with sports bars, Irish pubs, frat bars, retro cocktail lounges, Tiki bars, dart bars, LGBT bars, ice cream drink bars… We have bars for everyone, everywhere. Chicago? They only just got happy hour.
9. Miller Park is the all-around better ballpark
Forget about stadium design -- that The Cell is hideous and Wrigley is clunkily entering the 21st century -- the most important factor in making Brewers games a better time is the tailgating. We know how to have a good time before a game, and that includes brats, beer, and hot charcoal. North Siders claim to love Wrigley, but then tailgate at Miller Park every chance they get, trying to claim it as their own. It's because we do baseball so much better up here, though Chicagoans won't admit it. We'll gladly take your money, just don't be jerks while you're here.
10. MKE is a city of festivals
Let's compare festivals. Summerfest has dedicated festival grounds, goes for 11 days, is often free to get into, and cheap otherwise. Lollapalooza is over-priced, difficult to get into, will get rained on, and has never invited Weird Al to perform. The Wisconsin State Fair is a food paradise, while the IL State Fair… wait, it's nowhere near Chicago, where most of your population lives? Bummer. Enjoy eating mediocre cheezborgers at Taste of Chicago.
 
11. Lawn chairs aren't required for winter parking
We don't have to put out spot-savers like lawn chairs or garbage cans in order to get parking on the street. Yeah, parking can be a pain here sometimes, but it's nowhere near as bad as it is in most of Chicago. It doesn't cost $30 just to pull into a parking garage, either. 
 
Sign up here for our daily Milwaukee email and be the first to get all the food/drink/fun in the Brew City.
Lacey Muszynski is a Milwaukee native who lived in the Loop for four years and does not miss the smell in the Washington Blue Line stop. Follow her on Twitter @worthhersalt.