If you should be fortunate enough to still be within the throes of youth, then today is your lucky day. This list was made with the intention of living life wild and free, before Friday nights turn into Netflix marathons and vacuuming the living room. So before the burdens of age shower you with achy knees and a distaste for popular music on the radio, get out there and do these 30 things before it's too late.
Bring a date to a free Thursday at the Walker Art Center
Sure, this is the epitome of a cheap date, but it's also one that won't leave you looking like a broke chump because it shows that you've got at least some class. Once the sculpture garden reopens in 2017, you should go do that too. There's nothing like young lovers taking in the deep spiritual complexity of the Spoonbridge & Cherry.

Recommended Video
This $4M Super Yacht Comes With a Fire Pit and a Jacuzzi
Aimed at adults under 30, this program offers expedited day of ticket sales and special offers throughout the year. You're still young, which means new and interesting things are still exciting to you… things like the theatre.

At Social Science at the Science Museum. It's a 21+ event where you can grab drinks and learn science. Coming up on February 4th is the highly anticipated Science of Sex, so you're not going to want to miss that one.
Eat a Jucy Lucy (or three) from Matt's Bar
If you live in the Twin Cities and haven't done this yet, seriously, what are you waiting for? There's no excuse... unless you're a vegetarian, in which case, fine.

Enter into a serious debate about who has the better Ju(i)cy Lucy; Matt's, 5-8, The Nook, etc.
See above for clear winner.

Even if it's not a Twins' game, there's plenty going on there all year long, and you should go. They host concerts, trade events like the Food & Wine Experience, and throw the Beer & Bacon Classic. After all, your hard earned tax dollars are paying for it.
Go do something cool in St. Paul
Hit up an event at CHS Field, enjoy the Winter Carnival, or check out Grand Old Days. St. Paul can be fun, people... especially after a couple of drinks.

Host (or go to) a wop party in a small Uptown apartment
It'll be cramped, but it'll be fun. The cops will come, but it'll be cool. It'll likely be themed. You might even get a phone number.

Sure, they have other midnight movies, too, but you haven't lived until you've seen what happens at a showing of The Rocky Horror Picture Show -- and it happens monthly.
Nab a slice of mac & cheese pizza from Mesa Pizza
They have two locations: Dinkytown and Uptown.

Hit up any East Lake taqueria
You know you drive and bike by them all the time, but next time, actually stop in and get you some delicious tacos. You could also hit up any place around Cesar Chavez St in St. Paul

Go to a local karaoke dive and don't leave until the house lights come on
Swing by the Vegas Lounge or Otter's Saloon for karaoke seven nights a week, or handful of other bars on various other nights to sing away those mid/late 20-something blues.
Bring a Tinder date to Marvel Bar
It's dimly lit, there's comfy furniture, and they have some seriously kick ass alcoholic beverages. Also, there are Cheetos.

It's dimly lit, there's comfy furniture, and they've got one seriously kick ass chai.

Go for a late night swim in one of the Twin Cities' many lakes
Swimsuits optional but strongly discouraged.
Learn how to make your own homemade sushi
At Coastal Seafoods. Check out their fresh fish case and ask them what's fresh. They'll gladly tell you, and it'll be a lot cheaper than most of the other sushi restaurants in town. They've got two locations as well: St. Paul and Minneapolis.

It's like a rite of passage. You know, the kind where you feel like you need to shower afterwards. They also have a giant golden penis. That you can ride. So that's something.

Go to Clancey's and get your own dry aged steak
Steakhouses are expensive, but there's nothing stopping you from trying to prepare your own steakhouse quality steak at home. As it just so happens, the folks at Clancey's can hook you up with everything that you need to accomplish this.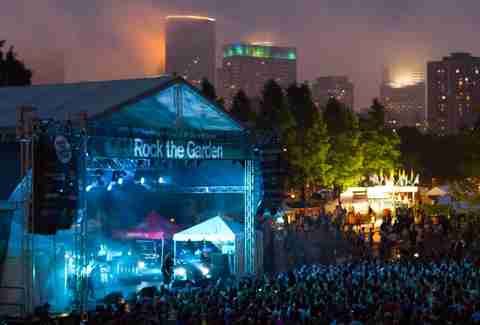 Since the sculpture garden is closed this year, they've recently announced that it'll be heading to Boom Island this summer, so keep an eye out for ticket sales and the full concert listing. It's always a guaranteed good time.

Throw a cookout in the middle of the winter
This is one of those things that you can only truly appreciate in the state of Minnesota, but a successful wintertime cookout is always a lot of fun, just make sure you've got your requisite flask of brandy on hand.

Take your pants off (legally) and run around town
Cupid's Undie Run, the Freedom from Pants Ride, and the No Pants Train Ride are just a few of the no-pants-required events that you can take part in because frankly, deep down, doesn't everybody hate pants?
Make reservations for after midnight
Check out 112 Eatery in Downtown for a fancy late night eating extravaganza.

Go see a totally random local show
Some weekend stop by the Terminal Bar, the Hexagon, the Turf Club, or Big V's and don't check any calendars before going in. Just walk through those doors and experience whatever the hell it is that's going on (and maybe take down a few PBRs while you're at it).
When as a city, we make the Guinness Book of World Records for the biggest gathering of zombies in one place, you know we're doing something right.

Or do some other kind of pub crawl
There are several coordinated events in the Twin Cities, some even come with their own set of transportation, but at the very least, gather some friends and do a crawl of NE breweries. It's easy, there's beer, and if you go during the summertime, the weather won't totally suck.

Just go, sit, and drink copious amounts of coffee. They're open from 6am-4am, but we suggest going during the ultra-late night hours for the optimal human experience. We'll just say that they clientele is... interesting, but you'll probably learn something new or hear some kind of great, crazy story.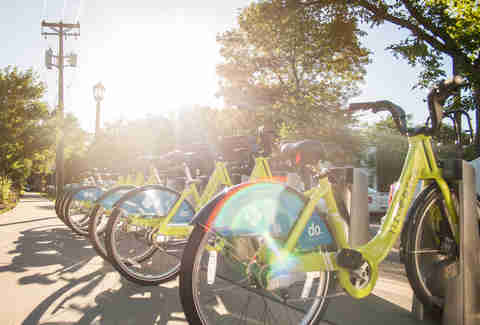 Just do it. Rent a bike and take it for a joy ride around the city, especially if you don't already have a bike of your own.

Watch a presidential election in a local dive bar
The CC Club is a good place to do this. You can even turn it into a drinking game. Take a shot for every state called and take three shots for every state called incorrectly.

Get escorted out of First Avenue for being over served
I mean, these things happen sometimes. You don't have to be a jerk about it or anything, just let yourself lose, enjoy the evening's event, and go with the flow. You might regret it in the morning, but that regret will eventually morph itself into another one of life's timeless lessons -- namely that you're not 22 anymore.
Sign up here for our daily MSP email and be the first to get all the food/drink/fun the Twin Cities have to offer.
Keane Amdahl is a veteran Twin Cities writer who, at one point, was under the age of 30 and he may have done some things. Follow his old-man antics on Twitter @FoodStoned.