A Deep Dive Into the Twin Cities' Indie Hip-Hop Scene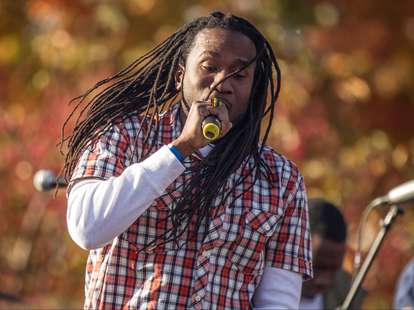 A love of music begins differently for everyone. The thirst and craving for something melodic at any point of the day. That elation and instant mood improvement when the sound works its way to our eardrums, and the involuntary head-bobbing that follows. It's personal, it's visceral, and if one week in the Twin Cities taught me nothing else, it's this: music is life-changing.
This notion that music is so significantly transformative is epitomized in Minnesota. Prince's death has enhanced the area's musical visibility, but, most people outside the state would be shocked by the Twin Cities' thriving indie hip-hop scene. For me, it was a freak accident.
In 2010, a friend from the Midwest mentioned that I should check out a Minneapolis-based hip-hop collective called Doomtree. I was immediately hooked. It's difficult to define what distinguishes Twin Cities hip-hop from the sounds of other locales -- though it does tend to take difficult-to-broach topics like racism and sucker punch them right in the face -- but since that moment of love-at-first-listen, I've been unable to get it off my mind.
For six years, I couldn't answer the questions stemming from that first sampling of the scene's music. Why was I so sucked into it? Why was a born-and-bred East Coaster so compelled and endlessly fascinated by Twin Cities indie hip-hop? Why did I want to write about it?
To answer those questions, I would eventually board a plane from New York to Minneapolis-St. Paul International Airport, where I planned to dive into the area's indie hip-hop scene and speak with rappers, journalists, producers, and artists. My conversations would largely take place leading up to the ninth annual Soundset, a self-described "Festival of hip-hop in St. Paul, MN."
According to the US Census Bureau, the Minneapolis-Saint Paul population was measured as 3.28 million in 2010; for the sake of perspective, compare that to New York's 8.19 million in the same year. The Twin Cities might look small, so attempting to tackle its musical history wouldn't seem to be a tall order. But it was an ambitious idea, at best, and as I boarded that plane, I truly had no idea what I was about to see. I wasn't aware of just how extensive a scene it was. I wasn't aware of the complications. And I certainly didn't know that, no matter how many discussions I had, I would still just merely be scratching the surface of decades-long groundwork.
Before I departed for the Twin Cities, I needed a brief history lesson. That began in New York, over coffee with Mary Thayer, the digital PR and marketing manager at Sneak Attack Media, who previously worked as a publicist for Doomtree Records and other regional artists with Harder Beats Press in Minneapolis.
I had previously written an article each on Doomtree MCs Dessa and Sims, but my education on Twin Cities hip-hop was otherwise limited to Google and Spotify. These early insights from Mary, who has come to know many of the Minneapolis area's musicians as family, began to reveal the reality of the vastly far-reaching nature of the indie hip-hop scene. It was made evident in part by the "Doomtree Family Tree" that she sent me after our meeting, a comprehensive flowchart curated by The Current -- an extension of Minnesota Public Radio and one of the area's most notable stations -- to illustrate the extent of creative collaboration within a fairly small region.
At the center of the Family Tree diagram is P.O.S -- known to friends as Stef, the MC was partially responsible for Mary's introduction to the scene. Her journey really began in 2008, when she worked for the now-defunct Independent Label Group, directing the online marketing for a variety of independent record labels. One of them was Rhymesayers Entertainment, the same people who organize Soundset, and whose founders and early artists -- such as Atmosphere -- are often credited with the massive growth of Twin Cities indie hip-hop.
P.O.S, who is also an MC with the Doomtree crew, is part of the Rhymesayers roster of talent. His 2009 album Never Better was the first for which Mary managed the marketing, and the project permitted her to get to know both Stef and the minds behind Rhymesayers. That relationship culminated with her eventual move to Minneapolis in 2011, where for over five years she worked with Doomtree (though she still does the label's publicity in addition to her full-time role with Sneak Attack in New York).
"I wanted to experience all of this stuff," she said. "Everyone was like, 'Why are you moving to Minneapolis?' I don't think people realized the community and culture that is there, and how much of it is available."
That sense of cooperative association is one that's echoed throughout many involved with the Twin Cities arts landscape: nowhere else in the world would one find the perfect storm of coordination across musicians, venues, press, public radio, and local businesses that creates the proverbial high tide (leading, of course, to all ships rising). Some describe the setting as incestuous. For Mary and her peers, however, it's simply a "a big sense of community."
That sense of community, which would be repeated throughout every conversation pertaining to my research, is one thing that's caused Twin Cities transplants like Astronautalis to "ride hard for it." Those who know him best call him Andy; Mary describes him as an "all around rap god."
Astronautalis made his way to Minneapolis in 2011, after a year and a half of shuttling back-and-forth from Dallas (where he originally graduated Southern Methodist University to pursue a career in theatrical lighting design) to work on music with P.O.S. The two originally met when the Vans Warped Tour first began to include rap artists, and Andy was opening for several of them. Stef sold merchandise for some Rhymesayers artists ("he was the worst fuckin' merch guy," Andy remembered) and, once Andy saw him perform, he decided, "Yup, we're friends now."
Minneapolis may be the easiest US, or even global city, to earn a living as a musician, Andy said.
"You can get a couple of gigs, a couple of bands, and you can make 50 bucks on Wednesday, 50 bucks on Thursday, and then maybe deliver some pizzas every once in awhile," he explained. "And if your band becomes moderately successful around town, you can live off of that."
That only works for so long, however, if people don't look outside of the region's parameters. Citing Doomtree, Andy said that because it took the collective so long to go on tour, they had to play catch-up when it came to drawing attention outside of the Twin Cities.
Today, Doomtree tours with some regularity and is one of the more recognizable names in Minneapolis hip-hop. Touring is certainly part of that success -- Andy cites it as part of his own, or at least the best way to make a living. But self-promotion is crucial, too.
"Our life is self-promotion," Andy said of independent artists. "Very few of us are lucky enough to have someone else do that for us. Most of us, that's a job we do ourselves."
On my second night in Minneapolis, I spoke with Alexei Casselle, a rapper known for his work with and under such monikers as Mixed Blood Majority, Oddjobs, Crescent Moon, and Kill the Vultures. Along with his partner, Megan Gramlow, we met at the North Loop neighborhood's Red Cow (whose double barrel burger was a recent winner in the Twin Cities Burger Battle).
Here, the topic of self-promotion came up again. "I suck at that," he said. "That's probably why you didn't know anything about who I was, or my groups before this."
Those are tough words to hear, especially upon the revelation that a song he wrote for Mixed Blood Majority, "Free Up," has been on my workout mix for years (a fact I shared, with the added note that his talent had gotten me through hours on the elliptical machine).
Self-promotion can be partially credited, Alexei hypothesized, for the success of Rhymesayers, too. The label became something of a household name in the early 2000s, when it began to "expose the world to what the Twin Cities had already long knew," according to its website. Its managers began to build relationships with community venues like First Avenue, which has since come to be known as, perhaps, the most legitimate hip-hop venue in Minneapolis.
Knowing to pursue multiple channels, Alexei said, truly blazed a trail for Rhymesayers. The label eventually established office space above legendary record store Fifth Element, and used the brick-and-mortar space to sell merchandise and host open mic nights. There it was again -- that collaborative Minneapolis community and that sense of loyalty.
"I've seen a lot of places, and that is, by far, the most cohesive, awesome thing for music that no one really pays attention to," said Texas native Brock Cummings, Andy's manager. "It's kind of incredible. You can have three really, really big shows on the same night, and they'll all sell out immediately."
And when Andy finally made Minneapolis his home, Brock said, "it definitely helped his career go that next step over."
For all of its cooperative spirit, Minneapolis is still a fairly segregated city.
"It's getting better, but North Minneapolis has always been very separate from the rest of the city. North and South Minneapolis are kind of two completely different scenes," Alexei said over dinner.
The socio-economic dichotomy between the north and south sides of the city -- where the northern side of the city is predominantly black -- was something most people said they didn't have enough authority to speak on. And yet much of the great hip-hop talent cultivated within Minneapolis -- names like Truth Maze, Micronauts, and I Self Devine (who eventually signed with Rhymesayers and played Soundset 2016) -- came out of the north. However, Alexei told me, they never got as much attention as their southern neighbors, despite an active scene.
It's a tricky issue that's saturated, to some degree, with varying levels of contention. If it wasn't, articles like Daily Planet's "Twin Cities: Whitest hip hop scene you've ever heard of" wouldn't be written. Some possible explanations are a general lack of entertainment resources in the north side, like radio stations. The one notable station in that area, Alexei said, is "local black radio station" KMOJ, where north Minneapolis hip-hop is much more likely to be played than on heavy-hitter The Current.
There's also the lack of venues. The Capri may be the only noteworthy venue, which, arguably, is only recognizable because Prince performed there once.
"Almost every show I went to was in South Minneapolis, it seemed like," Alexei said. "I don't remember going to any shows in the north, even though they have just as many people and have just as many active artists, but you didn't really hear of them."
The next afternoon over iced tea at Moose & Sadie's, regional segregation was again a topic of discussion with Andrea Swensson -- a music reporter, host, and producer with The Current. Patrons at the cafe were evidence enough of the racial divide and symptomatic of Minnesota Nice.
What then, I asked, could possibly be the downside of Minnesota Nice?
"That we don't talk about the bad stuff," Andrea said of the downside of Minnesota Nice. "There's been a lot of research and work done recently about how that perpetuates racism and the divide, and we are kind of glossing over the kinds of things that we don't want to think about."
Much is being done to counter that blind eye in North Minneapolis' music scene. The rappers who grew up in that section of the city (many of whom continue to call it home) are either teachers, or otherwise work in education and community outreach. That even dates back to Prince's childhood, Andrea explained, when he frequented a YMCA after-school program where kids could experiment with musical instruments, instead of resorting to the streets. Andrea, too, sits on the board of Vega Productions: a nonprofit that collects used instruments and distributes them to schools throughout Minnesota.
"It's just so embedded in that community, because it's had so many problems for so long," she said. "There are all of these programs that are trying to solve the problems in north Minneapolis, and music has always had a history of being involved in that."
She pointed to Toki Wright, a rapper recognized not only for his musical talent, but also for his youth and community advocacy efforts. The following night, I had the privilege of being invited to a weekly jam session at his home studio, where I was among the creative minds of D'Allen White, Dre Highway, G.P. Jacob, Joe Adams, and Marcus Harcus.
Drinking red wine out of red solo cups ("Rap about that," I told Dre), I began to see the influence to which Andrea alluded.
G.P. Jacob, sometimes better known as Jake Virden, is a board member and outreach leader with Hope Community, a nonprofit that works to build homes out of abandoned spaces, among other things. His role with Hope Community, as well as his "unpaid political work," is an extension of what he cited as a rough upbringing in North Minneapolis. Dre also works with middle schools kids, using music to help influence them -- a practice that has drastically reduced the number of write-ups for bad behavior among students.
Joe is a realtor, but in no way a conventional one. His website leads with a rap track about the prospect and benefits of homeownership for those who previously thought possible.
"Homeownership is a possibility for all people to achieve," the page copy reads, "through a variety of community stabilization & down payment assistance programs."
At Toki's studio, the most palpable element in the room was the stark lack of ego. No one was safe from the good-natured mocking thrown around (myself included), but there was free-styling, laughter, honesty, and hugs.
"There's a lot of love in the building!" Dre yelled out, at one point.
"It's what we do," Toki said.
I asked Joe how he became involved with music, to which he replied, "I had to express myself. So I wrote it all down."
And that's when I got it: music saves lives. I remarked on my revelation out loud, when Marcus responded, "It sure saved mine."
It was an awareness to which Andrea had spoken the previous afternoon. Interviewees frequently tell her that music kept them out of trouble. "That's a story that's repeated again and again. It's a positive outlet for kids who don't have resources to do anything else."
That Sunday, at Soundset, the massive crowd at the Minnesota State Fairgrounds was not what I expected -- it was largely white, and very young. There seemed to be an unofficial uniform, as swarms of teenage girls appeared in the same ensemble of fishtail braids, a black top, denim shorts, and Kylie Jenner-esque makeup. As I questioned the apparent comeback of a goth-bare-midriff hybrid, I had to wonder if any of these young ladies could even begin to fathom -- or would even want to, for that matter -- the history of proverbial blood, sweat, and tears that went into such a celebration of music.
I wondered how many patrons hailed from North Minneapolis, and how many were even aware of any historical rift. Most of all, I wanted to know: how many people in the crowd understood the sheer significance of Soundset's very existence?
While there wasn't much opportunity to survey the audience's socioeconomic cognizance, I did observe the continued sense of community. It was no coincidence, after all, that the vast majority of artists playing were local ones. Even local food vendors were shown priority -- Cora's Food Truck, The Anchor Fish & Chips, and the famously delicious Sweet Martha's Cookie Jar (which has maintained a stand at the Fairgrounds for over 30 years) were in attendance.
That a locale with a capacity as immense as the Fairgrounds became the Soundset venue carried its own significance. Rhymesayers came into official existence in 1995, according to its website (founded by its now-CEO, Brent "Siddiq" Sayers), and hosted the first edition of Soundset in 2008, when it was so small that it took place in a parking lot.
This year, an estimated 30,000 tickets were sold. Some were purchased overseas, according to Rhymesayers General Manager Jason "J-Bird" Cook.
"To have that in Minneapolis, that's amazing," said Kevin (aka DJ Nikoless Skratch) Beacham, another manager at Rhymesayers. "That's a special thing that we should celebrate."
I spoke with Kevin about two weeks after Soundset, and asked for his perspective on what I learned during my time in Minneapolis. He expressed a desire to proactively reverse any lack of attention paid to North Minneapolis rappers, and invited artists to send him their music to play on The Current, where he's a host.
"If you're on the north side and you feel like you're being neglected," he said, "give it to me, and I'll play it. It's that easy!"
Hip-hop, he told me, could be examined as if one might study society at-large under a microscope. "You can really look at the things that are both the most beautiful and the most ugly about our society, not just through hip-hop, but through how hip-hop is treated."
It stirred the earlier epiphany of music's life-changing, life-saving nature. "At any point in time," I asked, "when and how did music save your life?"
"Oh, that's easy!" he said. "Around pre-teen, age 9, I had a pretty great life. My parents got me cool stuff and I was doing well in life, but I just hit a point when I was really sad all the time. I'm still not sure what caused it, but it was around age 9. I didn't want to be around anyone. I wanted to be alone and figure out my own emotions.
"That was the year I discovered hip hop," he continued. "Whenever I had those moments when I couldn't handle living, music was what I went to to make me feel like I was part of something. And that saved my life. Literally."
J-Bird emphasized the importance of the next generation experiencing live, local music. He vividly recalled the most influential moments of his own youth, many of which were at live shows. Music, he said, "definitely saved me."
I went back and asked about the life-saving nature of music to some of the others I had interviewed via e-mail and it became evident that, in countless ways, music has saved everyone.
For Alexei, it came to fruition in the summer of 2011:
"I went through an incredibly painful separation and (and eventual divorce) from the mother of my daughter. What made this especially difficult was that it was not something I wanted, and it was a very public split, since we were in a relatively popular band in Minneapolis. I don't know if music saved my life, but it was one of the three major pillars that helped me keep my sanity and maintain my overall health (the other two being a therapist, and my close friends/family) because all of my demons from that breakup went into an album. This was the closest I've ever come to spiraling out of control, and it seemed like a good time to make some unhealthy choices that I would later regret. But for the most part, I didn't. I credit that to having a giant responsibility as a father, and also having a creative outlet to spill my guts."
As for Mary, it's a more frequent occurrence:
"I think it saves my life every day. My entire world is influenced by music and the musicians I've met and worked with, but in no way do I think you have to work in the industry to feel the lasting effect it has. It has shaped my life into what it is today, highlighting the good and getting me through the bad."
Andrea even wrote about her own positive, life-altering experience with music for The Current's blog. She told me:
"One that comes to mind from recent years is Jose Gonzalez, 'Leaf Off/The Cave.' I was suffering from a bout of severe depression last winter and went to see Jose at the Cedar Cultural Center in Minneapolis. I was worried about attending because his music has a really profound effect on me -- it has a melancholy feel to it and I was worried it could make things worse. But when he sang this song, with the repeated lyric, 'Let the light lead you out, let the light lead you out,' they turned on these giant spotlights and cast a bright light onto the stage and around the room, and the whole experience lifted me up and gave me hope that I would be able to push through my depression and get myself into a better headspace again."
Finally, Joe Adams shared his insights:
"Growing up in the church, we didn't get the opportunity to listen to anything other than gospel for [the] majority of our childhood. Except when we visited our father. Jazz was the second form of choice. The great, Miles Davis, has grown to be my favorite musician of all-time. James Brown, controlled and flowed with his band -- better than any performer to walk Planet Earth. Bob Marley, the Mellow Mood Prophet, spread nothing but love and wisdom to the World. Music is fuel to the soul."
Sign up here for our daily MSP email and be the first to get all the food/drink/fun the Twin Cities have to offer.
Amanda Zantal-Wiener is a writer whose love for food and music is only slightly trumped by a love for oxygen. Follow this Greek Jew on Instagram: @tastebyazw.