Where to Catch Burlesque in the Twin Cities
While fancy bars, restaurants, and live music are staples for any Twin Cities night out, it's a little-known fact that we also have a thriving burlesque scene where multiple local burlesque companies host shows. One part comedy, one part musical theater, and two parts sexy adventure, these shows are always bursting at the seams to bring you a truly unique and fun night out on the town. Burlesque is one of the oldest and most titillating forms of entertainment, and is absolutely worth checking out at one of these great venues.
Northeast
One of the Twin Cities' premier LGBTQ clubs just so happens to also be a great place to catch a burlesque show. Every Friday night at 10pm, you can catch the folks from Black Hearts Burlesque as they bring the heat. Be sure to hang out for their weekly post-show dance party, which melds DJs, go-go dancers, and the occasional special guest.
Northeast
This little Northeast theater is host to the Wicked Wenches Cabaret company, and you can catch a variety of their provocative performances, which range from super-classic, to bawdy, to downright hilarious, throughout the year. The theater also hosts student showcases from ExperTease Fitness, a company that teaches burlesque, pole dancing, and various other mediums in the risqué arts.
North Loop
Not only is this theater a part of the annual Minneapolis Burlesque Festival (held Oct. 6th-9th this year), but it also hosts a burlesque version of The Nutcracker called Visions of Sugarplums, which you can catch from Dec. 22nd-31st. Set in the land of the Sugar Plum Fairy, the show puts a sultry spin on several classic holiday traditions with a variety of classic dances and racy renditions of holiday classics.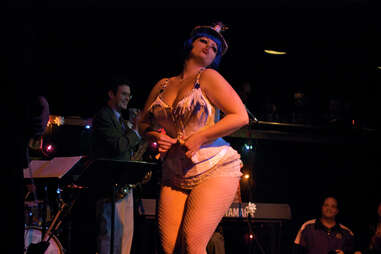 Downtown St. Paul
You can frequently catch burlesque shows at this Downtown St. Paul music venue, including performances from Le Cirque Rouge. After getting its start in 2003, this company claims to have been the first to bring burlesque back to the the Twin Cities after more than 50 years of tassel-less entertainment. Other shows include the Luxotica Lounge Cabaret and a "12-member touring monstrosity" with a live band, the Super Happy Funtime Burlesque.
Uptown
The ever-popular Dykes Do Drag show (now in its 17th year) is what it sounds like -- all kinds of gender-expressive performances (including cabaret, burlesque, boi-lesque, live music, and more) that will make you whoop and holler. Past events have sold out, so get your tickets now for one of four suggestive shows running from Sept. 15th-17th.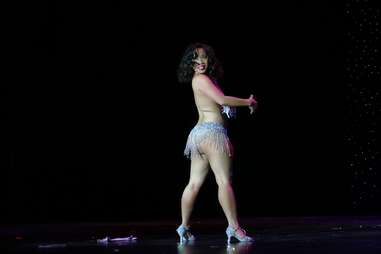 Downtown
While primarily a restaurant that hosts a variety of local musical acts, Hell's Kitchen has also been known to throw one hell of a burlesque show. They'll again be a part of the Minneapolis Burlesque Festival this year, which takes place across multiple Minneapolis venues, and its already dark cabaret aesthetic makes it the perfect place to see performers doing what they do best (artfully stripping and tantalizing) in their most sinful gear.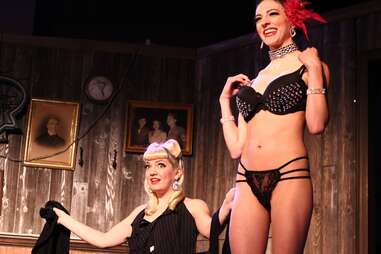 Downtown St. Paul
There is plenty of camp to go around at Camp Bar, where every second Wednesday of the month, you can catch Bippy's Burlesque-O-Rama and watch as the performers joke, dance, and disrobe. On Sept. 26th, you can catch a singing, dancing, and disrobing show called Sin N Swing where you'll be drawn in with an array of "alluring antics, bewitching beauties, and captivating choruses."
Midway
Known for a wide variety of events focused on erotic entertainment, this St. Paul bar also features an all-amateur burlesque show on the second Friday of every month. Known as the Nudie Nubie Show, the event is hosted by RedBone Burlesque, so if you've ever thought about dipping your toes into the alluring arts, this is your perfect opportunity to give it a try!
Sign up here for our daily MSP email and be the first to get all the food/drink/fun the Twin Cities have to offer.
Keane Amdahl is a veteran Twin Cities nightlife writer who fancies himself a good burlesque show from time to time. Follow along and watch his wild lifestyle start to totally unravel on Twitter @FoodStoned.