The Best Small Towns in Minnesota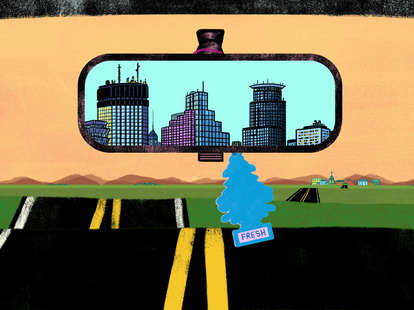 With wide-open spaces and open-hearted communities, Minnesota has dozens of small towns for anyone needing a break from the Twin Cities or looking for a quaint vacation destination. The North Star State offers plenty of craft beer, lakeside digs, hiking trails, delicious food, and even animal races. Here are the best little spots in the Land of 10,000 Lakes to go this summer.
Ely
Ely has a variety of cute shops lining Main Street, such as the kitschy Sisu Designs Yarn Shop. Piragis Northwoods Company has great outdoor gear perfect for a hiking or canoe trip at the Boundary Waters. For the best burger in town (and a few Minnesota-made beers), head to Rockwood Bar and Grill, or skip the meal and head straight to Boathouse Brew Pub for some pints and a growler to take home. Late-night partiers should hit Dee's Bar & Lounge for the small-town club experience, and for the early risers, there's no better place to grab your morning java than Northern Grounds. For the best stay, book a night or two at the Grand Ely Lodge -- the rooms are elegant, the view of Shagawa Lake is gorgeous, and the onsite restaurant has phenomenal breakfast.
Grand Marais
A stone's throw away from Ely, Grand Marais is a beautiful town along the North Shore of Lake Superior with art galleries, plenty of hiking trails, and amazing food. Start your day off with a snack from World's Best Donuts and pair it with coffee from Java Moose. A fun follow-up is a stroll to Drury Lane Books, a small indie store with an expertly curated selection, then more shopping at The Gunflint Mercantile to pick up some homemade fudge, syrups, jams, and soups. For an impeccably sourced organic dinner and a dry martini, hit Gun Flint Tavern, or down the excellent burgers at My Sister's Place. And for an old-school lake experience, book a rustic cabin at Stony Ridge -- every rental comes with access to a fishing boat.
New Ulm
New Ulm is a delightfully dated small town that's deeply steeped in German heritage. Outdoorsy types should head to Flandrau State Park for beautiful vistas and cheap camping lodging, or hoof up to the top of the Hermann the German statue for a great view of the Cottonwood and Minnesota rivers. If you're lucky enough to visit in July, you can attend the Bavarian Blast Festival, a Bacchanalian celebration of New Ulm's German heritage featuring beer, wine, dog races, and polka. Or you can stuff yourself to the brim at Veigel's Kaiserhoff, which has creative twists on sauerkraut balls, braised ribs, and jaeger schnitzel. And no visit to New Ulm is complete without a long stop at Schell's, a pre-Prohibition gem that has beautiful gardens, German craft beer, and the street cred of being Minnesota's oldest running brewery.
Nisswa
Nisswa is a shoppers mecca filled with interesting small business to suit every whim. Quirks features pieces created by local artists of every stripe, Zaiser's offers up moccasins and oddball footwear, and Natural Tones has an array of custom-built log furniture. Looking for something more unique to do? Check out the turtle races held downtown every Wednesday, go for a horseback ride with Pine River Riding Stables, or take a boozy yacht ride with Destiny Cruise on beautiful Gull Lake. If you need somewhere to stay, opt for one of the many resorts located on the lovely lakes surrounding the town. For dining, head a little farther north and get a steak and/or some seafood at Arthur's on 10 Mile Lake or down some cocktails and dishes from the eclectic menu at Chase on the Lake in Walker.
Staples
Full disclosure: This is my hometown. Staples has a centuries-long legacy of railroads and excellent fine arts (not to mention a 3M factory and, now, a couple stoplights). Stomping Grounds serves excellent coffee and espresso to pick up before you head to the beach at the small (and clean!) Dower Lake. If your visit's timing works out, see a play at the Lamplighter Community Theatre and a concert during the Sunday in the Park series. And no stop in Staples is complete without the otherworldly wild rice pizza from Tower Pizza, a cocktail at Lefty's Bar, and beers and burgers at Twisted Sisters. On your way out of town, make sure to stop at one of the local sweet corn stands and Morey's for unbelievable seafood.
Crookston
You can't miss the taco pizza at Happy Joe's in Crookston, which is best followed with $4 Long Island iced teas and a game of billiards at I.C. Muggs. Indulge your sweet side with chocolate-covered potato chips at Widman's Candy Shop, freshly made gluten-free treats at Wonderful Life Foods, and a filling meal at RBJs, which has the best strawberry jam around.
Harmony
With a population of around 1,000, Harmony is the so-called "Biggest Little Town in Southern Minnesota." Take a tour of the Amish farms and buy some of their handmade goods and food, head to Niagara Cave, a geological wonderland where you can see 450-million-year-old fossils and an underground waterfall, and take a ride along the 60-mile bike trail. For eating and drinking, go to Estelle's for craft brews, Village Square for homemade pies, Wheeler's for a burger and beer, and, a short drive away, Decorah, Iowa's Winnesheik Wildberry Winery for vino and snacks.
Moose Lake
Hand-crafted beers at the Moose Lake Brewing aren't the only reason to head up north. Rock hounds can go agate picking around the water, outdoorsy folks can hike or camp in Moose Lake State Park, diners can hit up the fish fry or BBQ rib dinner at Finlayson Cafe, and bowlers can go to Gamper's for a couple frames and pick up some liquor to take home.
Leader
With a population of about seven, there's not a whole lot to find in Leader. In fact, you'd probably just as soon drive through it without slowing down, but that would be a mistake. Why? Because every weekend, The Bear's Den hosts pig races, in which a team of little oinkers run around a track outside the bar and grill. If you're anywhere nearby, you simply must stop and enjoy the delightful weirdness of this blip on the radar.
Sign up here for our daily MSP email and be the first to get all the food/drink/fun the Twin Cities have to offer.
Becki Iverson is an overstimulated millennial with multifarious passions she somehow finds time to catalog at her blog, Compendium. Follow her on Instagram for snapshots of how her brain operates.