Living in the Twin Cities is a pretty great thing, but having a lengthy list of apps to make it easier for you to get around, find some food and drinks, and all around live your life? Well, that's even better. We all know the big ones: Facebook, Twitter, Instagram, and Snapchat. You know, the ones we cannot and will not live without. But there are a number of other apps essential for living in the MSP area if you want to proceed with daily life. And here they are.
For transit:
Google Maps
Free 
iPhone, Android
Let's be real: this is the only map app you'll ever need. It works great for navigation whether you're driving, walking, biking, or taking public transit. In fact, it's wonderful for Twin Cities Metro Transit as it gives you both bus stops and times. And it usually does a better job than Metro Transit's official app.
TripGo: City Transit
Free
iPhone, Android
For all you public transit users, this is a pretty solid app to have. In all honesty, Google Maps has a similar functionality, but it's a pretty useful backup just in case things seem to be going sideways. It also allows you to set up a full daily agenda to help pre-plot all of your necessary routes ahead of time.
Uber
Free
iPhone, Android
This is a great app for getting to and from the bar, and it's a heck of a lot cheaper than a cab.
iHail
Free
iPhone, Android
Look, if you're one of those people who simply insist that Uber is the devil and the drivers are all horrible criminals and murderers, then you can use this app instead. It connects you to traditional Taxi services and allows you to pay online in a similar fashion to Uber. But just to let you know, it's a lot more expensive.
Nice Ride MN
Free
iPhone, Android
This is a great app if you're an avid Nice Ride user. It shows you where the closest bike racks are, how many bikes are available, and it even has a timer to notify you how long you've had your bike. We had some issues trying to use this app; hopefully an update will come along soon and it quits crashing.
Minneapolis Airport Flight Tracker
$0.99
iPhone
If you're a frequent flier, this app is priceless. Well, OK, it's a buck... but it's worth it! The reason it's so great is because it allows you to track flights and check for delays. It also helps you find various eateries and shops throughout the airport much easier than using those dumb airport maps.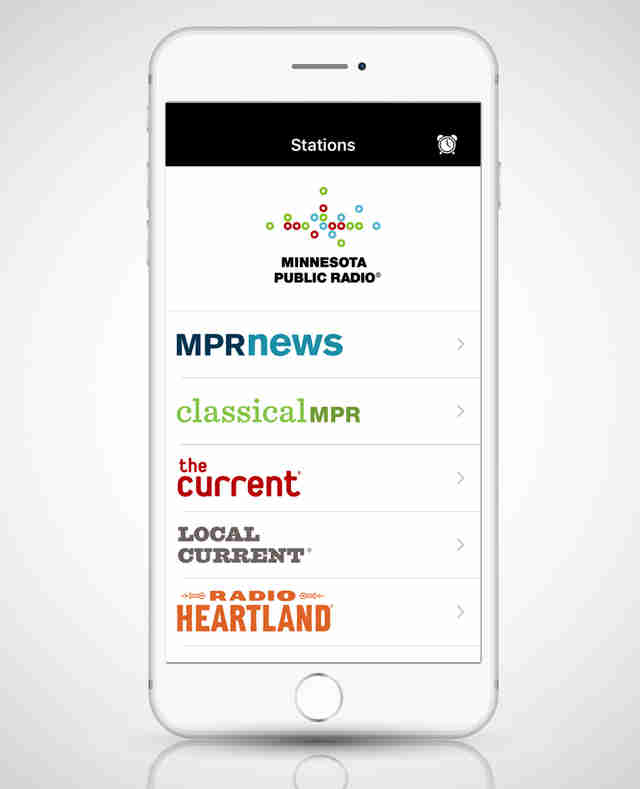 Keeping in the know
Star Tribune
Free
iPhone, Android
This is our top app pick for staying in the know when it comes to local news events. The Strib is one of MSP's oldest and most reliable newspapers, and now you can have it with you at all times. The Pioneer Press has an app, too, but it's weighed down by a ton of easy-to-accidentally-click ads, which makes it kind of a pain.
MPR News
Free
iPhone, Android
Another quality app bringing you the latest and greatest news on both the local, national, and global fronts.
MPR Radio
Free
iPhone, Android
If you like streaming live talk radio, here's your way to stay in the loop. Get news, classical music, or live stream The Current for all your popular and local music needs.
Snow Alerts
Free
iPhone
This app sends you push notifications when a snow emergency is declared in Minneapolis or St. Paul and gives solid visuals as to which side of the street to park on. It's actually a much better app than the one the city of Minneapolis put out, and it works for both cities.
City Pages
Free
iPhone, Android
Whether you love or hate their content, this app easily has the best local event calendar out there (from what we've seen). Looking for a concert, beer festival, or some kind of activity to do on the weekend? Don't worry, you can find it here.
Food & drink
Thrillist
Free
iPhone, Android
If you're not using this app already, get on it. The Thrillist app is a good way to stay on top of all the good stuff we're bringing. Whether you want to know about all the best food and drink news in the Twin Cities, or if you're just looking for some fun things do to, make sure you're constantly checking us out.
OpenTable
Free
iPhone, Android
Need reservations? Need them in a hurry? This app has saved us on countless occasions as it gives users a list of all the restaurants in your area with open reservations. 
Bitesquad
Free
iPhone, Android
This is the perfect wintertime app, especially for those nights where you don't feel like leaving your house but also don't want to have to cook. No longer do you need to rely on shitty big chain pizza delivery places, because this app offers food from some top eateries in the Twin Cities. Also, they deliver beer, wine, and liquor. Can we say convenient?
Thrifty Hipster
Free
iPhone, Android
This app will help connect you to all of the happy hours and various other food and drink specials going on around town. It's especially handy when you're in an area of the city you might not be all too familiar with.
Untappd
Free
iPhone, Android
With all of the incredible local craft beer that we've got going on, it can be hard to keep track of what you've tried and what you haven't. This app not only helps you do that, but you can also rate each beer and take notes for the future.
TC Local Food
Free
iPhone, Android
This app puts the farmers market right in your pocket. After signing up, you can browse all kinds of locally grown produce and meats that can eventually get delivered (after ordering them) to an address of your choosing. While we haven't officially tried this one out yet, it seems pretty great -- especially during these cold winter months.
Sign up here for our daily MSP email and be the first to get all the food/drink/fun the Twin Cities have to offer.
Keane Amdahl is a veteran Twin Cities writer who relies on apps for his everyday survival. You can follow his antics online using the Twitter app @FoodStoned.