Date night -- whether you're meeting your Bumble crush for the first time or trying to have an adult conversation sans kids with your spouse -- should be the bright spot in your busy week. We think the best options involve affordable, quality time spent with your significant other. This season, there's no shortage of great ideas. So, forget "let's grab a drink!" and check out the highly creative list below we've scouted instead.
Recommended Video
Thrillist's Best (and the Rest): What's the Perfect Fast Food Meal?
Test your arm curling
Golden Valley
Cozy up to your date and try a new winter sport without breaking the bank at Brookview Community Center. This Fall, the center debuts four brand-new outdoor curling rinks that will offer drop-in play as well as leagues. Open seven days a week, Brookview says the "pub curling" atmosphere is more casual than a structured club, so beginners feel comfortable learning the game. Bundle up, and be sure to break for hot chocolate between bonspiels. 
Snack your way through a food hall
West Seventh, North Loop
If you're looking for a culinary adventure on your night out, two new food halls have you covered. Keg and Case Market in the West Seventh area of St. Paul opened to rave reviews last year, and just this Fall, Graze Provisions + Libations joined the North Loop neighborhood. At Keg, try Revival for BBQ or fine-dine at flagship restaurant In Bloom. Graze's standouts include tacos at Flagsmash and empanadas at MidNord.The upstairs bar also offers bubble hockey, shuffleboard, and vintage MarioKart if you're looking for a little friendly competition.
Play with pups at a dog park
Glenwood
If you wouldn't date anyone your dog doesn't approve of, why not bring them along to screen potential romantic partners? Unleashed Hounds & Hops is the first indoor off-leash dog park/taproom in the Twin Cities, and it's set to open December/January between the North Loop and northwest side of downtown Minneapolis. There will be separate play areas for small and large dogs, and plenty of local craft brews on tap for humans. If Fido comes first in your life, this is a great place for your crush and four-legged friend to bond.
Fill your card at bar bingo
Northeast
For a retro night out, you can't go wrong with a classic game of bingo -- and The 1029 Bar is the place to play. Every Tuesday at 6:30pm and Saturday at 2pm, this Nordeast neighborhood institution hosts bar bingo -- and the first Saturday of the month is "big money" bingo, where there's up to $1,000 on the line. Grab your dauber and listen up, because that kind of money could buy a lot of rounds to impress your date.
Go Wild at a hockey game
St. Paul
If your sweetie is a sports fan, the Minnesota Wild's season is underway in the state of hockey. With games running from now until March, there are a lot of options with tickets at varying price points. The Wild also announced their new food offerings for 2019 include pretzel nachos, a Korean cheesesteak and a "burger skyscraper"-- four of 'em piled on fries, served in a hockey helmet. (That last one may not be suitable for a first date.) Although it's always fun when the Wild are winning, no matter what's in store this season a trip to the Xcel is a good time. 
Catch some air tubing
Theodore Wirth Park
Arguably one of the best parts of living in the Twin Cities when the snow flies is our abundance of parks for outdoor activities. An easy one that requires (almost) no skill is the tubing hill at Wirth Park, just three miles from downtown Minneapolis. Tubes are provided, so just bring yourself and your significant other. And fear not: After you slide down the hill, there's a tow rope to bring you back up the hill.
Head to a concert at Prince's club
Downtown Minneapolis
First Avenue is one of the longest running independent clubs in the country, hosting over 500 concerts every year. It's best known for being the space where Prince recorded Purple Rain in the '80s, but has hosted pretty much anyone who's someone in the music industry over the last 50 years. No matter what kind of music your partner is into, you've got options: Angels & Airwaves, Brother Ali, Soul Asylum, The Cactus Blossoms, and Dashboard Confessional are all coming this winter.
Break the ice at a comedy show
North Loop
Acme Comedy Company is known as one of the best spots to see live comedy in the Midwest, bringing national standup acts like Aziz Anasari and Louis CK to town. And, what better way to break the ice on a first date than laugh over jokes? Acme's open mic night is totally free every Monday if you want to watch (or heckle) stand-up hopefuls -- and there are always two shows on Friday and Saturday nights.
Putt through some indoor mini-golf
Metro-wide
Did you know more people play golf in Minnesota per capita than any other state? If you (or your S.O.) love hitting the links, try indoor mini-golf or (regular) golf at some hot spots around town. For mini-golf, Can Can Wonderland's elaborate course in Midway is a terrific option to check out. For "real golf," Topgolf in the north 'burbs has more than 100 climate-controlled hitting bays and just-open Thr3 Jack in the North Loop has six state-of-the-art simulators. All have stellar food menus, too.
Indulge your inner science geek
Downtown St. Paul
Geek out with a visit to the Science Museum of Minnesota, which features more than 370,000 square feet of exhibits that would totally satisfy Bill Nye the Science guy. The current special exhibit is Body Worlds Rx, all about the human body. Even if seeing more than 100 specimens and organs isn't your thing, with five permanent galleries and an Imax Omnitheater, there's no shortage of conversation-starters to be found.
Got an ax to grind?
Mid-City/Industrial
If you're looking for a unique idea for a night out that also serves as a stress reliever, check out Bad Axe's 8,000-square-foot building in the industrial area not far from Northeast Minneapolis. They supply you with tools, coaching, and safety tips so you can learn how to throw an axe like a Northwoods lumberjack. Described as "like bowling, but edgier," it's a guaranteed good time. Afterwards, stop at neighboring Norseman Distillery for a nightcap with your partner.
Cook yourselves dinner
St. Paul, Minneapolis, Stillwater
Why go on a dinner date at a restaurant when you can cook your own with instruction from a pro chef? Local cooking shops like Cooks of Crocus Hill and Kitchen Window offer classes with instruction on everything from make-your-own sushi to hand-rolled pasta to cupcakes and macaroons. Afterwards, you get to eat whatever you make -- and you don't have to tip a waiter.
Quiz your date over trivia
Metro-wide
Many local watering holes host trivia nights, but for the safest bet for a great experience, you should attend one led by Trivia Mafia. Hosted at locations throughout the Twin Cities, Trivia Mafia is the largest bar trivia company in the Midwest with a weekly schedule of trivia nights at more than 150 bars. It's also a great way to vet your crush's IQ, considering Trivia Mafia's slogan is "use your noodle, not your Google."
Bowl your group over
St. Louis Park
A great spot for group gatherings, Punch Bowl Social has something to please every type of couple. The space is 25,000 square feet of fun including bowling lanes, arcade and table games, giant Scrabble and Jenga, and karaoke. They also serve craft cocktails and a delicious menu of bar bites like chorizo fries, crab rangoon dip, and cauliflower nachos.
Get cultured at the Guthrie
Downtown East
Impress your sweetie with a swanky date at the Guthrie Theater -- there's a reason why people fly from all over the country to see the gorgeously staged productions. This year, late fall/early winter brings Steel Magnolias to the stage. Also, the theater itself is an architectural landmark with majorly Insta-worthy views of the beautiful Mississippi River. Combined with delicious on-site dining at Sea Change, the Guthrie is a great one-stop date shop.
Pull a Houdini at an escape room
Metro-wide
Intentionally locking yourself and your partner into an escape room for an hour might not sound like your idea of fun, but it is truly a blast. With varying themes and locations, there are a ton of spots around the metro to choose from -- some of the best are Escape The Room, Mission Manor, and Trapped Puzzle Rooms. (Trapped even has a Harry Potter-themed room, if you're into that.) Like many other aspects of a relationship, communication is key to solving the challenge.
See world-class art for free
Whittier, Loring Park
Is your sweetie super-creative? The Minneapolis Institute of Art is always free -- and on the third Thursday of the month the museum hosts events like fashion shows from local designers and concerts by local bands. Also free on Thursdays from 5-9pm is the Walker Art Center, which regularly makes national headlines with its collection of abstract, contemporary, mind-bending art displays.
Check out a gangster hideaway
St. Paul
Learn about St. Paul's Prohibition-era mobster past or hit the dance floor with your significant other at the 150-plus-year-old Wabasha Street Caves. You can either come for swing night with live bands or check out the year-round historical and seasonal cave hideaway tours. Around Halloween, the cave does a spooky "Lost Souls" tour and at the holidays, a winter lights tour.
Couples who climb together, stay together
Bloomington, Minneapolis, St. Paul
Nothing says trust like having your partner belay you on a climbing wall. Vertical Endeavors, the Twin Cities' resident rock climbing society, has date options available for all skill levels. Don a harness and get ready to scale some heights- teamwork makes the dream work, right?
Warm up with gorgeous flowers
Como
The Como Park Zoo is a popular summer attraction, but why not head there in the winter for the Marjorie McNeely Conservatory? The glass-enclosed building is filled with colorful blooms in tropical heat, bonsai trees, a roomful of ferns, an "orchid house," and a gorgeous sunken garden that changes with the seasons. Winter also brings an amazing, festive poinsettia display. No matter the time of year, it's a super-romantic spot.
Walk around frozen falls
Minnehaha Park
One of the most scenic spots to take your significant other in the Twin Cities? Minnehaha Falls, hands-down. The 100-foot cascade is beautiful at any time of year -- but especially in the winter when it's frozen. You can view it from the top of the park or descend the stairs to the base to take it all in, so grab your sweetie and snap some selfies!
Mix it up catching a movie
Columbia Heights, Edina, St. Anthony Main
Movie dates are one of the oldest ideas in the book, but for good reason. Still, you can change it up by taking your partner to a unique spot like the historically renovated Heights Theater, avant-garde Edina Cinema, or charming, cobblestone-paved St. Anthony Main Theatre the next time you want to catch a flick.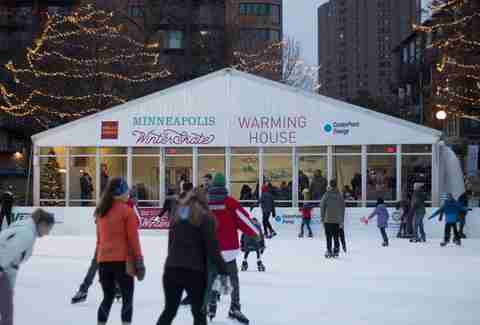 Ice skate with a skyline view
Loring Park
If you're looking for a slightly active date idea, make sure to swing by Wells Fargo WinterSkate. It features free rentals, a warming house, and a groomed rink, making it perfect for newbies. Alternatively, if you have your own blades, you can always stop by one of the many city ponds or lakes that turn into rinks, too. (Catching one another if you fall takes on a literal meaning here.)
Get your game on at an arcade bar
Uptown
You can't beat playing like a kid again, except when you throw in some adult beverages and an attractive companion. Minneapolis bar Up-Down charges only a quarter for throwback arcade games from the '80s and '90s and they also have life-size Jenga and Connect Four. The house-made mac & cheese pizza is also way better than whatever the gaming spot of your youth served.
Sign up here for our daily MSP email and be the first to get all the food/drink/fun the Twin Cities have to offer.