Inside the House of Balls, the Twin Cities' Most Fantastically Odd Museum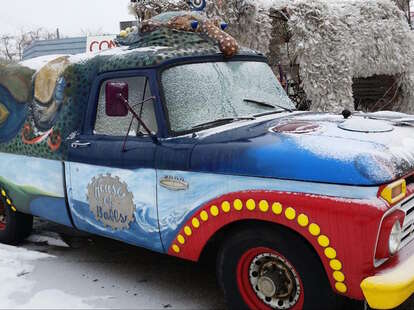 Patrick Strait/Thrillist
Patrick Strait/Thrillist
With all due respect to cinematic classics like Kingpin and The Big Lebowski, the leisure sport of bowling doesn't typically inspire a whole lot of artistic inspiration. Instead, it tends to conjure up thoughts of stale beer, unfortunate carpeting from the '90s, and that noxious odor of lane wax and Axe body spray that seems to linger ubiquitously in bowling alleys across the country.
Tucked away on the West Bank in Minneapolis, however, is a place where bowling balls are much more than just banged-up neon relics being hurled around by kids at birthdays or partying parents on Saturday nights. At the House of Balls, a strange, fantastic, and unique art gallery/creative space, bowling balls are vessels of life, containing an energy transferred from their "masters."
For nearly 30 years, House of Balls owner Allen Christian has transformed a vast wasteland of unorthodox materials -- ranging from air ducts to animal skulls (and bowling balls, of course) -- into one-of-a-kind works of art. Now in his third location, he gives visitors from all walks of life the opportunity to get a look inside of his mind and see the same energy in his creations that he sees staring back at him.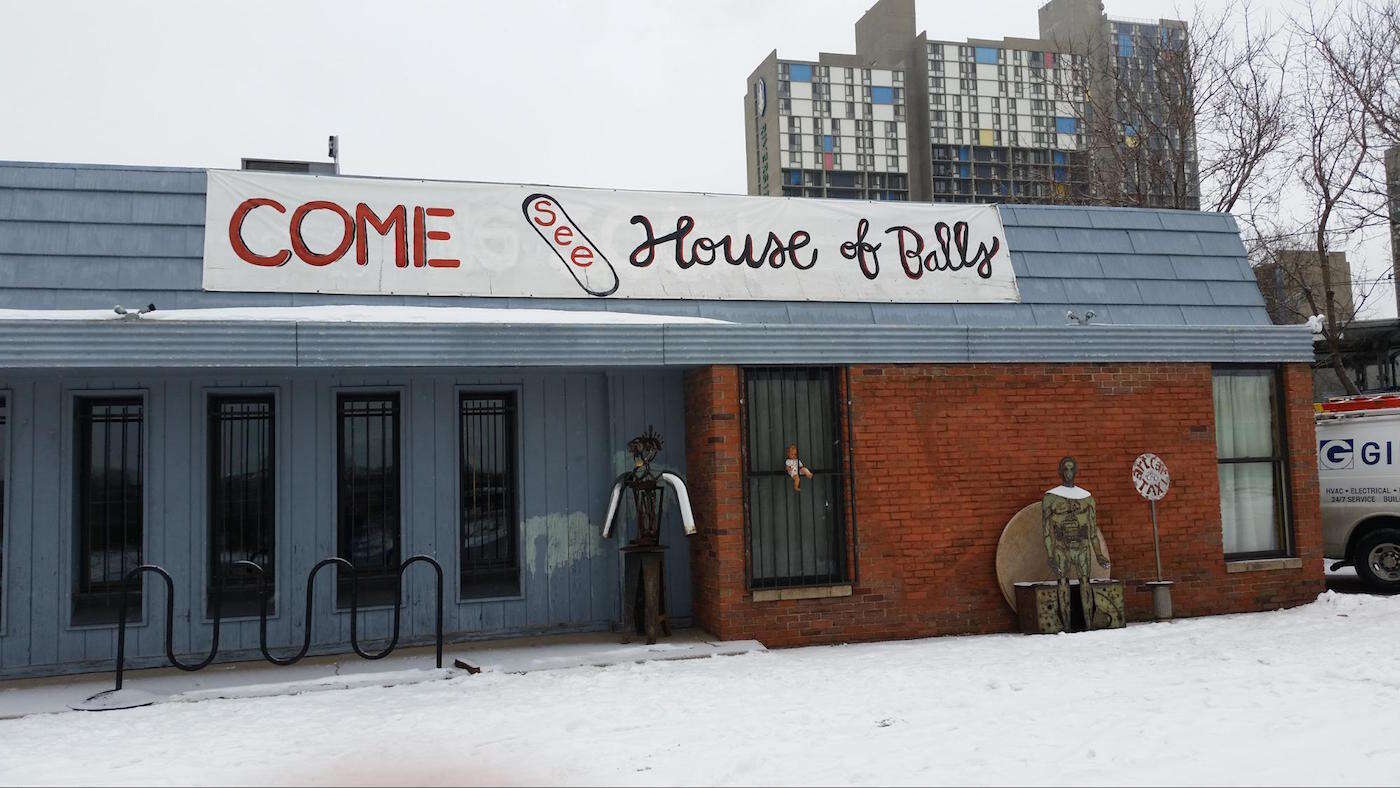 "I believe that every time you put your fingers in the holes of a bowling ball, you're creating a transfer of energy from one person to the next," Christian states. Christian is a devotee of animism, or the the idea that a person leaves behind part of their spirit and energy when they touch an object. Bowling balls became Christian's signature material as well as the inspiration for House of Balls. And while Christian spent several years carving these bowling balls in order to showcase that energy for the world to see, he has slowly moved away from them over the past several years, choosing instead to see how far his artistic touch can reach.
"When I moved into this new space a little over a year ago, I ended up getting rid of probably 75% of all of my work that was in the old location," he explains. "I didn't want to be held back by having those old ideas in my face all of the time. The key for me has been to find the balance in energy of the materials. You have to be careful though; just like opening the doors to this new space and inviting in new people, when you open the door to new materials it's possible to let in energy that you don't want."
Christian's new, multi-layered space is a far cry from the tiny storefront he previously occupied. Instead, the new and improved House of Balls has several different rooms showcasing varying types of artwork that run the gamut from the beautiful to the terrifying. The building, which was originally a gas station in the early 1930s, had spent the last several years serving as a combination part-time DIY punk rock venue, and a multi-person flop-house. Christian, an electrician by trade, made significant renovations to the structure, but insisted on keeping the same art-deco style aesthetic, including massive graffiti portraits splashed across the walls.
Outside, the space is able to accommodate much larger projects including a gigantic, multi-person powered "pedal bear" that Christian helped create as part of the annual Art Shanty Project.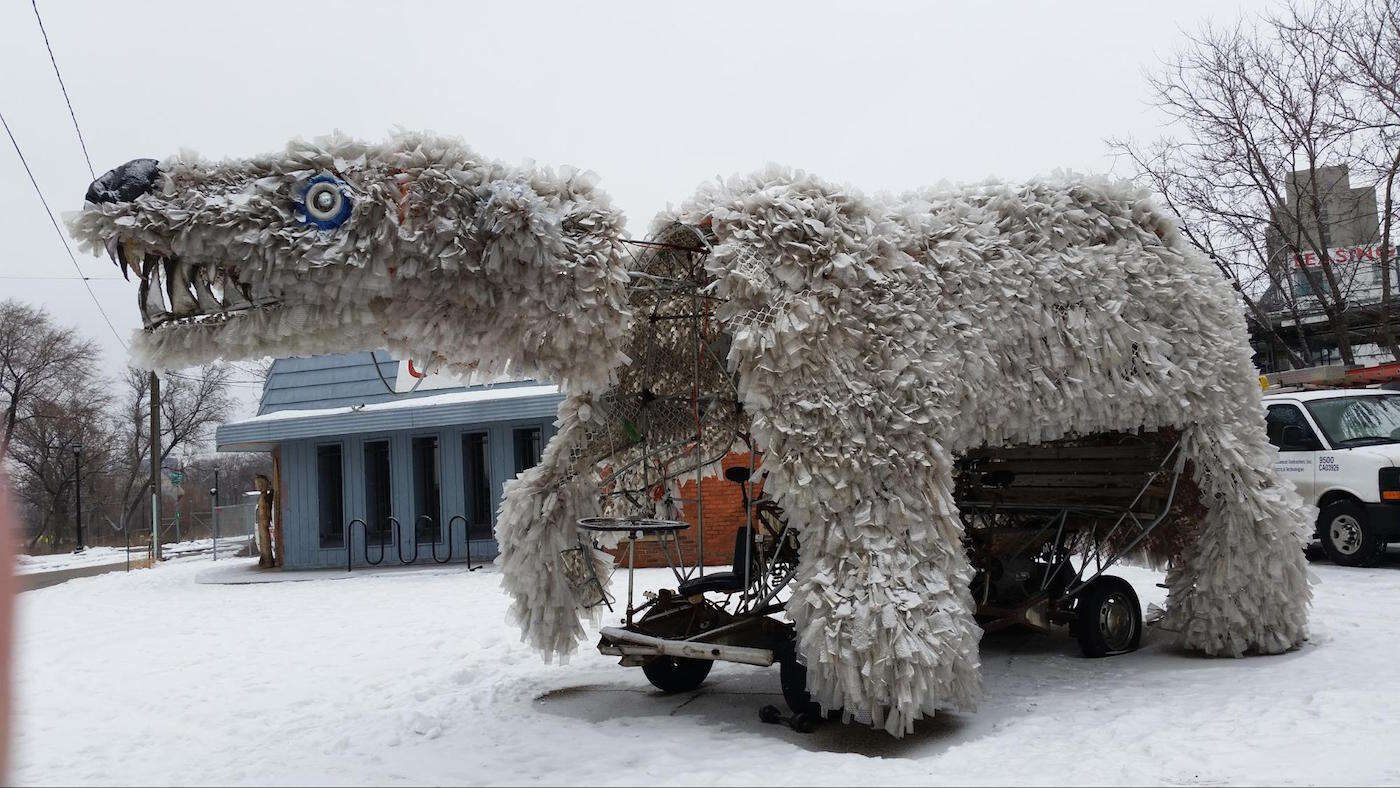 "I find that the projects I choose to work on are defined by the environment," he says. "I always wanted to have outdoor space, as I was limited in the past in terms of what I could create."
In addition to having the room to explore the creative crevices of his mind, House of Balls' high-visibility gives Christian the opportunity to create a dialogue with passersby in the local area.
"When I'm working on a new project that's visible from the outside, it's important to think about how that piece will engage the public. It is important for me to think about; is there a message to this madness?"
The high traffic location (across the road from the new US Bank Stadium) and ample space seemingly makes House of Balls an ideal venue to host a variety of events, likely turning a very substantial profit for Christian. Though he's clearly thought of the idea, as evidenced by the half-eaten party platters and empty bottles of wine from a private get together the night before, Christian isn't quite sold on the idea of turning House of Balls into a revenue-generating destination.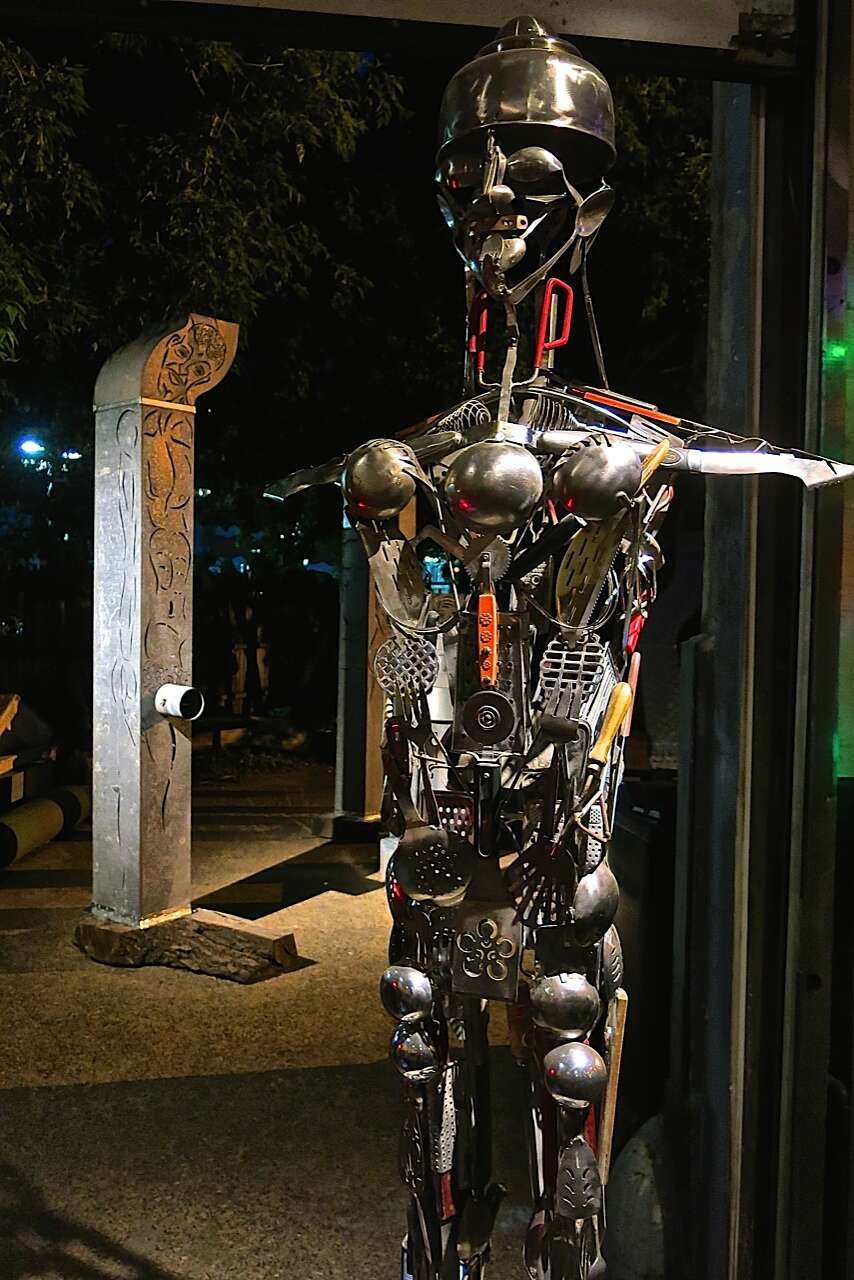 "There is a sublime difference between creating art and making money," he says thoughtfully. "I'm not opposed to the idea, but at this point I'm still in the wondering stage. It's my fear that if I were to do so, I would become wrapped up in the business dealings and have less time to create. I need to create seven days a week; that will never change."
For now, Christian says he's happy to open his doors to anyone curious enough to step foot in the House of Balls free of charge, just as he has in his previous locations over the past three decades.
And just as the size of his space, variety of materials, and creative energy have continued to develop and change over time, so too has his bowling prowess, "I bowl a lot less than I used to," he laughs. "I haven't stuck my fingers in those holes in quite some time."
Sign up here for our daily MSP email and be the first to get all the food/drink/fun the Twin Cities have to offer.
Patrick Strait is a freelance writer who specializes in comedy, pop culture, and basically anything weird. Follow him on Twitter @patrickstrait.