Anytime you hear the phrase "bucket list" it seems a little bit morbid to think about the things you want to do before you die... right? Well, call it a bucket list, call it #goals, or call it whatever else you want... here's a list of 47 things you really oughta check out in the Twin Cities:
Recommended Video
You Can Fit This Grill In Your Backpack
1. Attend a concert at First Avenue
If it was good enough for Prince, it's good enough for you.
2. Take a boat tour on the Mississippi
Choose between upscale or low-key adult cruises or hop on a historic paddleboat with the kiddos.
3. Viva la Big Island
The iconic Lake Minnetonka docking spot is perfect in the summer (with some tequila).
4. Cycle the Chain of Lakes
Rent a Nice Ride or bring your own two wheels to check out the most popular Minneapolis park destinations.
A "Jucy Lucy" is two hamburger patties with a slice of cheese in the middle, and it should be your last meal if you had to choose one.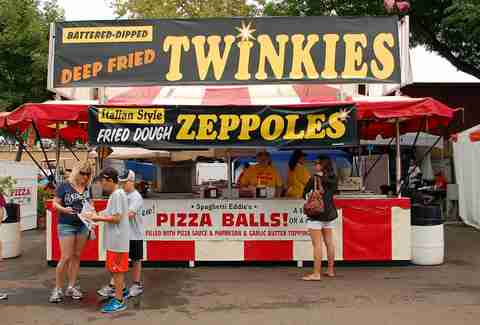 6. People-watch at the State Fair
There's no better place for sighting fanny packs and buttcracks than the Great Minnesota Get-Together. Obviously, the fair food is pretty good, too.
Legit gangsters used to hide out here, and now you can swill cocktails while swing dancing below street level.
Mingle with lords and ladies as you watch knights do battle in live jousting competitions.
Because nothing says summer like drinking a rum concoction out of a Shrunken Head on a patio.
Test your luck by betting on the ponies.
11. Wait for tacos worth their (Sea) Salt
This park eatery serves up the best fish tacos, hence the long line.
12. Take in a Twins game
They may be terrible lately, but Target Field is still a great place to catch a ballgame.
13. Appreciate art at MIA
You can appear classy and cultured without dropping a dime.
14. Laugh at Acme Comedy Club
The open mic night is the best place to heckle stand-up hopefuls, but they do get some really great talent in here.
15. Cheer Christmas at Holidazzle
The winter market, festival, and fireworks make it impossible to be a Scrooge.
The sizable St. Paul parade has been going on for 50+ years and afterward, there's corned beef and cabbage nearby at Liffey Irish Pub.
Whether you're going for a Vikings game or a special event, the site of Super Bowl LII does not disappoint.
Because why not navigate a wooden multi-seat bike with a keg through busy Downtown streets?
19. Light the night at the Loppet
Experience Lake of the Isles in the winter darkness at this festival of lights.
Polka like you're in Germany at the Twin Cities' largest Oktoberfest tent party.
This festival celebrates all things winter in the Cities, and the ice sculptures alone are worth braving the cold.
This Grand Ave street fair and parade kicks off summer and brings St. Paul neighbors together for old-fashioned food, fun, and music.
Because one type of sugar isn't enough, order the specialty: ice cream sandwiched between a Glam Doll donut.
24. Play around at the Guthrie
Performances are some of the best in the Midwest, and the Endless Bridge offers the most Instagram-worthy view of the Mississippi.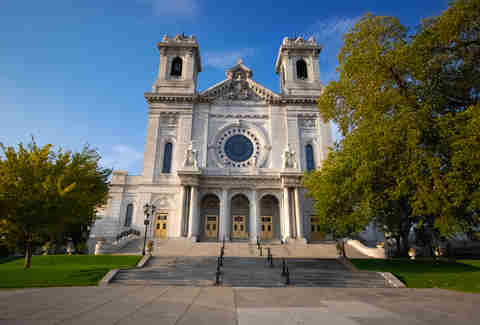 Whether you're religious or not, the French-inspired architecture is stunning to see.
Wander campus and or take in a football or hockey game to see why The University of Minnesota is a beloved part of the city.
A Segway tour along St. Anthony Main is the best way to see the riverfront, as long as you avoid biting it on the downhill portion.
28. Stop and smell the roses
With beautiful blooms of every color, the Lyndale Park Rose Garden along Lake Harriet is the sweetest spot in town.
There's nothing like a balmy Saturday night in Uptown on a patio mingling with the bros and the hipsters.
Classes are taught by local chefs from popular restaurants, and range from make-your-own sushi to pasta and pizza.
Whether you're searching for produce or one-of-a-kind gifts, the market at Mill City Museum is a must-visit.
Where else can you see giraffes, tigers, and polar bears in Minnesota?
Not just for historical reenactments, Fort Snelling is also home to Pike Island, which makes for a scenic day trek.
The Soap Factory art gallery transforms into a house of horrors during Halloween that will scare even the most skeptical souls.
The Walker Art Center puts on a great show at this summer concert put on by popular local radio station The Current.
36. Pick your own fall fun
Whether you're into apples or pumpkins, the options Afton Orchard are ripe for the... oh, you know.
This kooky "country club" features a giant Ferris wheel overlooking northeast Minneapolis. Be sure to order one of their potent cocktails before you take a spin.
There are 108 stairs, but the view and trails at the bottom are definitely worth the trek back up.
Make a sign, grab a noisemaker, and join the crowd pumping up hardcore runners as they take to the streets from Downtown Minneapolis to Downtown St. Paul.
On the Fourth, there's no better view in town than the Stone Arch bridge's.
Make fun of it all you want, the MOA has more than 500 stores that attract locals and tourists alike. Take the train to avoid traffic, and maybe hit up one of the Mall's many bars after you're done shopping.
Whether you pick up Somalian pastries or Mexican tortas, you're guaranteed to find a food you've never tried at the international public market.
Don your rainbow gear and check out the always-colorful parade and all the amazing floats.
44. Bowl your friends over at Brit's
Lawn bowling at the popular British pub is a perfect summer pastime.
Why sit indoors to catch a flick when you can pull up a lawn chair and watch outside in the summer for free?
Visit artists' private spaces for an open studio weekend and pick up one-of-a-kind original pieces.
What better activity to cap off a bucket list than skydiving? Skydive Twin Cities offers two locations with amazing views from 13,000ft.
Sign up here for our daily MSP email and be the first to get all the food/drink/fun the Twin Cities have to offer.