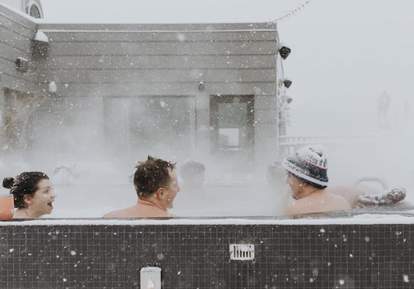 Everything You Need to Do in the Twin Cities This Winter
This winter in the Bold North is bound to be a chilly one, with the Farmers' Almanac predicting strong winds and "copious amounts" of snow, sleet, and ice. YIKES. But before you decide to hibernate from December to March, the season does have some pros like seriously cool winter sports and fun outdoor activities. Add in some great beer fests, unusual art experiences, and creative ways to warm up and you've got plenty of reasons to brave the chill. Here's everything you need to do in the Twin Cities this winter.
Through February 10
U.S. Bank Stadium, Downtown East
Love running year-round but hate doing it outdoors or on the treadmill? Enter U.S. Bank Stadium's Winter Warm-Up series, 12 nights where you can work out at the same place the Minnesota Vikings play ball. Not into running? Inline skating is also welcome (just BYO skates, as rentals aren't available). All recreation sessions are four hours long, and you can use the facility for all or part of that time. Pretty cool, right?
Cost:
$6-$8
Through February 22
CHS Field, Lowertown Saint Paul
Saint Paul has you covered for seasonal activities this year, as Destination Winter combines the popular Wells Fargo WinterSkate with the Securian SuperSlide for a day of family fun. The WinterSkate rink is moving this year from Landmark Plaza to the third base line of CHS Field, so lace up those skates and head on over. The 130-foot, twin-track SuperSlide made its debut during the Super Bowl two years ago and now it's back for tubing enthusiasts.
Cost:
Free admission
Through April 25
Roy Wilkins Auditorium, Downtown Saint Paul
Want a unique idea for a girls' night out? Head to a Minnesota Roller Derby bout, where skaters get down and derby. The four teams (Atomic Bombshells, Dagger Dolls, Garda Belts, and Rockits) feature athletes with awesome alter-ego skating names. Watching them round the rink at high speeds during their monthly events is super impressive.
Cost:
$15 and up
December 11
Hewing Hotel, North Loop
Looking for a great way to warm up this winter? You can't beat the heat of a sauna, especially when it's located on a swanky hotel rooftop. At Hewing's Full Moon Steam Medley, a ticket gets you a turn in the sauna and a cold plunge with opportunities for aromatherapy rounds. Even better, the steam session takes place with a great view of the stars, set to music from a live DJ complete with a rooftop bar. Of course, if there are any odd happenings...just blame it on the full moon.
Cost:
$35
Opening early January (weather permitting)
Long Lake Regional Park, New Brighton
If you're in search of the perfect winter selfie, the Ice Castles return this year with frozen waterfalls, illuminated icicles, tunnels, and caves. Over the past few years, the castles have been in Eden Prairie, Stillwater, and Excelsior, while this year's site will be in New Brighton. Construction is expected to begin in November and wrap up in early January, with crews creating more than 10,000 icicles every day. Tip: If you're transporting little ones, bring a terrain-friendly sled instead of a stroller.
Cost:
$14
January 7-February 20
Brookview Golf Course, Golden Valley
Want to try your hand at a new winter sport? Curling keeps gaining popularity in the Bold North, and Brookview Community Center is the newest spot to debut outdoor curling rinks. Winter League play begins January 7 and the "pub curling" atmosphere is casual and friendly, so beginners can learn the game too. Grab some buddies and sign up your team before the end of 2019.
Cost:
$175 per team of four
January 18
Warehouse District, Minneapolis
Come one, come all to the Great Onesie Bar Crawl! Participants are invited to don adult footie pajamas, animal print sleepers or, really, any one-piece costume and (warmly) shuffle the streets in search of booze. The crawl takes place at Brothers, 508, Cowboy Jack's, Wild Greg's and other Warehouse District bars and includes cover, food and drink specials, and the chance to win $500 in the costume contest. Hey, no matter what happens, you know you'll stay comfy.
Cost:
$15
January 18-February 9
Lake Harriet, South Minneapolis
In Minnesota, we can make anything work on ice -- even an art festival. The Art Shanty Projects began almost 15 years ago as an experiment in which works of art were displayed inside ice fishing shanties for an unexpected experience. The event drew more than 40,000 visitors in 2018, but was canceled last winter due to lack of funding. Fortunately, Art Shanty Projects has announced its return this year with 20 exhibits featuring musicians, dancers, and the chance to create your own works of art.
Cost:
Free; donations suggested
January 23-26
Lake Nokomis, South Minneapolis
Watch players from all over the country (from pint-sized to pros) as they compete round-robin style at the 15th annual U.S. Pond Hockey Championships. A very Minnesotan thing, pond hockey historically takes place on a frozen creek or backyard body-of-water-turned-ice-rink. This tourney takes pond hockey to a whole 'notha level on Lake Nokomis, where players compete for the coveted "Golden Shovel" award.
Cost:
Free to watch
January 23-30
Walker Art Center, Lowry Hill
If a staycation to a fancy ski resort up north isn't in the cards this season, you can winter at the Walker for a grand total of zero dollars as part of Target Free Thursday Nights. They'll have unique activities both indoors and out, including a moonlight snowshoe tour in the neighboring Sculpture Garden, crafts and cocktails, and complimentary indoor gallery admission.
Cost:
Free
January 23-February 2
Downtown Saint Paul
This long-standing winter celebration was launched in retaliation to an article published in 1885 by a New York newspaper calling Saint Paul "another Siberia, unfit for human habitation." The next year, the rightly-offended Saint Paul Chamber of Commerce created the Winter Carnival with entertainment and events showcasing the city at its finest...weather be damned. Now 134 years later, the festival draws more than 250,000 visitors per year with more than four dozen activities ranging from parades to a treasure hunt to a snow sculpting competition.
Cost:
Most events are free
January 24-25
Target Field, Downtown Minneapolis
If you bleed navy and red, you won't want to miss the Minnesota baseball tradition known as TwinsFest. Snag autographs and photos with more than 50 current, former, and future players, attend the memorabilia and collectors' show, and get behind-the-scenes tours -- all while bonding with thousands of your fellow fans.
Cost:
Tickets go on sale December 11
January 25
Downtown Saint Paul
Baby, it's cold outside. But for avid runners, the temperature is irrelevant. Layer on your long underwear, locate your warmest hat and gloves, and lace up your sneakers for the Securian Financial Winter Run. Choose from a 5K, 10K, or half marathon, with all proceeds benefiting the Saint Paul Festival & Heritage Foundation. Runners can also save their race bib and bring it to Red Rabbit St. Paul within a week for a free tap beer.
Cost:
$50-$65
January 25-26
Saint Paul RiverCentre
Whether you're proud to be a cat lady (or cat dude) or get talked into going as that person's plus one, the annual Saintly City Cat Show is truly a sight to behold. Watch the fur fly as hundreds of felines go nose-to-nose to win the titles of pet king and queen. It's also perfect if you have cat-loving kiddos.
Cost:
Adults $4, kids $3
February 1
Lake of the Isles, Lowry Hill
The City of Lakes Loppet Ski Festival always draws a record crowd, especially at the popular evening Luminary Loppet. Ski, snowshoe, or shuffle across Lake of the Isles and take in ice sculptures, luminaries, and fire dancers by candlelight. Afterward, hit up one of the hot chocolate and S'mores stations or the Surly beer garden.
Cost:
Adults $22, kids $12
February 7-8
Wayzata Bay, Lake Minnetonka
Minnesota golfers always say the season's too short. So 35 years ago, Lake Minnetonka community members established a well-loved winter tradition: The Wayzata Chilly Open. Yup, that's right, it's a golf tournament...on a frozen lake. Last year, several thousand players and spectators came out to putt tennis balls around three 9-hole courses on the ice. The two-day event also features a chance to try snowkiting (using a kite to glide across the ice), family activities, and all-you-can-eat chili.
Cost:
$40-$75 per player for golf
February 15
The Pourhouse, Downtown Minneapolis
If you're comfortable dropping your pants for a good cause, Cupid's Undie Run is your happy place. Billed as a "brief" run (about one mile) in the middle of a big party at The Pourhouse, all proceeds from entry fees go to find a cure for a genetic disorder called neurofibromatosis. If you're not comfortable with stripping to your skivvies, costumes are also encouraged.
Cost:
$30
February 22
Minnesota State Fairgrounds, Saint Paul
Usually, beer fests take place in the summer but in the Bold North, it's no secret that imbibing in the winter can help keep you warm. The Winter Beer Dabbler, which returns for its 11th year in 2020, is the biggest outdoor beer fest in Minnesota. Sample more than 600 suds and ciders from 180 local, regional, and national breweries while you enjoy live music and winter activities.
Cost:
$50-$70
February 28-29
Thomas Beach on Lake Bde Maka Ska, Uptown
You'd have to be crazy to jump into a frigid Minnesota lake in February, right? Well, yes...but what if it were for a good cause? The 14th annual Polar Plunge challenges participants to fundraise for Special Olympics and then leap into Lake Bde Maka Ska with hundreds of onlookers watching. Last year, plungers raised more than a million dollars!
Cost:
Must fundraise to participate
Sign up here for our daily MSP email and be the first to get all the food/drink/fun the Twin Cities have to offer.