Minnesotan Winter Bikers Are All About Fat Bikes and Frozen Fingers
Let's be real: Winters in Minnesota are seriously bullshit.
They're dark, cold, and buried in snow from December through St. Patrick's Day, effectively turning an otherwise fine place to live into the backdrop of that Will Smith zombie movie. And while most people bury themselves under the covers, grow uncomfortable amounts of body hair, and wait for the tundra to thaw, there are still a surprising number of hardcore cyclists who don't let little things like "snow" or "potential frozen death" slow them down.
Patrick Stephenson, the creator of the Joyful Riders Club in Minneapolis, is one of those you'll see bundled from head to toe even in the snowiest of conditions, pedaling his way through the elements. This may sound like cruel and unusual punishment to some, but it's how Stephenson relaxes.
"Winter biking really fueled my super intense passion for biking," he said. "It teaches you about self-reliance. Its peaceful. You feel like a little fortress of warmth powering your way around the iced-over Earth."
Cruising through cold is better together
Stephenson, like many other riders, uses his snow tires as means of recreation, transportation, and exercise. He and Mario Macaruso formed the Joyful Riders Club to bring together like-minded (or insane) cyclists for a monthly frozen ride that begins at Surly Brewing in Brooklyn Center. The group has been off to an extremely strong start in its first year, with dozens of riders showing up each month to work up a sweat, drink some beer, and show off their general, two-wheeled badassery.
While the group caters to all ages and levels of experience, there is another contingent out there who apparently don't think the sheer cold is extreme enough for their tastes.
The Freewheel Winterbike Expo takes place in Minneapolis every December, and is the mecca for snow-shredding cycle enthusiasts. The event features seminars on everything from proper packing to the best apparel for any weather, but the main event is the Superfat Crit.
The Superfat Crit is an obstacle course for fat bikes (bikes outfitted with fat and studded tires designed to handle the snowy conditions). The event has no cash entry fee, but all riders must bring a pack of something to share with their fellow bikers, whether that's beer, brats, veggie burgers or whatever you need to fuel up before you ride.
For those looking to keep their winter riding skills sharp, there's also events at ski resorts like Lutsen Resort on Lake Superior, which hosts a 16 or 24 mile snow race called the Norpine Fat Bike Classic each January. Likewise the Cold Catfish Cup, a winter bike race for all ages, abilities, and bikes is held in the suburb of Woodbury and the Penn Cycle Get Phat With Pat winter bike races take place in Bloomington on January 21 and 28.
If being extreme isn't really your thing, you can roll over to nearby Stillwater every Saturday between Thanksgiving and New Year's (keep it in mind for next year) for the BierCycle Adventures caroling tours. The BierCycle (also known in other places as pedal pubs, traveling taps, etc.) is a massive,10 person people-powered pedal cart where you can kick back and sip on hot chocolate, beer, and wine, while screaming your favorite holiday hits through the local downtown, terrorizing the ears of innocent bystanders.
Gear up to get out
Regardless of whether you're looking to test your limits, spread yuletide cheer, or just stay active during the depressing dark months, one thing that all winter riders agree on is the need for proper gear. While bike shops are stocked with clothes and accessories to make even the most novice rider look like the Lance Armstrong of abominable snowmen, Stephenson is quick to point out that cash doesn't have to rule your ride.
"The old bicyclists' credo is, 'There's no bad weather, just bad clothing,'" Stephenson noted. "You can learn to get through just about anything with the right clothes and the right attitude. I still get by on bulk wool socks from Costco and layers from the activewear sections of Savers and Goodwill."
No matter how warm you're dressed or how sweet your ride might be, the toughest thing for any winter cyclist in Minnesota is motivation. Even the most dedicated riders can very easily check their weather apps (or look out the window) and decide that a day full of Netflix buried under blankets beats the literal definition of biking and chill.
Stephenson said that the most important tip to get your frozen butt out the door is to keep all of your necessities piled up in one place. Gloves, facemask, boots, and probably a pint of whiskey should all be easily accessible, giving you one less reason to hibernate.
"There are a lot of elements to keep together if you want to stay warm, and if I have to work too hard, I'm not doing it," he noted.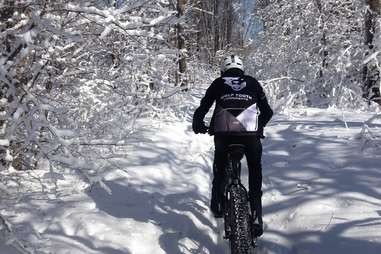 Pedaling through the snow is as Minnesota as it gets
Whether they're testing their toughness against the elements, fighting off the dreaded winter weight of the holidays, or just really hate driving in snow, seeing bikers pedaling their icy cold hearts out during the winter months is as Minnesotan as The Mighty Ducks trilogy or writing passive-aggressive greetings on Christmas cards. And for those who have never tried it but often catch themselves thinking that hypothermia may not be that bad, Stephenson has some veteran advice.
Just keep going," he said. "Pedal by pedal, you'll get where you need to go, even when freezy-winds Minnesota feels like an inhospitable alien planet."
Sign up here for our daily MSP email and be the first to get all the food/drink/fun the Twin Cities have to offer.
Patrick Strait is a writer can barely walk outside when it's below 30 degrees, let alone balance on a bike. Follow him on Twitter at @patrickstrait