The Vikings FINALLY Have a New Home: Take a Look Inside US Bank Stadium
Courtesy of The Minnesota Vikings
For football-hungry Minnesotans, a new stadium for their beloved Vikings has been a long time coming. After all, the last one, the Hubert H. Humphrey Metrodome, was a cement mausoleum erected back in 1982 that was unfortunately subjected to a dated aesthetic from the start. It was also a little more than an eyesore on the Downtown skyline (though, to be fair, an eyesore that was also the source of many fond memories for a lot of people). But today, we are finally closer to having the hope of a new home become a reality; the Vikings' US Bank Stadium will open later this year (with a ribbon-cutting slated for July 28th) and be fit enough to host not only the 2018 Super Bowl, but also the 2019 NCAA Final Four. And with its new opening on the horizon, we were treated to an exclusive look inside.
It's a project that has faced a number of obstacles over the years -- mainly blowback from a public unconvinced that a new stadium was really needed. Also, just finding the perfect place to put the damn thing was nearly impossible. Factor it all in, and a new facility has been roughly 16 years in the works.
The old Metrodome once housed the Minnesota Vikings, the Twins, the Timberwolves, and the Golden Gophers. As time went on, an era of stadium revolutions arose: the Twins got Target Field back in 2010, the Gophers got TCF Stadium in 2009, and even our minor league baseball team, the St. Paul Saints, received their own CHS Field last year. (Not to mention we have a professional soccer stadium on the way.) The point is: it seemed everybody had their own brand new home, and it was time the Vikings caught up.
Keane Amdahl/Thrillist
The new stadium is a modern marvel
Many people aren't exactly sold on the angular aesthetic of the new design -- reportedly inspired by some of the jagged rock formations down by St. Anthony Falls on the Mississippi River -- but the design is in fact quite the feat when it comes to modern architecture, and incredibly unique as far as stadiums go. It was designed by HKS, a sports and entertainment architecture firm that was also responsible for the new Cowboys Stadium down in Dallas. It was erected by a local contractor, Mortenson Construction, who also built the Target Center, Xcel Energy Center, TCF Stadium, and Target Field.
Construction originally started back in December 2013, beginning before the actual end of the Vikings' season and the demolition of the old Metrodome. The early start is what allowed crews to maintain the incredible speed at which the stadium is going up. At this point, it's approximately 90% complete; and despite being a bit dusty, there's quite a lot to see, and even more to learn.
With the unique design comes the ability to seat 66,200 game-goers, with the capacity to expand to up to 70,000 seats for the upcoming 2018 Super Bowl. The stadium itself uses over 100,000 cubic yards of concrete supported by nearly 20,000 tons of pure steel. What's truly impressive here is that, even with all of that weight, the primary support comes in the form of a single steel supertruss that runs the length of the building. This is in part due to the fancy, space-age material used for the roof. It's called "ethylene tetrafluoroethylene" (or ETFE for short), and not only is it hyper durable, it is also extremely lightweight and transparent, allowing the stadium to flood with natural light, giving it an outdoor feel without the fear of snow (which is good because, if you haven't heard, our winters can be brutal).
Of course, if (and when) a storm hits, there's a massive snow gutter that runs all the way around the building designed to withstand it. The gutter is placed so that snow sliding down from the jagged edges of the roof lands perfectly in the gutter where it will be housed safely out of everyone's way.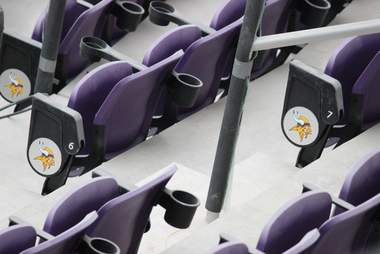 Keane Amdahl/Thrillist
What about the amenities?
The new stadium really shines when it comes to all the fluff and flair that's packed into it. Much like Target Field just down the street, the seating design allows for a full field view no matter where you're sitting. Furthermore, it has the absolute closest field-side seats in all of the NFL, with a combined total of 132 field-level suites available. (Actually, rumor has it that a small few are still available for purchase. Should you have the funds, you might want to consider jumping on that.)
The stadium will house six new clubs that can seat up to 7,500 people. Of course, these can be used during the games, but they are also available for private party rentals. Each have different features that range from outdoor patios to giant video walls. The latter is part of the stadium's intense system that houses over 15 massive high-definition video walls and over 2,000 4K televisions.
If you're someone that needs to be forever linked to the Internet (after all, it is 2016), fret not: the stadium will be designed for maximum Wi-Fi capabilities, with an expected network rumored to be able to handle all 70,000 live-tweeting football fans during the 2018 Super Bowl. Routers will be placed throughout the stadium, including smaller ones that will affix to the handrails in the various seating sections. The idea is not to drag fans out of the game, but should they need to check their fantasy stats in a hurry, they'll all be able to do so at the same time... and maybe even make a few Facebook updates and post a couple of videos to Snapchat.
To better help take care of Vikes fans' football needs (both in and outside of the stadium), a new mobile app is being developed that provides game day traffic updates and mapping features to help navigate the stadium, and it even has the ability to pre-order food for pickup or food-to-seat delivery.
For all of you art lovers, the new place will have its very own curated art collection that will contain pieces from local artists. While several stadiums sport their own collections, this will be unique in that the art will be spread throughout the stadium instead of being reserved for premium section seating or suites.
The front of the stadium will hold a 150ft viking ship complete with a dragon's head mast. The dragon will be fitted with the classic viking horns and glowing purple eyes, with the "floor" of the ship containing bricks purchased by fans and inscribed with a variety of messages to highlight fan involvement in the development of the stadium.
Sitting on a three-acre spread next to the stadium will be a massive Downtown park used largely for the obvious pre- and post-game festivities, allowing fans to both wind themselves up before the game, and then, hopefully, back down afterwards. And given the close proximity to the light-rail lines that run either to the Mall of America via the MSP Airport, or to neighboring Downtown St. Paul, the hope is to cut down on traffic congestion pre- and post-game. (Note: "hope" being the operative word.)
Oh, and for all of you breast-feeding mothers out there, no need to worry: the stadium will have several breast-feeding pods onsite to help make the process go a little more smoothly should you need it. (Is that random? Sure. But hey, you'll thank us later when you don't have to breastfeed from your seat while some guy spills mustard on your lap because he was busy creepily staring.)
Keane Amdahl/Thrillist
How will this affect the community?
One of the biggest concerns on the part of Minnesotans in regard to the new stadium came in the form of what other uses and benefits it could possibly offer the Twin Cities. It was made pretty clear that if almost $500 million in tax dollars was going towards the stadium, it had better have more uses than just hosting eight Vikings games a year. Fortunately, the team appears to have been rather sensitive to this fact, which comes through in a variety of ways.
There was obviously a lot of work that had to be done in tearing down the original Metrodome, and even more put into building its new replacement, which ultimately resulted in the creation of over 4,000 construction jobs. The state also required that certain percentages of those jobs were to go to both women and minorities -- something that ultimately made up almost 40% of the workforce. Plus, the stadium will have to staff itself, and recently announced that they're looking to fill 2,500 part-time jobs.
With that, over $1 billion in new development has been generated in the neighborhood as a direct result of the stadium. Wells Fargo recently put in not one but two new office buildings that directly overlook the park outside the stadium. Along with the new businesses in the area, there are currently plans to renovate the old Downtown armory, which will create more housing units near the stadium.
Some of the attraction to the new place is the ability to host a variety of other sporting events outside of football. There's an entire section of retractable seating that can be stowed away to make room for a collegiate baseball field, a feature that is 100% unique to US Bank Stadium. There's even a 360-degree concourse to allow for runners and rollerbladers during non-event times.
Outside of sports, SMG, one of the primary partners, is working on bringing a slew of big name concerts to the stadium. They've already booked country star Luke Bryan in August. A few more stars will soon be announced.
 
But what about all those birds?!
Some of you may have heard about the controversy surrounding birds potentially flying into the fancy transparent glass at the new stadium. Well, this is a very real (and not at all funny) concern. And though the Vikings opted out of the special glass that would help to prevent this from becoming an issue (due to the fact that it would change the entire aesthetic of the stadium), it's still something they have weighing on their minds. So as a solution, they've been working with 3M on a special film that uses some kind of infrared technology that is invisible to the human eye, but effectively deters our feathered friends. While it's currently unknown how they'll proceed, the team intends to try and wait it out to see if it actually turns into a problem at all before spending the money to have all the windows coated.
Is it an ideal solution? No. But it's good to know they have a contingency plan in place to help prevent a rain of dead birds falling from the sky and onto fans during game days.
Keane Amdahl/Thrillist
So, the final consensus is...
Ultimately, I think fans are going to be very pleased with how the new stadium turns out. To be honest, I was unsure about the need for a new tax-funded arena, but things are coming along nicely and it's breathing new life into a part of town that was previously on its deathbed. Sure, there are still a lot of things that both the Vikings and the stadium need to figure out before everything goes live... like how exactly they'll deal with food. Rumor has it they're currently working with Aramark as their primary catering service, but they've also contracted with local celebrity gourmand Andrew Zimmern to help bring in a little more local flavor.
One of the (many) great things about the new space is that execs seem fairly committed to the idea of filling it with as many local businesses as possible, which could be great for a lot of nearby restaurateurs and brewers. And in thinking of the park, it's probably a bigger draw for business development than many would realize: with all kinds of new housing going up, it should be an attractive new part of town for a variety of ventures that could potentially give the developing North Loop neighborhood a run for its money.
In the end, only time will tell how it'll all play out for sure, but at this point, things seem to be improving. I, for one, am really getting excited for the opportunity to catch a Vikes game in one of the league's most unique stadiums.
Sign up here for our daily MSP email and be the first to get all the food/drink/fun the Twin Cities have to offer.
Keane Amdahl is a veteran Twin Cities food writer with a bad Vikings habit. Follow his wins and losses on Twitter @FoodStoned.