Just because winter's here doesn't mean your love life needs to enter a state of prolonged hibernation. It's time to get creative. There are a lot of great things to do during the cold winter's wrath -- from ice skating, to Star Wars dance parties. In order to help you keep the flame burning during this frigid season, we've put together a few ideas that'll stoke the fire.
Como
The good folks over at the Marjorie McNeely Conservatory have released their upcoming concert calendar for their Music Under Glass series, and this winter you can check out the likes of The Last Revel, Lucy Michelle, or Erik Brandt & The Urban Hillbilly Quartet.

St. Paul
Winter festivals are always a good time, whether you're checking out ice sculptures, the legendary ice castle at the St. Paul Winter Carnival, or our favorite winter festival, the Beer Dabbler. While technically a part of the St. Paul Winter Carnival, it affords you the added opportunity of trying a TON of craft beer along with a host of different food trucks. If you're going to hang outside all day, might as well be surrounded by beer and food.
Downtown
Bust out your blades and hit up any one of the many ice skating rinks in the Twin Cities including St. Paul's Landmark Plaza, Lake of the Isles, or Downtown's most popular skating rink, The Depot, where maybe you'll find out that your significant other was a regular Brian Boitano in a previous life. Weirder things have happened.

Northeast
It may not be for everybody, but it's always a ton of fun (even if you insist on being one of those weirdly reluctant spectators). Pro tip: Paradise by the Dashboard Light makes an incredible duet. Find your voice at the Otter's Saloon, Moose, or our personal favorite, The Vegas Lounge.
Downtown
One of the more excitingly different shows you can check out this winter is the hyper-percussive stylings of the legendary Blue Man Group. Get your tickets now, don your best pair of jorts, and memorize every good Tobias Funke line you can. I'm sure the Blue Man Group LOVES that.

Uptown
Flying down a hill at breakneck speeds not really your thing? Consider checking out the Twin Cities Luminary Loppet, a nighttime gallivant featuring an ice pyramid, fire dancers, an enchanted forest, ice-cropolis, and ice-henge. If you're not into skiing, snowshoeing or walking is also acceptable, and all adult participants get a free beer from Surly.
Downtown
Local DJ Jake Rudh is taking over First Avenue for a night of dancing and celebration in anticipation of the film's release. This is a great opportunity to let your better half see your inner nerd while still taking them out for a night of dancing, so it's definitely a win/win.

Golden Valley/North Minneapolis
Perhaps skiing and snowboarding tend to fall outside your skill set. If that's the case, pack a flask and head to one of the Twin Cities' various sledding hills. Last year, Theodore Worth Park in Golden Valley was named one of USA Today's best sledding parks in the country, so that might be a good place to start.
Various
You know that you're going to go and see this movie anyway so why not turn it into an amazing date night? Of course if you can't convince your partner in crime to go check out what will likely be one of the most amazing movies of all time, there'll be a gaggle of other, lesser movies you could take them to...

Bloomington
If you like cutting through fresh powder on skis or snowboards, check out the Hyland Hills Ski and Snowboard area just outside of the city. They may not be the best ski grounds in the state, but it's close so you don't have to think about turning your date into a weekend long event. Unless you want that, in which case, checkout Spirit Mountain up in Duluth.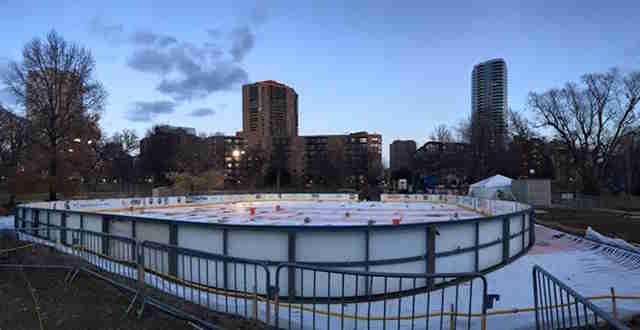 Loring Park
While they no longer rock the full on winter parade that they used to, one of the Twin Cities' biggest winter celebrations has now been turned into a full on holiday market featuring live music, movies, ice skating, and a whole lot more. It's also free.

Downtown
Catching a show at Downtown's premier music venue is always fodder for a good date regardless of the season. This winter the folks at First Ave have a pretty great lineup, including the Rhymesayers' 20th anniversary show, Bully, Babes in Toyland, or Hippo Campus.
Uptown
If pretty scenery is what does it for you, get out all of your top-shelf winter gear, fill up a thermos with some kind of hot and tasty beverage (perhaps with a dash of bourbon), and go for a couples stroll around of the Twin Cities many lakes. Uptown's Lake Calhoun, Lake Harriet, or the Lake of the Isles are all suitable destinations for a quiet, yet chilly adventure.

Northeast
One of the best parts of summer is strolling through a farmers market checking out all of the finest produce and foodstuffs the Twin Cities have to offer. And now you can do all that in the winter, too! It's also located indoors, so you don't have to worry about freezing your bits off.
Northeast
Looking for a titillating good time? Why not check out one of the Twin Cities' many burlesque shows. It may seem a bit unconventional, but they're always fun, funny, and wildly entertaining. There's even a special burlesque-themed version of The Nutcracker at the fully restored Ritz Theater in Northeast Minneapolis.

Minneapolis/St. Paul
Nothing screams "kinda cliché but also kinda romantic winter scene" more than a horse-drawn carriage ride, and fortunately for you, that's something that you can absolutely setup.

Your house
We know it's cliché, but hey, it's cliché for a good reason. And with our recently released list of best places for food delivery, you're all set for a night of binging Master of None while "chillin'" with your date.
Sign up here for our daily MSP email and be the first to get all the food/drink/fun the Twin Cities have to offer.
Keane Amdahl is a veteran Twin Cities writer that knows all the best date spots, which is why he spends all of his time alone in coffee shops. Follow his misadventures on Twitter @Foodstoned.