The Best Places to See Stand-Up in the Twin Cities, Ranked by a Comedian
<strong>Earl Elliot |</strong> Brandon Simon
<strong>Earl Elliot |</strong> Brandon Simon
When it comes to stand-up comedy, the Twin Cities easily ranks near places like New York, Chicago, or Los Angeles for having produced some incredible talent over the years. Mitch Hedberg, Maria Bamford, and even Nick Swardson are names immediately associated with the MSP comedy scene. But in addition to our national comedic contributions, we also have a slew of up-and-coming locals churning out the funny. Mike Lester, an MSP stand-up whose self-deprecating nerd-centric act is one definitely worth catching, tells us:
"I think the Minneapolis comedy scene is thriving in a way it hasn't in awhile. I see a lot of hungry, hardworking comics everywhere I go, and a lot of them are going the DIY route and putting on their own incredible shows. I am proud to call this scene home."
Given the sheer number of places you can catch a show these days, we can't help but think he's exactly right, so we had Lester put together a list of his favorite places in the Twin Cities to see stand-up.

Uptown
On the third Tuesday of every month at 8:30pm, this Uptown VFW turns into a great place for stand-up comedy. Eight to 10 comedians gather to perform for an always-packed crowd in a show hosted by local comics Isaac Witty and Hessley Rey. No matter the talent, it's always a hysterical performance and one of the best comedy stops around MSP.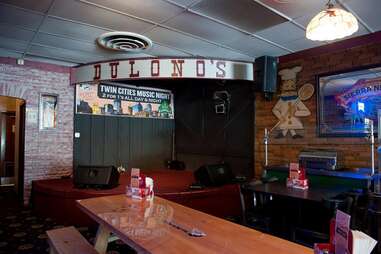 Uptown
This Uptown pizza place does everything: live music, karaoke, and even comedy shows. Plus, we heard it also has some pretty damn good pizza to boot. But according to Lester, it's the Rosa comedy showcase you can't miss. On the last Wednesday of each month, Dulono's features three up-and-coming local comics doing 15-minute sets, with a nationally touring headliner closing everything out. Of course, if you're looking to get into the game yourself, this place hosts an open mic every other Wednesday. Who knows, perform enough, and one day you might be able to feature on Rosa!
Lyndale
While a weird hybrid of a game/coffee shop mixed with a toy store might seem like an unlikely spot to catch a few laughs, this place is keeping it funny with a show called Boy Kisses. Hosted by a slew of MSP talent, Boy Kisses happens every Sunday night at 7:30pm, and features a variety of performances in sketch, character, and stand-up comedy. But the real kicker is the weekly theme: "Some have included Pokemon, La Croix, and dads," Lester explains. "You will not leave this show without a side ache from laughing."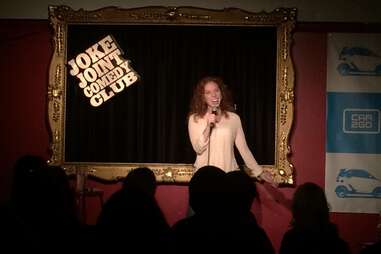 Lilydale
Just on the outskirts of St. Paul sits a little comedy club that offers up big laughs... and some interesting history. This spot used to be a burlesque hall, but now it hosts weekly open mics on Wednesdays at 8pm and features regular shows from Thursday-Saturday (Thursday at 8pm, Friday at 8pm and 10:30pm, and Saturday at 7:45pm and 9:45pm). The feature performances include both local talent and nationally touring headliners, making it a great spot in town if you're looking for well-crafted stand-up. Check out the calendar for upcoming shows and times.
Bloomington
It's seems strange to think that one of the better comedy clubs in town is located in the Mall of America, but this place has brought in some very popular names over the years. Anyone from Jon Lovitz, to Kevin Nealon, to Rob Schneider have featured at the House of Comedy. In fact, even Steve-O has stopped by (to do stand-up, not a Jackass stunt.) Shows are held from Tuesday-Saturday, and more information of what's to come can be found on the website.

West Bank
This University of Minnesota Twin Cities bar fills up with some hilarious talent during the Comedy Corner Underground shows, which run Thursday-Sunday nights. It was once described by the Star Tribune as "the scrappy dungeon of laughs," and always offers a great mix of free and ticketed comedy shows on the weekends, all of which you can keep up with via the calendar. Given its proximity to the university, it's packed with a lot of college students either looking to catch a great show or even trying out their hand in stand-up comedy during the weekly open mic.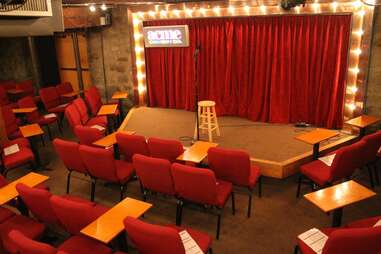 North Loop
This club is the crème de la crème of Twin Cities comedy stops, and has managed to earn quite the reputation across the country. Lester is a frequent performer at Acme, telling us this place "is the watermark for Minneapolis comedy and club venues throughout the nation." In fact, many comedians have coined it as one of their favorites around town: heavy hitters such as Nick Dipaolo, Hannibal Buress, Dana Gould, Andy Kindler, and Tom Segura have all headlined at Acme. Plus, according to Lester, it hosts one of the best open mics every Monday, one that frequently gets a pop-in from the coming weekend headliners. It happened with the likes of Mike Birbiglia and Nick Swardson, and it'll sure as shit happen again. Make sure you stop by!
Sign up here for our daily MSP email and be the first to get all the food/drink/fun the Twin Cities have to offer.
Mike Lester is an active Twin Cities comedian. Check his website for upcoming shows, and check out this clip from one of his recent Acme performances for a quick giggle or two.