The (New) Golden Era of Minnesota Comedy
If you read any interview with your favorite comedian, chances are pretty good that a question about his or her favorite towns to perform in will arise. And sure, New York, Los Angeles, and Chicago are the easy choices. But there's one that consistently shows up that you might not expect: Minneapolis.
For decades, touring comedians have raved about performing in the Twin Cities, thanks to the "smart" crowds who appreciate the craft, the abundance of local talent (after all, it's next to impossible to hear about a comedian's influences without hearing names like "Hedberg" and "Bamford"), and the quality of the clubs and club promoters all over town. This place is undoubtedly a comedian-favored market, offering some great local stand-up pretty much every night of the week -- and not always in the club.
There's been high praise for Minnesota as one of the country's best places to see comedy for quite some time. After speaking with a couple of people directly linked to the scene, it looks as if the state is now moving towards a second "golden era" for the craft. From well-established clubs like Rick Bronson's House of Comedy, to newly created venues such as Sisyphus Brewing -- a place where fans can enjoy both local brews and local talent -- the abundance of opportunities for comedians to snatch up valuable stage time has totally exploded, causing a jolt of interest from both comedians and fans alike.
Shannan Paul, an established Twin Cities-based comedian who started her career locally 12 years ago, has experienced the ups and downs of developing as a performer in the comedy capital of the Midwest.
"Ten years ago, you had, like, two major clubs in town, and then a few smaller B rooms," she recalls. "Then when the economy crashed -- and the comedy scene crashed with it -- and things began to rebuild, you had a bunch of smaller venues that were looking for entertainment. That became a huge benefit for comedians."
Mike Brody, who moved to Minnesota from Iowa right after starting his comedy career in 2000, echoes Paul's thoughts, though is quick to point out that the quality of the local scene never wavered despite the crash:
"I didn't initially move [to Minnesota] for comedy. But once I got here, I found out what an amazing place it is to do comedy," he recalls. "The scene has always been great; there was just a period where there weren't as many opportunities, since some of the big clubs closed down." Brody further explained that the Internet is what really helped "open things up for comedians" and thus launch the second comedy boom we're currently experiencing. "The first boom was a financial boom," he says, "which is part of the reason it fell apart. This one is more intellectual and focused on interest."
With a seemingly unlimited number of comedy podcasts, open mic nights, and showcases, the "average" comedy fan is now able to be much more discerning when it comes to selecting what shows or performers they wish to see.
"Comedy is like finding a therapist," Brody says. "You need to find something that fits you, and there are plenty of places in town that cater to each type of comedy fan." Which is true; it's typical to see massive crowds pile into established comedy clubs all over the country whenever a big name comes in, but in Minneapolis, more and more comics find themselves performing to great crowds in other places: bars, movie theaters, even board game stores.
If you're looking for proof of the depth and variety of the local comedy scene, look no further than Brody's website, which features a calendar of all the open mics and showcases happening around town, with locations ranging from established comedy clubs that offer shows every night of the week, to VFW halls (that also promote karaoke and pro wrestling, aside from comedy).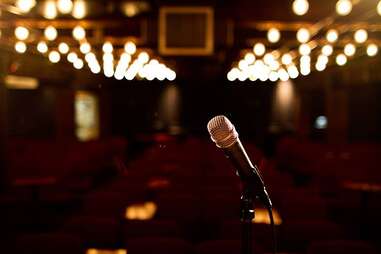 Now, as great as that VFW hall may be, if you're truly seeking to experience the crown jewel of Minnesota comedy, head over to the Acme Comedy Company. For more than 20 years, owner Louis Lee has not only attracted some of the greatest comedians of all time, but has also managed to launch multiple generations of new talent, and even helped to expose comedy fans to the "right" way to see a comedy show: no heckling, talking, or general dickery (though the latter sadly still rears its ugly head in other comedy clubs).
Last April, Louis CK name-dropped Acme on The Tonight Show when he shared a story about how Lee gave him his first big payday in comedy. This past spring, Hannibal Buress popped in for two nights of shows at the very last minute -- based solely on his past experiences at Acme. Furthermore, the club's weekly open mic night has been the launchpad for big names like Nick Swardson, and it's not uncommon for headliners to arrive in town early and hop onstage without warning, knowing that the opportunity to work out new material in front of a comedy-savvy audience is a rarity for any standup.
"Acme is always going to be Acme," says Brody. "It's always going to be steady and it's always going to be great."
Paul, a regular performer at Acme, fully agrees with Brody's assessment, claiming the Minneapolis scene is met with nothing but praise when she tours. "[Comedians] all want to talk about how great this market is for comedy. It's really a shining jewel."
More recently, network television has noticed the strength of the Twin Cities' comedy scene, as well, sending producers from late-night talk shows and reality TV to scout new potential breakout stars. Ken Reed, co-owner of the Joke Joint Comedy Club in St. Paul, credits NBC's Last Comic Standing contestant (and local finalist) Andy Erikson as part of the reason for the increased demand for comedy in the area.
"Andy Erickson's appearance on Last Comic Standing gave a jolt of energy to the scene," says Reed. "Watching her success has inspired other comedians to keep at it and to keep getting better."
Indeed, comedians are striving to perfect their craft, while also creating their own opportunities for stage time, with shows like Boy Kisses, an "alt-comedy" showcase each week at Universe Games in Minneapolis; Donut Party, a daytime show that takes place every Sunday at Grumpy's in Downtown; and ROSA Comedy Showcase, an open mic at Dulono's Pizza every Wednesday.
Each of these shows were created by local comedians, and have become refreshingly unique alternatives for performers and fans alike. But as Shannan Paul points out, it is possible to have too much of a good thing:
"Back in the early days, you had fewer opportunities to get on stage and do the work to get better," she says. "It made it more of a challenge to rise to the top, and some people had to wash out.
"Now you'll see a situation where someone would rather try and start their own show than do the homework to get better. Next thing you know, they're trying to do way too much before they're ready, and it ends up hurting everyone because a lot of times good comedians and bad comedians end up getting grouped together."
While the potential overabundance of stage time available is one concern, Brody points out there is just as much danger in a comedian allowing him or herself to become too comfortable.
"Some comedians will only do certain open mics or showcases," he explains. "The trap is getting too deep in your own comfort zone, and not allowing yourself to become well-rounded. Doing comedy is like working out: if you only work a few muscle groups, other parts of you are going to be weak. Having more places to perform comedy gives you the chance as a comedian to work those other muscle groups. So in that case, I say the more the better."
But what about the risk of spreading the comedy offerings too thin? Both Paul and Brody agree it's a short-term problem.
"There's always natural selection in comedy," says Brody. "The bad ones will take care of themselves."
For a fan of stand-up, living in the Twin Cities is like being that chubby German kid in Willy Wonka & the Chocolate Factory: there's great stuff around every corner, and that chocolate pool (in this case, the local talent) is almost an embarrassment of riches. So whether it's a comedy showcase in a craft beer taproom, an open mic night at a pizza shop, or a comedy contest at one of the many clubs throughout the state, there's a good chance the next time you see live comedy around town, you could be looking at the next big thing.
Sign up here for our daily MSP email and be the first to get all the food/drink/fun the Twin Cities have to offer.
Patrick Strait is a writer at Thrillist, lover of comedy, and big cat fan. Follow him @patrickstrait.