Why Winters in Minnesota Aren't as Miserable as Everyone Thinks
Tyler Olson/Shutterstock
Tyler Olson/Shutterstock
Some of you may have noticed a recent post we put up ranking each state by their miserable winters. Naturally Minnesota came in first place. Apparently, to some, living through a winter here is some kind of wretched experience that only the inner warmth of our glowing Nordic hearts and a constant flow of Grain Belt lager can get us through. Well, as a person living in Minnesota, I, like most of the other residents who took to the comments section of that particular article, am calling BS on the assumption that our winters are the worst.
Sure, it's always a little awkward when the local meteorologist proclaims that it's colder here than it is in Antarctica, or when it snows hard enough to completely bury your car, but we own these things; we don't wallow in the frozen pools of our own sad and frigid misery. We are champions of the cold-weather winter, and here are a few solid reasons as to why our winters are nothing short of great.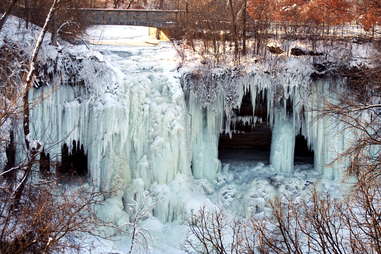 First of all, our ice is cooler than your ice
Literally. Every year it seems that some new video of the ice going batshit crazy on Lake Superior goes viral (watch some footage here). That's because our ice is just that much better than yours. It may sound silly, but when you take into account places like the North Shore, Minnehaha Falls, or really any of our many lakes, rivers, or streams coupled with extreme temperatures, you start to see ice do some pretty crazy things. Which is always worth checking out.
We have the tools to deal with our wild winter weather
Let's face it: in some parts of the country a 1/4in of snow will straight shut everything down. But here, no matter how much snow we get or how things may freeze over, we have the plows and salt trucks necessary to deal with the problem in a fairly expeditious fashion. While that might seem menial to some, it really does help to keep us from being winter hermits. Also, our snow emergency removal system, while maybe not 100% perfect, does help get rid of massive amounts of snow in a fairly small amount of time.
The sun doesn't stop shining nor does our world stop turning
Despite the semi-frequent reoccurring gloomy days, when we do get sun here in the winter, we get it hard. In fact, many morning commutes have us clamoring for our sunglasses -- and not just because the sun is so intensely bright. When it reflects off of a bunch of newly fallen snow, it becomes almost too much to bear. But it's that kind of vibrant dose of vitamin D that helps to ensure we keep on trucking and living our lives to the fullest.
Yes, it gets cold and it can snow a lot, and with that can come gray dreary skies, but that doesn't mean we cut ourselves off from the rest of the world. We pull on our snow pants one leg at a time and head out to face winter's chilly embrace... just like how people in the Pacific Northwest grab an umbrella and head to their local Starbucks all year round.
Speaking of heading out...
There are a ton of things to do during the winter in Minnesota. Actually, some of the best festivals take place during the colder months. There's the Saint Paul Winter Carnival, for example. Also, the Winter Beer Dabbler, the Luminary Loppet, Red Bull Crashed Ice, the U.S. Pond Hockey Championships, Polar Plunges, and the International Eelpout Festival (look it up) all take place in the throes of winter and each one brings out an incredible number of people.
There are plenty of fun ways to stay active
Yeah, everybody knows that Minnesota is the land of hockey, but there's a lot more to us than sitting on our asses watching the Wild hover at the bottom of their division. In addition to watching hockey on TV, many of us actually like to strap on skates and hit the ice ourselves. Sure, we'll play a friendly game with friends or go for a leisurely skate around the ice, but we also go skiing (cross-country and downhill), snowboarding, and sledding. And there's a fairly rabid curling constituency. Plus, many Minnesotans bike all year round... even through the worst blizzards.
And yes, we also go ice fishing.
We've got some indoor stuff, too
The block don't stop just because the snow starts falling. We've got a thriving local music scene and a lot of great venues for checking out new music. And guess what: they don't up and close their doors when it starts to get chilly outside. First Avenue is always a great venue for both local and national acts, the Triple Rock is solid if you're into the punk and local scenes, or you can hit up the Cabooze for all sorts of shows -- particularly if you're into the whole bluegrass thing.
If you're thirsty, there are a lot of nationally acclaimed bars mixing up high-end cocktails, breweries that come fully equipped with onsite pubs, distilleries with onsite cocktail rooms, and restaurants galore.
AND did you know that we also have the biggest theater scene in the country outside of New York? If you're into that, there's plenty for you. Sure, these things are available all year round, but in the winter time, there's just something a little extra special about them.
The cold winter makes the rest of the year that much better
When it can get down to -50 degrees outside, it makes +50 feel like it's bathing suit weather. So because the winter can be harsh (but not miserable), we tend to bust out our shorts when the rest of the country is in jackets. That feeling alone is worth the few months of rough weather. Plus, our spring, summer, and fall make our winters less miserable to live through, which is why we all stay. For all of those who continuously seem to wonder.
Sign up here for our daily MSP email and be the first to get all the food/drink/fun the Twin Cities have to offer.
Keane Amdahl is a veteran Twin Cities writer who is proud of where he lives no matter how cold it happens to get. Follow his attempt to find warmth on Twitter: @Foodstoned.