Diving Into the Rebirth of Minnesota's Independent Pro Wrestling Scene
It's a wild Saturday night inside Minneapolis' famed First Avenue nightclub. Roughly 1,000 rowdy fans are screaming, drinking, and watching a guy dressed as a dog wrestle a guy dressed as a cat in one of the opening matches of a local event that's become a favorite for wrestling fans. A little later on, some of the area's finest burlesque performers will take to the ring to bring some sex appeal, followed by nationally renowned punk rockers Masked Intruder, who are sure to deliver a blistering set that'll get the crowd even more riled up than they already are. While Ric Flair, Dusty Rhodes, and Verne Gagne may not have approved of this type of debauchery, tonight's crowd, well... they're eating it up. In fact, they're going apeshit.
It's these weird matches and unique performances that have brought the fun back to Minnesota's professional wrestling world and restored its legacy. This is Wrestlepalooza.
The bi-annual spectacle has become the pinnacle of independent wrestling here in Minnesota, showcasing the very best from all across the state (and country) along with burlesque and live music, thus introducing a new generation of fans to the next chapter in the illustrious story of our wrestling community, while also attracting non-wrestling fans at the same time. But it's far from the only show in town; places throughout the state host events nearly every weekend in bars, VFW halls, and even churches, demonstrating a combination of promising wrestling talent and weekend warriors living out their dreams.
From the days of the American Wrestling Association (AWA) back in the 1970s and '80s, Minnesota has been responsible for producing some of the greatest pro wrestling talent of all time. The Road Warriors, Mr. Perfect Curt Hennig, Rick Rude, Hulk Hogan. They're all names of legendary status, and they're all former members of this local tribe.
During those days, it was easy to see the same quality wrestling in local venues statewide as you would on television (this was before pay-per-view). But as televised pro-wrestling rose to prominence, the idea of regional territories had fallen by the wayside. And once the 2000s arrived, there was really only one show: the WWE. Sure there were still smaller ones that would pop up throughout Minnesota, but the reality was the scene had fallen on dark days.
That is, until the youth movement began.
Arik "The Anarchist" Cannon has become synonymous with independent wrestling, namely in Minnesota. As a 15-year ring veteran, he's the mad scientist behind Wrestlepalooza, and one of the men responsible for the rebirth of the local scene in the North Star State.
"The Anarchist" has traveled up and down the country, and even wrestled in Japan, perfecting his craft and helping the sport return to the forgotten era of traveling from territory to territory to build an organic buzz with fans, and a popularity that comes from word-of-mouth. But before he was spilling blood in front of sold out crowds, he was a teenager getting his ass kicked in a garage.
"The first place I drove once I got my license was to a wrestling school where I started training," he recalls. "The 'school' was just a ring in a garage in some industrial park. I remember thinking, 'Am I really about to hand over my graduation money for this?' But it's what I wanted to do and ultimately I ended up being happy I did it."
Over the next several years, Cannon would work the local circuit, paying his dues in front of small crowds for little money, hoping to make his mark. Admittedly, the journey wasn't without its challenges. "Locally there was a very old-school mentality," he claims. "There was kind of a drastic drop-off in terms of talent. You had a lot of these big, huge guys before I started who looked like wrestlers but were kind of slow and boring to watch."
Not long after, however, the new generation of stars began to command the spotlight. Suddenly the land of giants started to shrink. "Maybe there was something in the water," he jokes, "or maybe it stopped being in the water, but all of a sudden there were guys who were smaller in stature that were just doing crazy things. I think promoters were slower to grasp that change, but eventually it was impossible to ignore them and there was a shift."
In reality, the change was brought on by the fact that fans had grown tired of the days of former football players and bodybuilders lumbering around the ring, and were looking for a more fast-paced, exciting alternative. This paved the way for local breakout stars like Cannon, Sheik Ariya Daivari, Darin Corbin, and "Playboy" Pete Huge -- all Minnesota-bred performers who were athletic, entertaining, and full of personality -- to catch fire with crowds and showcase the new "look" of Minnesota's independent wrestling scene.
And the trend wasn't just happening locally. In addition to regional wrestling shows attracting new talent and larger crowds, new national leagues like Ring of Honor and Chikara began to establish a major footprint with smaller, more athletic wrestlers performing moves that no one could have dreamed of 20 years ago.
Around this same time, MTV decided to get into the wrestling game themselves by creating Wrestling Society X, a show that would follow the athletic, counter-culture trend that was beginning to take hold throughout the country. One of the cornerstone stars of that experiment: Arik Cannon.
While the show would fold after just one season, Cannon was able to gain valuable exposure and bank some cash that he could invest to build up the wrestling industry in his home state.
"When I started wrestling, my goal was to be able to pay my bills as a wrestler," he recalls. "I did the MTV thing and made some money, and decided at that point that I wanted to come back [to Minnesota] and do something different that wasn't being done in wrestling."
The thought would eventually lead him to start promoting shows under the F1RST Wrestling banner, before ultimately taking the leap and creating the circus that is Wrestlepalooza.
"I knew there was something missing [from traditional wrestling]. I wanted to find a way to bring in wrestling fans and non-wrestling fans alike, which is when the idea came about to start including live music and burlesque into the shows."
The formula worked, and soon Wrestlepalooza became a must-see event for both wrestling junkies and casual observers, with the past three events selling out in advance. Cannon managed to restore the "cool" factor to a once-dying form of local entertainment, and once again make Minnesota the trendsetter for pro-wrestling.
Today, the influence of shows like Wrestlepalooza (and the MN wrestling world as a whole) has spilled over into other organizations looking to give their shows a shot in the arm.
"Thanks to social media, there is definitely a buzz that we're doing something special here in Minnesota," he says. "You're seeing more and more people incorporating the non-wrestling aspects of the show like we do, but you're also seeing wrestlers creating their own brand and showing it's possible to be a full-time wrestler without being signed to the big leagues."
With a quick glance at Minnesota Pro Wrestling you'll find a host of events taking place nearly every weekend throughout the state, giving people from all over the chance to experience the magic of live wrestling similar to the old days.
As for Cannon, he's just hoping to continue blazing a trail and building both Wrestlepalooza and the Minnesota wrestling legacy for years to come.
"We want to give people a reason to keep coming back and are making the shows bigger and better." With that in mind, he and his local superstars continue to tour across the country, spreading the gospel of pro wrestling to fans and performers alike.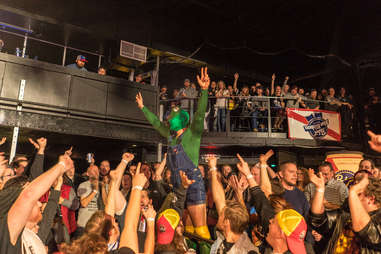 The main event of Wrestlepalooza is about to get underway at First Avenue, as Cannon and Arya Daivari prep to go to war in a match that'll include tables, ladders, chairs, and even a few Pabst Blue Ribbons (Cannon is actually the first wrestler in history to be sponsored by PBR). The venue is electric, as the momentum has been building all night towards the final showdown. Cannon and his band of misfits wait behind the curtain for the chance to bask in the frenzy outside and evoke the crowd's passion.
There's only one thing they can hear right now: cheers.
"I still can't believe this is my job and that I get to do this for a living," he tells me. "I feel very fortunate to be giving back to the Minnesota wrestling scene since it has given so much to me."
Sign up here for our daily MSP email and be the first to get all the food/drink/fun the Twin Cities have to offer.
Patrick Strait is a writer at Thrillist, and refuses to believe that pro wrestling is fake. IT'S STILL REAL TO HIM, DAMNIT! Follow him @patrickstrait.