Shutterstock
Shutterstock
Montreal is over 300 years old, but despite her advanced age, she still looks damn beautiful. And not that we need to prove it or anything, but we put together a lineup of her best bits. Take note: these are the most beautiful places in Montreal.
The boardwalk along Lachine Canal
Lachine/St. Henri
Whether you are cycling, walking, or hitching a ride on a small boat, going along the Lachine Canal will give you a chance to see Montreal -- and Lachine -- in an entirely different light.
Notre-Dame Basilica
Old Montreal
The Notre-Dame Basilica is widely recognized as the most beautiful cathedral in all of Montreal, and we're not here to dispute it. The tall, majestic ceilings, never-ending pews, and divine acoustics make this a place worthy of a visit.
Le Champ des Possibles
Mile End
If what you are after is something that is rustic, wild, and a bit uncomfortable, Le Champ des Possibles is right up your alley. Formerly an unused lot that is wedged between the rail tracks and commercial buildings, this area has been turned into an urban natural reserve by a group of concerned citizens. It provides an escape from dense city development and busy streets, in a largely unkempt natural environment.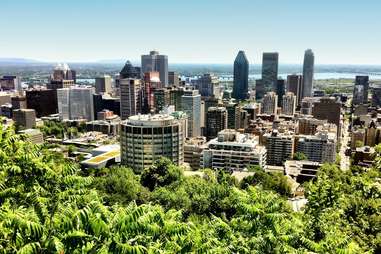 The view from the top of Mont Royal
Mont Royal
After a short 15-minute walk from Beaver Lake, the entirety of Montreal's downtown is revealed from the top of Mont Royal. During the day or at nighttime, this is one of the city's most unforgettable views.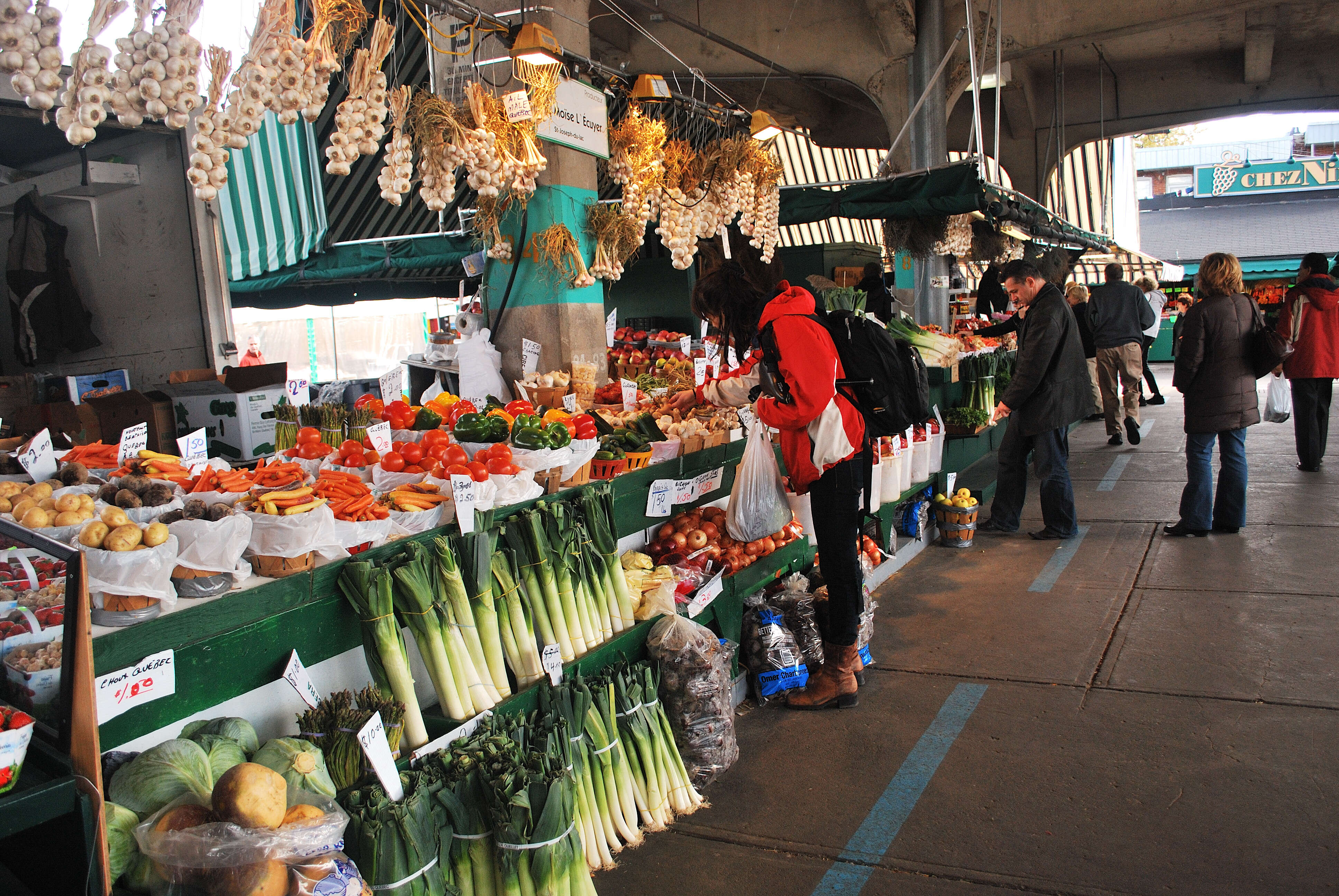 Jean-Talon Market
Little Italy
The beauty of the Jean-Talon Market lies in its bustle, mélange of odours, and array of colours. The largest open-air market in North America offers visitors some of the freshest produce in the city -- and consequently, also some of Montreal's best bites.
Charlevoix Metro Station
Pointe Ste Charles
Bathed in sunlight streaming through colourful stained glass, everything inside this lesser-known Green line station becomes like a scene from a psychedelic fairytale.
Habitat 67
Old Montreal
Originally conceived as the Master's thesis of a McGill architecture student, Habitat 67 was brought to life for Expo 67, the World Fair hosted in Montreal. Now, these strange modernist buildings serve as a stunning architectural reminder for how we thought people would be living in the year 2000.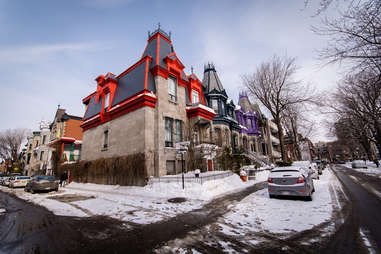 The colourful houses of the Plateau
Plateau Mont Royal
Whether you roam around St. Dominique, Boullion, or Square Saint Louis, you will immediately notice the colourful, often-crooked houses of the Plateau. Houses that once housed some of the richest families in Montreal are now the homes of new media artists, potters and students -- and they're as beautiful outside as in.
The Five Roses Flour neon sign
Lachine
An advertisement for a flour company has become one of Montreal's most recognizable landmarks, and we think that says a lot about the city. Even long after the mill's closing, the Farine Five Roses sign has become a famous photo backdrop for tourists and die-hard Montrealers, and though you may not want to bring a picnic basket here, we think it's beautiful in the most unorthodox sense of the word.
Parc La Fontaine
Plateau Mont Royal
In the summer, hundreds lounge along its waterbanks, enjoying the sunlight and beautiful fountains; in winter, many more come back to skate along its frozen river, a network of curves and lights. And in the fall and spring, Parc Lafontaine serves as the perfect backdrop for romantic picnics or light jogs. Whatever time of the year you visit, Parc La Fontaine is not to be missed.
Skating rink at the Old Port
Old Montreal
With the lights of Downtown Montreal behind you, there are few locations as beautiful and exhilarating as the Old Port skating rink in the dead of winter. The sight of your breath each time you open your mouth to speak just adds to the magical winter wonderland effect.
The view from the top of Bota Bota spa
Old Montreal
Another opportunity to see Montreal from above is just steps away, but it might as well be a world apart for the different experience it offers. The view of Downtown Montreal from the top-level Jacuzzi at the Bota Bota spa is breathtaking, but the steam rooms and ice-cold showers offered at this Scandinavian spa will get your blood and breath going again very quickly.
St. Joseph Oratory
Cote De Neiges
The Catholic Basilica of St. Joseph has been a pilgrimage site since construction on the building began in 1904. Today, its spectacular steps and splendid gardens see tens of thousands of visitors a year.
The murals along Saint Laurent
The Main
Every summer, Montreal celebrates its many murals with the Mural Festival; but it's Mural Fest every day on Saint Laurent, also known as The Main. The psychedelic figures and imaginary scenes looking back at you from nearly every wall on this street are not only a sight to see, but they're also a part of the artistic fabric of the city.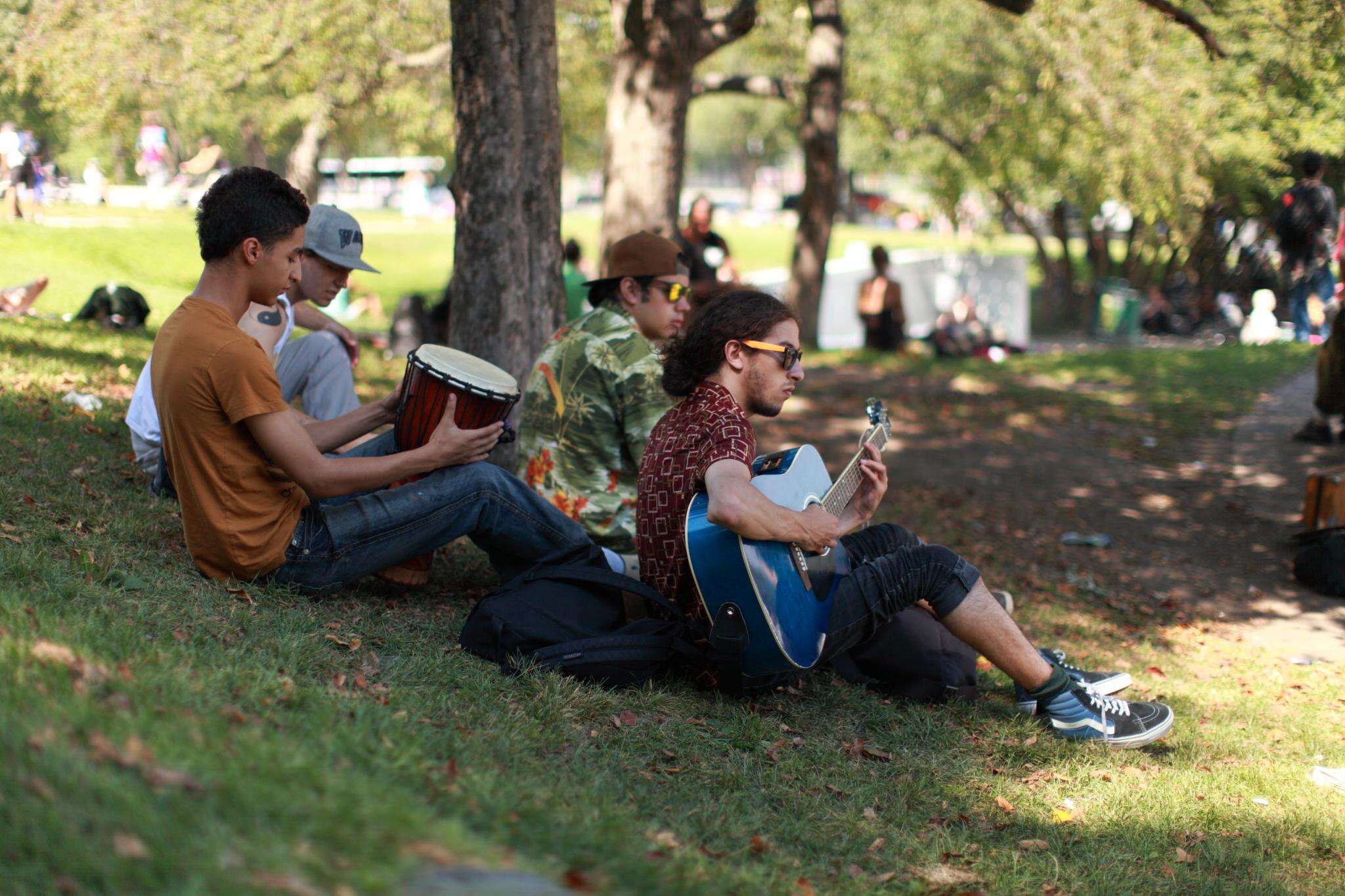 The Tam Tams area on Mont Royal
Mont Royal
Another beautiful place is the area around the George-Étienne Cartier Monument at the foot of Mont Royal every Sunday afternoon, when hundreds of drummers, dancers, artists, and people in furry costumes come out to play their instruments and showcase their craft. It's a no-holds-barred kind of afternoon that is beautiful in its own right.
Botanical Gardens
Hochelaga Maisonneuve
Those looking for a captivating landscape for their engagement photos need to look no further than the Botanical Gardens. From Aboriginal grasslands to perfectly groomed French gardens, the Montreal Botanical Gardens have it all.
Grain Silo No. 5
Old Port
The last remaining of the giant grain elevators that once stood in the port of Montreal, Grain Silo No. 5 is a mythical building whose importance is overshadowed only by its strange and alluring beauty. It is now at the heart of a debate over its future; but while it remains unused, lovers of abandoned buildings and beauty that is off the beaten track continue to flock to it like bees to honey.
Sign up here for our daily Montreal email and be the first to get all the food/drink/fun in the City of Saints.
Ksenia Prints is a Montreal-based freelance writer, photographer, and chef. Follow her delicious goings-on At The Immigrant's Table.