Besides poutine and a European flair, Montreal is also known for its music scene, which gave birth to acts like Arcade Fire, Stars, and Simple Plan, and is widely known as a hub for electronic music as the home of Diplo's Mad Decent record label. It's only fitting that we host Osheaga, the biggest music festival in Canada. People from all over flock to the city for its mix of indie bands and hip-hop acts, sunny skies, and alternative vibe. So as you get ready for a weekend of total musical debauchery, we've got you covered for everything you need to know before heading into Osheaga 2016.
The venue: Parc Jean-Drapeau
One of the great things about Osheaga is that it doesn't take place in a remote corner of the desert, or somewhere in the deep, dark woods far outside the city where you have to take at minimum three modes of transportation to get there. Instead, the festival completely takes over Parc Jean-Drapeau, a man-made island in the middle of the Saint Lawrence River. With plenty of trees, a golden beach, and even some wild edible berries, Parc Jean-Drapeau is one of the best festival venues we've ever experienced. Oh, and it's just a Metro ride away from the city.
The lineup
Osheaga 2016 made headlines with this year's heavy-hitter performers: Red Hot Chili Peppers, Lana Del Rey, and Radiohead. But we find that some of the festival's best performances are around its daytime stages, with slightly lesser-known fan favourites The Cat Empire (Sunday, 3pm), The Barr Brothers (Saturday, 4pm), Beirut (Friday, 5pm), Bastille (6pm, Saturday), and so, so many more (Grimes, Dilly Dally, Vince Staples, Alex G, Future, etc., etc., etc.). If you're ever unsure, pick a random stage and just chill there with a good book for 15 minutes; if the band fails to catch your attention, move on, or catch a much-needed siesta.
Tickets
If you don't have your tickets to Osheaga 2016 yet, you're pretty much SOL. With a lineup as crazy as this year's, full festival passes flew like hotcakes, and the day passes were not far behind. Only select Saturday passes at $115 remain, so if you're still hoping to "stop by" and check out the scene, you better act fast (though you may also try your luck on Kijiji, Craigslist, or Facebook, where someone's last-minute misfortune could result in tickets becoming available for you).
Getting there
Metro
Station: Jean-Drapeau
The easiest way to get to the festival is by the Montreal Metro system. Parc Jean-Drapeau is located on the Yellow Line, the second stop regardless of which direction you take. The Yellow STM line runs daily from 5:30am-1am, so you're covered for the duration of the festival. Just make sure you get your return ticket (or better yet, weekend pass) well in advance, because the lineups tend to get crazy right after the night's last show wraps up.
Bike
Fitness- and eco-conscious festival goers can get there by bike. BIXI bikes are available for rent throughout the city, and three stations are near the park -- one near the Metro, another near La Ronde, and a third near the beach. It costs $2.75 for a one-way trip, $5 for the day, or $12 for 72-hour access; just note that you can only ride without incurring extra charges for 45 minutes at a time -- you'll have to switch bikes (set a timer!). Bicycle parking will be available both at the regular Parc Jean-Drapeau bike parking and at the Terminus, Osheaga's special bicycle valet parking service ($2) and rest area, just steps away from the main festival entrance.
Driving, carpooling, and renting
Driving to and from Osheaga can be rough, especially after the last show. For those insisting on riding in style, parking is available at Parc Jean-Drapeau for $18/day. Options like the car co-op service car2go are slightly more convenient, as the car can be left at the car2go drop-off zone and forgotten about. car2go also has a deal with Osheaga that gets you 30 free minutes using promo code OSHEAGA on its website. It can take up to five business days to validate your account, so don't dawdle.
Where to stay
The biggest downside of Osheaga is definitely the lack of camping options on the islands. That means that approximately 135,000 people will be looking for a place to crash in Montreal (if they don't live here already). Osheaga has several packages available in select student dormitories and hotels in the city, but many will be sold out by now. Airbnb is another attractive and affordable option, as are the city's many hostels. Couchsurfing is always an option, but you better have an established account and credentials before a stranger will agree to open their doors to you.
What to eat at the festival
You can be well-prepared and bring your food in (just leave the coolers at home). Or you can live it up like a Montrealer and try one of the many delectable food trucks there. From fresh seafood to oven-baked pizza, Osheaga will have it all. Just don't BYOB -- alcohol can only be bought at the festival.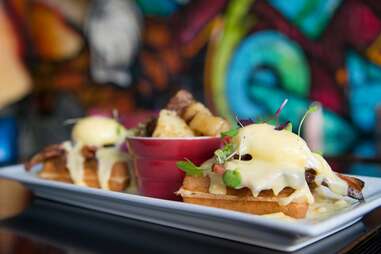 Where to brunch pre-festival
L'Avenue
The Plateau
To fortify yourself for days of carefree dancing in the summer heat like a true Montrealer, you simply have to treat yourself to one of the city's best brunches at the iconic L'Avenue. The wait here is long, the portions are huge, the location is central, and the mood is eclectic. Simply put, it's a microcosm of Montreal.
Where to party afterward
For those looking to keep the music (and partying) going into the wee hours of the morning, the Osheaga after-parties are one of the festival's best-kept secrets. All official Osheaga after-parties can be found here, but you'd be well advised to keep your eyes open on the social media and Twitter accounts of your favourite Osheaga performers for more surprises.
Where to chill with a beer afterward
Brutopia
Quartier des Spectacles
If high-energy after-parties just aren't for you, you'd be well advised to head over to Brutopia. With three levels and artisanal local brews (and more common selections as well), it's a laid-back alternative, even though it's open until 3am. Plus, it's very close to Berri-UQAM, the Metro station you'll be trekking to after the festival ends.
Where to eat late at night
Frite Alors!
Quartier des Spectacles
If you're in Montreal, you have to eat poutine in the middle of the night. That's just how it is. The closest poutinerie to where the Montreal Metro lets off after the festival is Frite Alors!, a local institution with many combo options for the province's unofficial dish. Lucky for you, they're all delicious.
Where to take a break
Mount Royal
The Plateau
Sometimes, you just need a break from it all -- the people, the noise, the drinking. Since Osheaga takes place on Parc Jean-Drapeau, Montreal's leisure island, there are many hiking options within a short walking distance from the festival. You can check them out here. Or, if you'd like to lose yourself in a nature oasis in the middle of the city, head on over to Mount Royal -- though it requires a Metro ride to get to, this famous landmark is well worth your time for the peace and quiet it offers.
Sign up here for our daily Montreal email and be the first to get all the food/drink/fun in the City of Saints.