Every weekend, the streets of Downtown Nashville are overrun with scores of bachelorette parties "woo-hooing" their way around our fair city on pedal taverns. While it's occasionally fun to be on the receiving end of a bridal party Bingo square that reads "make out with a local," in truth, it's like kissing a Fireball shot mixed with hot chicken. So it's cleansing for the Nashvillian soul to escape the bacchanals every now and again and head into the great outdoors where we sleep on the ground and hike into the mountains. Here are some great spots to do just that, all within driving distance of Nashville.
Distance from Nashville: 33 miles, 41 minutes
This 900-acre park takes its name from a unique set of rock gardens where cedar trees grow seemingly out of limestone beds, creating a desert-like look to the glades which also support all sorts of other rare plant species. Scattered among the park are more than 100 campsites glammed up with picnic tables and grills, electric, and water hookups. The park is also known for extensive equestrian trails, which you'd be wise to avoid as "getting trampled by a horse" isn't very cleansing.
Distance from Nashville: 34 miles, 44 minutes
Whether you're looking for a spot to park a 60ft RV or you've got a hankering to stay in cabins built in the 1930s as part of a Civilian Conservation Corps project, Montgomery Bell State Park has options. Available outdoor activities also run the gamut from hiking and biking to golfing and fishing. Or, you know, just kick back in a folding chair, crack open a beer, and tell yourself no less than 20 times that you could get used to this.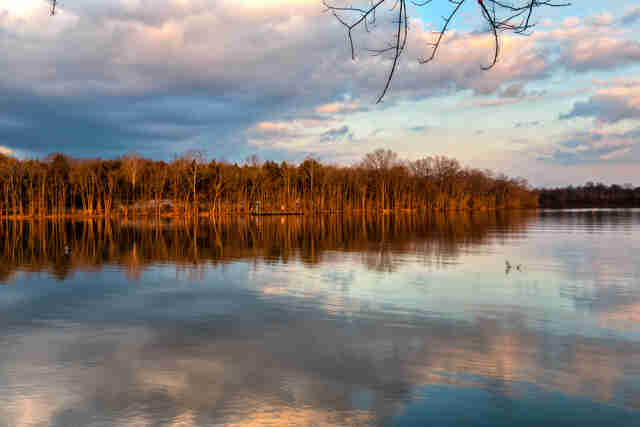 Distance from Nashville: 40 miles, 49 minutes
Tucked into a peninsula jutting into Old Hickory Lake, this small park offers a bit of seclusion just a short drive from Downtown Nashville. If you're not careful, you might actually learn something as Bledsoe Creek has a history as a prime hunting ground for the Cherokee, Creek, Shawnee, and Chickamauga Native American tribes. More than 50 campsites offer access to six miles of trails plus two boat launching ramps (but one is reserved strictly for registered camping guests).
Distance from Nashville: 51 miles, 52 minutes
Named after a former governor of Tennessee -- on whose land the park was established in the 1960s -- Henry Horton State Park offers access to the Duck River, which teems with fish masochistically waiting to be your food later. Camping options range from an inn or cabins to tent, primitive, and backcountry campsites. In addition to an 18-hole golf course, there's also a trap and skeet range where you can shoot for a different sort of birdies: clay pigeons.
Distance from Nashville: 63 miles, one hour and 2 minutes
European settlers, most of whom never took AP history, often miscalled old structures "forts." They were wrong. And archaeologists have dated the mysterious stone formation that gives the park its name at between 1,500 and 2,000 years old. The main hiking trail skirts the walls of this magnificent edifice, now thought to be a ceremonial gathering spot for ancient Native American tribes. Although the campsites are fairly luxurious with water and electrical hookups, grills, picnic tables, and paved pads, they are tucked deep into the woods to offer plenty of privacy. You'll feel like you're miles away from civilization, and when that inevitably scares you, you can take a short hike to the bath house or a ten minute drive to get some fast food.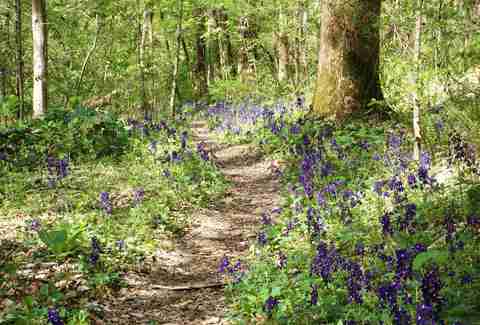 Distance from Nashville: 65 miles, one hour and 3 minutes
Center Hill Lake may be one of the most beautiful bodies of water in Tennessee, with steep bluffs and cliffs running straight into the deep lake -- the outcome of intentional TVA flooding decades ago to create a reservoir for power production and flood control. The result is a combination of woodlands, verdant hillsides, and a postcard-worthy lake with excellent opportunities for fishing and waterskiing. The campground at Edgar Evins consists of 60 tent and trailer campsites, complete with electrical and water access. Each was built on wooden platforms reinforced with concrete and steel, and it's like camping on a private deck over Center Hill.
Distance from Nashville: 85 miles, one hour and 39 minutes
Camping underground? Hell yeah. This historic cave complex offers what they call "caveman campouts" for groups of ten or more that book in advance. In return for your smart planning, you'll receive an easy walking tour of the cave plus the more strenuous "Rocky Topper" spelunking experience. After an evening sleeping in the massive 10-Acre Room, groups enjoy a catered breakfast in the magnificent Volcano Room while viewing the colorful cave formations surrounding them. There's even a cave art exhibit by noted Neanderthal painter Norman Rocks-well. Thank you! That's my time. Is this thing on?
Distance from Nashville: 85 miles, one hour and 40 minutes
Johnny Cash sang that "The Rock Island Line she's a mighty good road," but she's also a fantastic state park that covers almost 900 acres of the Caney Fork River Gorge where the Caney, Collins, and Rocky rivers come together at the head of Center Hill Lake. The surrounding gorge features sweeping scenic overlooks, waterfalls with swimming holes below, hiking trails, fishing, and even the opportunity for whitewater kayaking. Two campgrounds contain 60 campsites with a third of them available year round. For campers who just can't bear to completely disconnect, there's even free Wi-Fi availability at the main campground. But c'mon. Don't be that guy.
Distance from Nashville: 92 miles, one hour and 30 minute
This massive park stretches over four counties and encompasses nine distinct recreational areas. It also contains some of the greatest backcountry hiking and camping opportunities in the state. Whether you're a fan of waterfalls, rock climbing, rare plant identification (have you ever even witnessed the beauty of a purple phacelia glistening in the early spring dew!?!), or birdwatching, there's something for you in the South Cumberland. Primitive campsites are scattered along the miles and miles of trails, but you'll need to make an advance reservation online before leaving on your hike to hold your spot by the campfire. The stunning scenery and sheer variety of terrain you'll encounter on a hike through the South Cumberland make the extra level of planning well worth it.
Distance from Nashville: 94 miles, one hour and 44 minutes
Tucked between Lake Barkley and Kentucky Lake (duh), this huge natural area offers a wide variety of camping options from primitive cabins where you bring your own bedding to campgrounds for RVs and wilderness camping available all year round. The bonus of 300 miles of trails and roads looping around the two lakes means you're never too far from a beautiful waterfront view, but also a short retreat away from the crowds to your own solitude.
Distance from Nashville: 108 miles, one hour and 53 minutes
Not only a fun place to pronounce if you tend toward whistling sibilant s's, Standing Stone State Park is an easily accessible wilderness area with 8 miles of hiking trails through the forest and a cozy campground where travelers can stay as long as two weeks enjoying most of the comforts of home. Although backcountry camping is not allowed, you can use your campsite as a home base for day hikes or boating and fishing trips on Kelly Lake.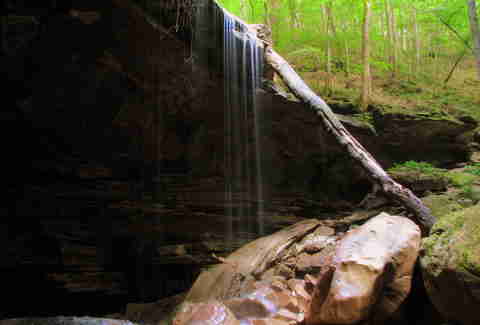 Distance from Nashville: 113 miles, one hour and 58 minutes
While some of the other parks on this list are perfect for the casual hiker or feature "glamping" in comfy cabins, Virgin Falls requires a level of fitness and planning that draws serious backwoods experts into the woods. A strenuous 9 mile-roundtrip sojourn to the falls, it's a rigorous day trip, so planning for an overnight stay is the move. Intrepid campers will be rewarded with the opportunity to encounter several caves (remember Norman Rocks-well? The laughs we had.) along the route, the chance to cross a cable bridge over Big Laurel Creek and some awe inspiring scenery, highlighted by the 110ft-tall Virgin Falls that flow out of a cave, over a cliff and into another cave. There are five dedicated campsites along the route to the falls, but you'll need to register in book at the trailhead kiosk to make sure there will be room to lay your weary head.
Distance from Nashville: 151 miles, two hours and 39 minutes
Encompassing more than 125,000 acres in both Tennessee and Kentucky, Big South Fork contains five developed campgrounds with amenities like RV parks, some campsites dedicated to campers traveling with horse trailers to take advantage of the many equestrian trails, and a few primitive campsites for those looking to rough it. A bonus is that much of the recreation area is located just across the dividing line between the Central and Eastern time zones, so if you're on the east side of the park, it can stay light enough to read until almost 10 at night during the summer.
Sign up here for our daily Nashville email and be the first to get all the food/drink/fun the Music City has to offer.