The Great Escape
Presented By
The 11 Best Waterfall Hikes Around Nashville
For when you need to cool off.
Presented By
Hiking can be a grueling endeavor during the hot months of summer, but it's always improved when the end of the path is a beautiful waterfall, otherwise known as "Mother Nature's Air Conditioner." Having a destination in mind makes the trek even more worthwhile than just wandering through the woods, so consider planning a day trip to one of these amazing cascades. We've arranged the dozen options by distance from Nashville so you can decide how much drive time you're willing to invest to get back to nature.
Rutledge Falls

| Flickr/Michael Hicks
Rutledge Falls
Tullahoma
Although Rutledge Falls is located on private property, it's open to the public. It's also a great place for a day of family fun as the secluded spot offers easy access, pristine picnic spots, and a beautiful swimming hole if you can handle the bracingly cold creek water. The only difficulty is a short climb down some rocks that may be slippery on the way to the base of the falls.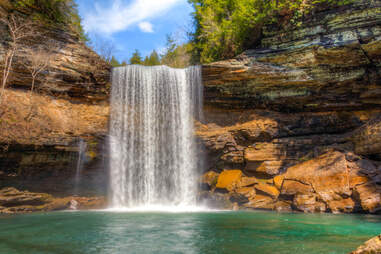 Lower Greeter Falls

| Flickr/Michael Hicks
Greeter Falls
Altamont
Greeter Falls is part of the Savage Gulf trail system and the South Cumberland State Park. The falls themselves are impressive with a fifty foot plunge over a limestone ledge into a pool below, but it also offers the bonus that the 1.6 mile loop trail to reach it is dog-friendly. Take your pooch on a fairly easy hike, but keep them on a leash.
Fiery Gizzard

| Flickr/Michael Hicks
Fiery Gizzard
Tracy City
If you like shorter falls that offer secluded swimming hole opportunities, it's tough to beat the Fiery Gizzard Trail, part of the South Cumberland State Forest in south central Tennessee. In one easy 3.3 mile loop, you can experience five different waterfalls, two of which drop into fantastic outdoor swimming pools. Blue Hole Falls and Sycamore Falls are both only 10 - 12 feet tall, but they offer plunge pools filled with a constant flow of cool, crisp mountain water.
Fall Creek Falls
Spencer
The big daddy of Tennessee cataracts is actually the tallest free-fall waterfall east of the Mississippi River. The view of the 256-foot fall is great from the top, but a short hike down to the plunge pool below really gives visitors a better idea of the power and volume of the flow. Just remember that you have to hike back up to the parking lot afterwards.
Cummins Falls

| Flickr/Michael Hicks
Cummins Falls
Cookeville
Despite the inviting plunge pool below, this beautiful multi-level waterfall is best viewed from above where the overlook is just a short amble through the woods from the parking lot. Acrophobes may have a little difficulty with the steepness of the viewing platform, but they will be rewarded for their courage. Descending into the valley below involves steep descents down unimproved trails and crossing the river, so think twice (or thrice) before attempting the trip.
Twin Falls
Rock Island
Twin Falls is unusual in that it was created by the damming of the Caney Fork River in the 1920's that caused two streams to flow out of the side of a gorge, seeping from the walls about forty feet below the edge of the cliff into the river below. Several easy-to-moderate trails lead to different views of these remarkable falls, but how close you can actually get to them depends on the generation schedule of the dam. Stay alert because the water levels can rise quickly.
Foster Falls

| Flickr/Michael Hicks
Foster Falls
Sequatchie
If you're feeling froggy, you can reach this gorgeous 60-foot tall waterfall by extending the leisurely stroll through Fiery Gizzard to add a strenuous day's worth of hiking for another nine miles—rather than taking the day loop trail. However, the falls, and excellent swimming hole below, are also accessible as a much easier two-mile hike, which includes a cool swinging bridge across the creek below the falls.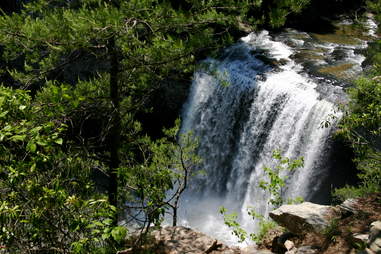 Cane Creek falls

| Flickr/Kim Unertl
Cane Creek Falls
Pikeville
Cane Creek is one of five waterfalls located near Fall Creek Falls, so it's not too difficult to check off multiple boxes on your bucket list in one day. The falls are only about a third as tall as its more famous neighbor, but after a good rain it is still pretty impressive as the water flows in a wide swath over a rock ledge. Multiple trails of varying difficulties offer different vistas of the falls. Most of them are easy and less than a mile round trip, but be warned that the Cable Trail does indeed involve clambering down a rock face while clinging to a metal cable.
Ozone Falls
Crossville
As far as convenience, it's tough to beat Ozone Falls if you're seeking an impressive natural wonder within fifteen minutes of an interstate exit off of I-40. From the parking area, it's a quick walk to the heart-stoppingly perilous edge of the ten-story tall falls and then another short, steep, and slightly treacherous hike to the pool below. The view up of the roaring cascade is definitely worth the effort, and you can be back on the road to Gatlinburg in less than an hour.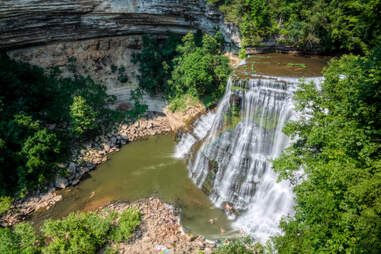 Burgess Falls

| FLickr/Burgess Falls
Burgess Falls
Sparta
The accurately named Falling Water River passes over four falls within Burgess Falls State Park, but the waterfall that gives the park its name is the most impressive for sure. The river is quite wide as it passes over the edge of a 130-foot cliff into the gorge below, so the volume of rushing water is particularly awe-inspiring. A mile and a half loop takes visitors past all four falls, but don't let the short length fool you; this is a big hike. Even with the assistance of a set of metal steps to carry you the last bit to the base of the big falls, lots of folks bail out and take a service road back to the parking lot rather than completing the entire hike. We won't judge.
Virgin Falls

| Flickr/Michael Hicks
Virgin Falls
Sparta
Virgin Falls is a fascinating example of a spring-fed falls, with a creek flowing out of a cave over a cliff and into another cave 120 feet below. Especially intrepid hikers can actually enter the two caves when the water levels are lower, but it is generally not recommended. However, if you can handle the rugged eight-mile hike to get to the falls, you're probably kind of a badass anyway.
Chris Chamberlain is a lifelong Nashvillager. If he was going to ride over a waterfall in a barrel, he would make sure that it would be at least half-full of bourbon. Follow him at @CeeElCee.