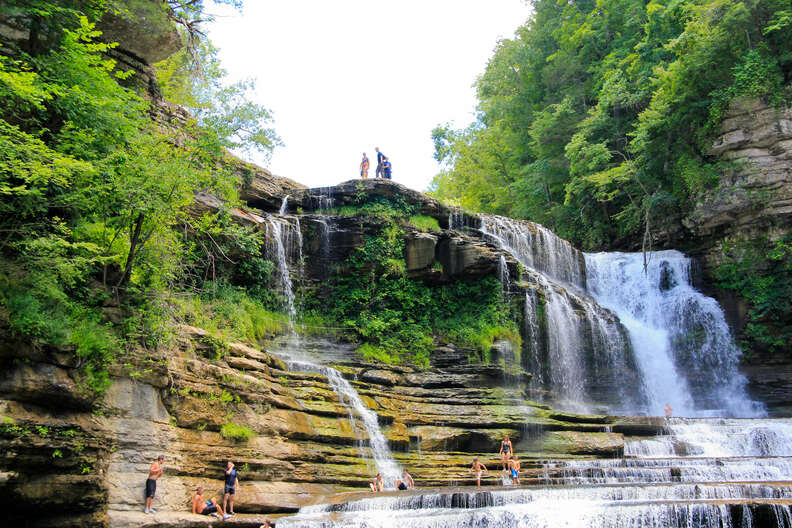 Cummins Falls

| Flickr/Michael Hicks
Cummins Falls

| Flickr/Michael Hicks
Visiting waterfalls in Middle Tennessee offers a "choose your adventure experience." You can park your car in a paved lot and take a short walk to an observation deck to watch the water tumble over the precipice of a cliff into a pool below, or you can get away in nature for a solitary hike to discover sites (and sights) that most tourists will never see anywhere other than on their Instagram feeds. Be sure to wear sturdy waterproof boots if you go tramping off into the woods, because hiking with wet socks is no fun for anyone. Here are a dozen opportunities to see Mother Nature at work as she carves out canyons and ravines over the course of millennia.
Walls of Jericho
Belvidere
This isn't an excursion for the casual hiker, as it's an eight-mile round trip from the Tennessee trailhead to this remarkable natural formation, that is actually in Alabama. But it's worth it when you arrive to bask in the splendor of this bowl-shaped box canyon with 200-foot tall walls and a Turkey Creek-fed cascade streaming from halfway down the walls. The remoteness of the location means that you'll probably spend most of your hike alone in pristine nature. Make sure check sunset times in advance and leave yourself plenty of time to get back to your vehicle, because this wilderness is no place to wander around in after dark.
Ozone Falls
Crossville
Thanks to easy access from nearby Interstate 40, this 34-acre natural area gets a lot of foot traffic, but it's more than convenience that draws so many visitors. Ozone Falls cascades more than a hundred feet over a sandstone ledge, disappearing into an underground cavern before emerging again as Fall Creek a little further downstream. The name of the falls comes from the constant mist that hangs around the landing pool, and it acts like natural air conditioning on a hot Tennessee day.

Greeter Falls
Altamont
Greeter Falls is part of the Savage Gulf trail system and the South Cumberland State Park. The falls themselves are impressive with a fifty-foot plunge over a limestone ledge into a pool below, but it also offers the bonus that the 1.6-mile loop trail to reach it is dog-friendly. Take your pooch on a fairly easy hike, but keep them on a leash.
Old Stone Fort
Manchester
Old Stone Fort is a fascinating archeological site to visit, home to ancient structures built by indigenous residents way back when the calendar flipped from BC to AD. It's also a waterfall lover's delight, home to multiple falls. The three largest ones, Steps Falls, Big Falls, and Blue Hole Falls can be seen along an easy loop trail that measures a little less than three miles long. Park once and check three impressive falls off your list.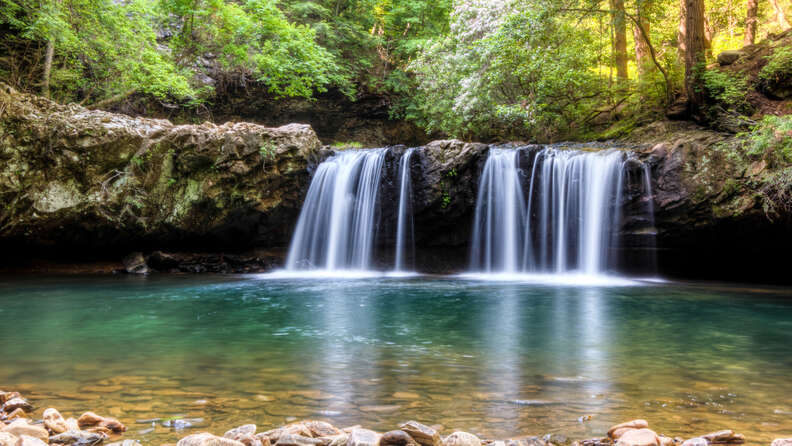 Fiery Gizzard
Tracy City
If you like shorter falls that offer secluded swimming hole opportunities, it's tough to beat the Fiery Gizzard Trail, part of the South Cumberland State Forest in south central Tennessee. In one easy 3.3-mile loop, you can experience five different waterfalls, two of which drop into fantastic outdoor swimming pools. Blue Hole Falls and Sycamore Falls are both only 10-12 feet tall, but they offer plunge pools filled with a constant flow of cool, crisp mountain water.
Fall Creek Falls
Spencer
The big daddy of Tennessee cataracts is actually the tallest free-fall waterfall east of the Mississippi River. The view of the 256-foot fall is great from the top, but a short hike down to the plunge pool below really gives visitors a better idea of the power and volume of the flow. Just remember that you have to hike back up to the parking lot afterward.
Cookeville
Despite the inviting plunge pool below, this beautiful multi-level waterfall is best viewed from above where the overlook is just a short amble through the woods from the parking lot. Acrophobes may have a little difficulty with the steepness of the viewing platform, but they will be rewarded for their courage. Descending into the valley below involves steep descents down unimproved trails and crossing the river, so think twice (or thrice) before attempting the trip.
Twin Falls
Rock Island
Twin Falls is unusual in that it was created by the damming of the Caney Fork River in the 1920's which caused two streams to flow out of the side of a gorge, seeping from the walls about forty feet below the edge of the cliff into the river below. Several easy-to-moderate trails lead to different views of these remarkable falls, but how close you can actually get to them depends on the generation schedule of the dam. Stay alert because the water levels can rise quickly.
Foster Falls
Sequatchie
If you're feeling froggy, you can reach this gorgeous 60-foot tall waterfall by extending the leisurely stroll through Fiery Gizzard to add a strenuous day's worth of hiking for another nine miles -- rather than taking the day loop trail. However, the falls, and the inviting swimming hole below, are also accessible as a much easier two-mile hike which includes a cool swinging bridge across the creek below the falls.
Piney Falls
Grandview
Piney Falls is actually a pair of cascades along Little Piney Creek on the Cumberland Plateau. Upper Piney Falls flows over a cliff to a pool 80 feet below before taking another drop of 40 feet at Lower Piney Falls. You can actually walk behind the sheet of water at Upper Piney's landing zone and walk along a ledge to peer over the ravine to see where Lower Piney returns to the creek bed.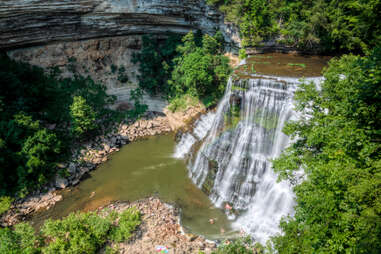 Sparta
The accurately named Falling Water River passes over four falls within Burgess Falls State Park, but the waterfall that gives the park its name is the most impressive for sure. The river is quite wide as it passes over the edge of a 130-foot cliff into the gorge below, so the volume of rushing water is particularly awe-inspiring. A mile and a half loop takes visitors past all four falls, but don't let the short length fool you; this is a big hike. Even with the assistance of a set of metal steps to carry you the last bit to the base of the big falls, lots of folks bail out and take a service road back to the parking lot rather than completing the entire hike. We won't judge.
Sparta
Virgin Falls is a fascinating example of a spring-fed falls, with a creek flowing out of a cave over a cliff and into another cave 120 feet below. Especially intrepid hikers can actually enter the two caves when the water levels are lower, but it is generally not recommended. However, if you can handle the rugged eight-mile hike to get to the falls, you're probably kind of a badass anyway.
Chris Chamberlain is a lifelong Nashvillager. If he was going to ride over a waterfall in a barrel, he would make sure that it would be at least half-full of bourbon. Follow him at @CeeElCee.