Finding true love is hard, and like any finely manicured garden, a relationship needs a little TLC, so we've compiled a list of some date ideas to get you and your partner outside, even in the face of the chilly winter months. From breweries to art classes, true love -- and some acoustic music -- is in the air right now.
Take a sausage crawl around Germantown
Germantown
Three excellent restaurants within staggeringly close proximity feature some of the best wursts in town, plus interesting beer selections. Try Von Elrod's for an old-school beer hall experience, Butchertown Hall for Texas Hill Country sausages, and Kuchnia & Keller for Eastern European treats. You can walk between each of them in less than 10 minutes.
Get on a nationally syndicated TV show for free
North Nashville
The nationally syndicated Pickler and Ben daytime show starring country music star Kellie Pickler (and some dude named Ben) is always looking for studio audience members to take their free tickets. For the adventurous looking for a laugh, you can also apply to be on a segment for one of their couples makeovers, so come up with a great story about why it should be y'all.
Take a boozy art or cooking class together
Germantown
Dabble Studio in the hippest part of Germantown offers both painting and cooking classes that are perfect activities for the artistic or culinary types. It's also BYOB, so be sure to bring a fine bottle of wine to get the creative juices flowing.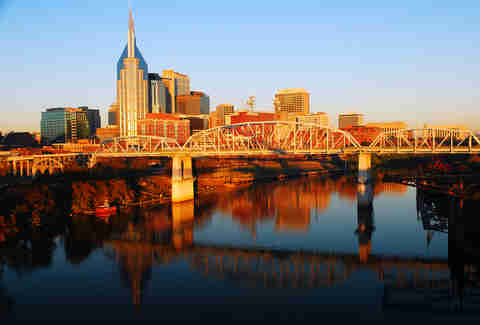 Stroll (or kayak) past the Batman building
Shelby Park
Nashville is the ultimate place to combine peaceful outdoor activities with the energy of a major city. Enter Cumberland Kayak, a company that offers tandem kayak rentals from Shelby Park, down the river, under historic bridges, and past Nashville's glittering new skyline -- including a nice view of our iconic, Batman-like AT&T Building. Along the way couples can float past the massive General Jackson showboat and get up close with the critters who call the river home. Ending at Cumberland Park, wrap up the date with a stroll across the pedestrian bridge before getting rowdy at one of the honky tonks down on Lower Broadway.
Catch a show at the "Mother Church of Country"
Downtown
The venerable Ryman Auditorium is consistently named one of the top performance venues in the country by both spectators and performers. Acts from all sorts of musical genres are scheduled throughout the year, but any chance to sit in those ancient pews and soak up the history of the place is worth a visit. Despite its nickname, they don't just host country acts; David Byrne, MGMT, and The Decemberists will play there this spring. With acts like that -- and we won't sugarcoat it -- you'll spend money -- serious money -- on any of the top concerts here, but you won't regret it either.
Honor the musicians and instruments that made Music City famous
Downtown and Belmont/Hillsboro
Tucked away on the ground floor of the Municipal Auditorium is the Musicians Hall of Fame where both headliners and sidemen are recognized for their mastery of their instruments. Over at Belmont University is a little-known gem, the GIG (Gallery of Iconic Guitars), where you have the chance to observe some of the rarest instruments in the world up close. Admission is just $5.
Go honky-tonking on Lower Broad
Downtown
While the weekends are turned over to the tourists and the bachelorettes, the music is still great and the beer is still cold midweek at the famous clubs and taverns of Downtown between 5th and the river on Broadway. You have to look hard to find a bad band, so go enjoy some free music and a longneck bottle with your date at reliable joints like Robert's or Layla's.
Keep your eye on the calendar for great events
Various locations
Finding fun things to do is deceptively difficult -- even in a wild city like this one. That's why we keep a regularly updated, comprehensive calendar of the best possible events, activities, and things to do in Nashville. Some of your best date ideas will inevitably come from there.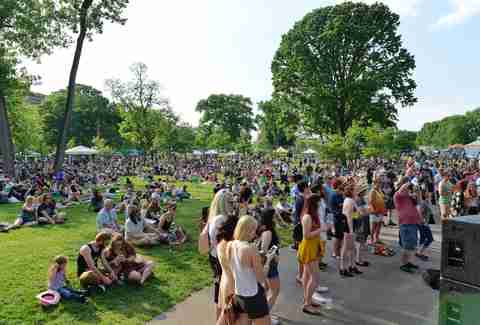 Hear why it's called "Music City" in Centennial Park
West End
When the weather's nicer, Musicians Corner is a recurring mini weekend music festival highlighting Nashville's unparalleled talent. An all-day affair, it's the perfect opportunity to plop down some lawn chairs, sample local brews, and relieve yourself from the pressure of picking a date night dinner spot, because local food trucks are on hand.
Bowl, sip, and take a dip at Pinewood Social
Downtown
One of the most popular bars in the 615, Pinewood Social makes for a great date year-round. Though when the heat starts to turn up in Tennessee, the dipping pools at Pinewood Social are the place to cool off the steam. Sipping on frosé surrounded by Airstreams is quintessentially Nashville, and if the pools just don't feel right, the patio area is a great place to unwind before heading inside for an expertly crafted cocktail and bowling in the back area.
Head up to Love Circle
West End
Hidden in the hills of Nashville and tucked away between some mighty fine real estate, Love Circle is a charming knob of a hill with sweeping views of Nashville's ever-growing skyline. With plenty of space to spread out in the warmer months, it's the ultimate spot to toss down a blanket, grab take-away from one of the best restaurants in the city, and have a charming sunset dinner complete with mood lighting from Nashville's legendary fireflies.
Indulge in America's favorite pastime (and some booze and snacks)
Germantown
When the Nashville Sounds moved to First Tennessee Park, minor league baseball became a major league deal. The perfect setting for a date night, a Sounds game obviously comes with a few innings of baseball, but true love is usually found at The Band Box, a 4,000-square-foot bar and restaurant found in the stadium. Chow down on pimento cheese hot dogs, wash 'em down with a whiskey and coke Icee, and even play a round of cornhole. The sparks really fly during Friday night games, which end with an explosive fireworks display.
Make a crawl down Division
Midtown
Outside of Lower Broad, this little strip of Midtown is the second booziest block in town, stretching from The Red Door to Kung Fu Saloon. In between you'll find pizza, craft beer, Winners, Losers, and a whole lot of trouble to get into.
Tour Nashville's neighborhoods and the restaurants that define them
East Nashville, SoBro, and Midtown
Walk, Eat Nashville offers five different walking tour itineraries of East Nashville, SoBro and Midtown with trained food writers acting as guides to carry small groups into some of Nashville's most iconic restaurants to meet the chefs and sample the food that made them famous. You don't have to wait from your relatives to visit to discover a new favorite dining spot. Ticket prices and tour lengths vary.
See the city's finest murals and Instagram the hell out of your relationship
Various locations
From the angel wings in the Gulch to the Welcome to Nashville sign on the side of Reese Witherspoon's building in 12 South, Nashville is selfie city, so set up your own personal scavenger hunt of some of the most iconic street art in town. You'll also discover that most of them are within a block of a decent bar, so make a drinking game of it!
Sometimes you can't beat a simple craft beer-and-pizza outing
Music Row and West Nashville
TailGate Beer is one of the best breweries in Nashville, offering 30 different flavors of beers at both their production facility in West Nashville and their taproom closer to downtown, and many of the flavors are exotic options like Peanut Butter Milk Stout or Grapefruit IPA, so non-hardcore beer drinkers can usually find something they'll like. Plus there's pizza and a full liquor bar, so fun for everyone!
Break out of a locked room together
Downtown
Although it might be easier with a bigger group, the Escape Game will let couples play by themselves as they attempt to solve the clues within the allotted time to be released from a locked room. Think of how proud your date will be of your teamwork and chemistry together... if you manage to figure it out.
Show how smart you are and that you'd be a fine addition to the gene pool
Downtown
Geeks Who Drink is a national bar trivia group that puts on fun competitions all over town, but their Wednesday night stop at Acme Feed & Seed may be the best of the lot. Plus, after you're done, there are three floors plus a rooftop of entertainment and drinking to be enjoyed at Acme. It's even got sushi.
Go climb a wall (or a bunch of them)
West Nashville
Climb Nashville has become one of the town's favorite athletic date nights, thanks to multiple indoor climbing walls, yoga, and fitness classes. You can literally put your life in your date's hands to prove your trust and commitment to each other! (Or let a pro belay you.) It's affordable too, especially if you get multi-day passes.
Take a loop around the lake
Oak Hill
If you've never had the pleasure, Radnor Lake State Park is a pristine natural area right in the middle of a Nashville suburb. Multiple trail options range from a flat and peaceful stroll around the lake to fairly rigorous trails that take you up on top of the rides for some breathtaking views.
Crawl around the art galleries of downtown
Downtown
Every month, more than 20 galleries and studios throw open their doors for the First Saturday Art Crawl to showcase all sorts of different styles of art for a great free way to get a little culture. There are also drinks and snacks at many of the stops, so it's a better-than-free cheap date.
Get rubbed down
Downtown
A few months after the impressively sleek new Westin downtown opened, they announced that they had added a Rhapsody Spa to their facility. The luxury day spa offers all sorts of treatments, but spoil yourself and each other with a couples massage to take the edge off the week or to recover from a night of frivolity.
Catch a flick at Nashville's most beloved theater
Hillsboro Village
Since reopening after a full remodel in 2016, the Belcourt Theatre has again established itself as the best place to see a movie -- any movie -- in Nashville. From art films to the movies that get all the Oscar buzz, the Belcourt screens the best of the best, and you can enjoy a beer or a cocktail while you sit together in the dark.
Get your date to laugh at somebody other than you
Melrose
Zanies has been hosting national touring comedians for decades, and our hometown location still features some of the same acts, like Joel McHale, Iliza, or Jon Lovitz, that you would normally just sit at home on the couch and watch on Netflix. Get out of the house and support your local live entertainment instead.
Knock a few balls and knock a few back on the green
East Nashville
Since TopGolf opened up across the river from downtown, it has been packed with golfers of all abilities trying to hit a round ball with a crooked stick into large illuminated targets spread out in front of them on a huge field. Whether you're successful at that or not, you can always enjoy the energy of the crowd, some surprisingly good food and drink, and any playful teasing that comes with it.
Zipline at the zoo
South Nashville
OK, it's not a traditional zip line, but here you actually get to sit next to your date and fly over the Nashville Zoo at 28 mph. Not a thrill-seeking sort of couple? No problem. The zoo has plenty to see and do that's not 110 feet off the ground, like gawking over a sleepy sloth or petting a baby kangaroo. Just keep an eye on the calendar because the zoo hosts annual beer and wine events that shouldn't be missed.
South Nashville
With over 800 vendors from thirty states converging in Music City each month, the Nashville Flea Market is a great spot to learn about each others taste. From antiques to handmade goods and vintage clothes to classic country records, the market offers a huge selection to comb through. Toss in some favorite local food vendors and a dose of Tennessee sunshine, and a first date here might just turn into a tradition.
Toast to the warm weather during a local wine tasting
Arrington
A measly 25-minute drive south of Nashville, Arrington Vineyards is the place to escape the typical Downtown date night for a taste of the Southern countryside. Start a day at Arrington with a wine tasting before exploring the vineyards with a bottle of your favorite variety. Even better, live jazz and bluegrass musicians play out Saturday and Sunday while Nashville food trucks park on site every Friday through October.  
Sign up here for our daily Nashville email and be the first to get all the food/drink/fun the Music City has to offer.