Summer is rapidly approaching. June has just given us a sweaty backhand of heat right to our sunburnt faces, with humidity so stifling, so uncomfortably sticky, that you even start to consider stand-up paddleboarding on the Cumberland. Lucky for you, there's a much better option for staying cool. Head outside the city and into the great outdoors for Tennessee's natural swimming areas provided by the lakes, rivers, and waterfalls. Here are the best swimming holes around Nashville -- and across Middle Tennessee.
Distance from Nashville: 15.6 miles 
Located in the most visited state park in Tennessee, the 256ft Fall Creek Falls is one of the biggest waterfalls in the eastern United States. Other waterfalls within the park are Piney Creek Falls, Cane Creek Falls, and Cane Creek Cascades, with gorges for swimming. There's also a swinging bridge over the swimming hole where locals like to dive into the water.
Distance from Nashville: 11.6 miles
The designated swimming areas at Percy Priest are off Anderson Rd and Cook Recreation Area, and cost a entry fee of $5 per vehicle. There are great spots for cliff jumping like Hole-in-the-Wall Island and Elm Hill Marina, but most of them will require a boat to get to, as security in the surrounding neighborhoods is tight. And as with any cliffs you decide to jump off, do so at your own risk, and probably bring a GoPro.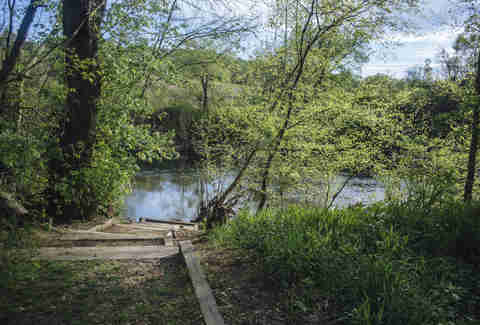 Distance from Nashville: 18.2 miles
The park runs along 40 scenic miles of the Class II Harpeth River, a popular route for canoe and kayak trips, and there are several swimming holes and rocky beach spots along the way. There are also numerous upstream and downstream access points for beginners and advanced kayakers. Try the five-mile float with several small beaches to stop for a swim, or visit the Narrows of the Harpeth to see one of the oldest (1818) man-made tunnels. The 100-yard tunnel and former mill is hand-carved from stone and empties into a small swimming hole on the other side. 
Distance from Nashville: 23 miles
Long Hunter State Park, in Hermitage, consists of 2,600 acres of hiking trails, boating, and lakeshore camping. Follow the Bryant Grove Trail (four miles), which connects the designated swimming beach at Bryant Grove with the Couchville Lake area along the shore of Percy Priest Lake.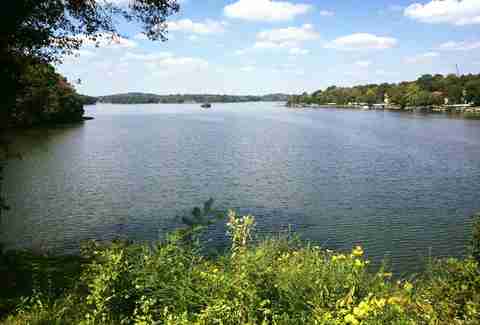 Distance from Nashville: 28.5 miles
Old Hickory Lake is a 22,500-acre reservoir created by the Old Hickory Dam on the Cumberland River. There are three designated areas for swimming: Old Hickory Beach, Cedar Creek, and Laguardo. Entry fee is $4 per vehicle, and guests can hike along the Old Hickory Lake Nature Trail, or grill out at the picnic shelter by the beach. 
Distance from Nashville: 37 miles
The Stones River consists of three forks: West, Middle, and East. Along the East Fork of the Stones River is the Old Mill beach and swimming hole. There's also a tree swing, but be sure to always check the depth of the water as it can change throughout the year.
Distance from Nashville: 37.9 miles
The beach on Acorn Lake is free, and open daily through Labor Day weekend. There are 94 campsites available for overnight trips, 19 miles of hiking trails, and three lakes for fishing, boating, canoeing, and kayaking.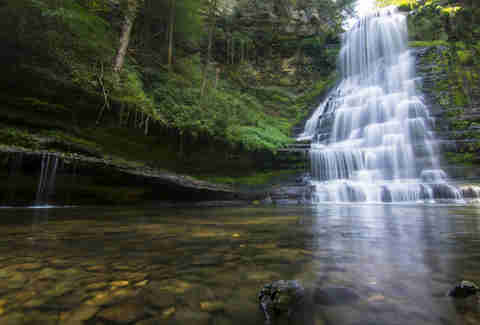 Distance from Nashville: 67.4 miles
Guests of the bed & breakfast have long boasted about the 40 acres of serene forest, Cooper's Lagoon swimming hole, and the 90ft Carmac Falls, but you don't have to stay overnight to see it for yourself. Day visitors are welcome to hike the trails and take a dip in the lagoon -- with a reservation and purchase of a boxed lunch. 
Distance from Nashville: 69.2 miles
The 90-acre natural area of Stillhouse Hollow Falls is located in the appropriately named Summertown, TN, which is 21 miles southwest of Columbia. There's a 75ft waterfall less than a mile hike from the entrance. Below the falls is a small, but incredibly serene, swimming hole. 
Distance from Nashville: 72 miles
A 30ft waterfall in Tullahoma, TN, cascades into a pool of water that stays refreshingly cold year-round. The natural area is free and open to the public, but privately owned. The owner simply requests that you be respectful and clean up after yourself.
Distance from Nashville: 83.3 miles
One of the most scenic swimming holes in Tennessee, Cummins Falls State Park is a 211-acre day park, featuring a badass 75ft waterfall. A 2.5 mile (round-trip) hike takes you to the falls, which empty into a deep gorge that's perfect for spending a day swimming and sunning on the rocks. The descent into the gorge is steep, so use caution. The land was privately owned until acquired by the Tennessee Parks and Greenways Foundation and sold to the state as Tennessee's 54th state park. 
Distance from Nashville: 85.2 miles
Rock Island State Park offers both a natural sand beach (located off Center Hill Lake) and several swimming holes throughout the 883-acre park. Great Falls is a 30ft, horseshoe-shaped waterfall, and Caney Fork Gorge features scenic overlooks, waterfalls, and deep swimming holes.  
Distance from Nashville: 91.2 miles
South Cumberland State Park stretches across more than 25,000 acres and nine separate counties. The Grundy Lake area has a man-made beach just four miles from the visitors center. There are several waterfalls that provide refuge from the heat with year-round cold water. No jumping here though; gorges are too shallow. However, they're perfect for swimming and lounging. Greeter Falls is an excellent spot in the Savage Gulf area and is only a one mile hike to the falls.

Sign up here for our daily Nashville email and be the first to get all the food/drink/fun the Music City has to offer.