As a Nashville local, here's something I never thought I'd ever say: "I spent a Saturday night on Broadway and actually had a good time." Lower Broad is the heart of Music City and chock full of historic gems ready to show you what it really means to honky-tonk. So why don't the locals spend more time there? For one, bachelorette parties. But in all seriousness, Lower Broad isn't just for the tourists if you know where to go. And once you do, you'll holler and swaller with Nashville pride.
Where to drink
A four-story, speakeasy-style saloon, The Valentine is a relatively new addition to Lower Broad. Start your evening at the rooftop bar with a Baby Face Julep or a Buckshot (and keep the flask for later). If you enjoy a little history with your cocktail, grab a round at Merchants' downstairs bar and imagine what it must have been like at the old Merchants Hotel circa 1892 when $.50 got you a night's stay and warm meal. Order a drink made with local whiskey like the Blood & Sand with Corsair Triple Smoke (sadly, not $.50), and don't skip out on the duck fat tater tots.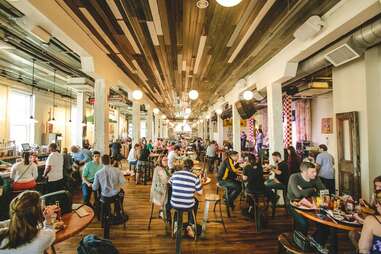 Where to eat
There are several options Downtown to enjoy great food with a lively atmosphere that won't slow your momentum. At Acme Feed & Seed, you'll get your fill of the local delicacy -- Nashville hot chicken -- on the first floor, or you can hit up the sushi bar on the second floor, which has a less-crowded bar, lounge area, and arcade games (and you can always return to first floor for dancing later). The Pub 5 patio is perfect for smaller groups and overlooks Bridgestone Arena and the corner of 5th Ave and Broadway. It's a laid-back, casual dining spot that offers healthier options compared to others in the area, and the beer list is curated by the same craft-centric minds that own 12 South Taproom.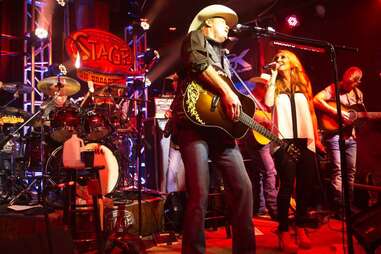 Where to hear music
There are four places you'll never be disappointed at: Tootsie's, Robert's, Legends, or The Stage. Lower Broad is famous for launching the careers of country giants like Willie Nelson and Kris Kristofferson. When those are the boots to fill, not just anyone with a guitar is allowed on stage around 10pm on a Saturday night. The weekend crowds can give honky-tonk a bad rap, but if you hit it at the right time on the right night, you'll hear some of the best musicians in the game. And some play every night of the week like John Stone & the Trailer Park All-Stars, who have played the Tootsie's stage for more than a decade. The best part? Besides the fact that country stars are known to pop by for an impromptu jam session, it's all free. Just don't forget to tip the band. They will call you out.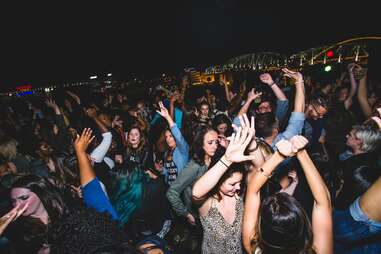 Where to dance
Where to start? This is the turning point where your night can end at midnight... or 3am. So you better get it right. Get your funky tonk on at Acme Feed & Seed. On the first floor, you can find anything from swing to R&B and salsa. Every Saturday on the Acme rooftop is Way UP! Dance Party with Coach & Rate until 2am (and if you can get up tomorrow, their Soul Brunch with Charles 'Wigg' Walker is a total blast). Historic Printers Alley is only a couple blocks away where there's Bourbon Street Blues & Boogie Bar with Nashville favorites like Stacy Mitchhart and Corey Mac. And just down the alley is Skull's Rainbow Room with late night burlesque shows like Madam Hazel Jones' Rhinestoned Revue, which is backed by a live band and goes till 1am on weekends.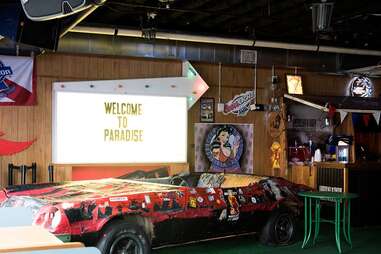 Where to fourthmeal
Why not get a head start on nursing that impending hangover? The 24-hour Sun Diner Cafe is a recent -- and much needed -- addition to Lower Broad's late-night crowd. Next door to The Johnny Cash Museum, the diner pays homage to Sun Records legends like Cash, Elvis, and Jerry Lee Lewis. Originally founded in Memphis, Nashville is now the homebase for Sun Records -- and Sun Diner's glazed donut breakfast sandwich. If that doesn't pique your interest, however, there's always Paradise Park Trailer Resort that has the sweet satisfaction that only grease at last call can provide. And you have until 4am to get those chili cheese fries to-go.
Sign up here for our daily Nashville email and be the first to get all the food/drink/fun the Music City has to offer.