Summer is almost officially over, and we promise that the Nashville summer heat and humidity will eventually give way to the autumnal climate that draws locals out of the A/C again and into the great outdoors. This season we've got great music festivals, fall foliage, Oktoberfest, and a lot more to look forward to. So pull the long sleeves out of the closet and make plans to enjoy everything that Music City has to offer this fall.
Recommended Video
HearseCon Is the Biggest Hearse Event of the Year
September
Ongoing
Country Music Hall of Fame
Even if you think you're too cool for old school country, the Country Music Hall of Fame is a local treasure that every Nashvillian should take advantage of. Current ongoing exhibits feature the history of chart-topping mother-and-daughter duo the Judds and the heroes of country music's wild 1970s era, including WIllie Nelson, Bobby Bare, Waylon Jennings, and a raft of other stars who could probably mop the floor with some of the pencil-thin "Bro Country" acts of today.
Cost: $25.95
September 6-23
This off-Broadway smash is coming to Nashville as part of a production by local fave Nashville Repertory Theatre. These profane puppets drink, cuss, screw, and sing their way through side-splitting songs like "What Do You Do with a B.A. in English?," "Everyone's a Little Bit Racist," and "The Internet Is for Porn." Leave the kiddies at home.
Cost: $35-$57.50
September 9-16
Various locations
Nashville is certainly best known for country music, but the town is also a major center of the Americana movement. Every year, roots music takes center stage as songwriters and performers showcase their talents at clubs all over town that are designated as official Americanafest partners. A major music conference takes place during the days, but it's the 500+ performances at more than 60 venues that draw the locals.
Cost: $75
September 13-16
Academy Park
If you missed out on the chance to watch Nashville Shakespeare Festival's mounting of A Midsummer Night's Dream during its run in Centennial Park, the group is taking their annual summer production on the road to Academy Park in Franklin. Take advantage of the extension to enjoy the Bard under the stars.
Cost: $10 suggested donation
September 14-16
Downtown Nashville
Celebrity chefs from your favorite cooking shows join local culinary heroes for three days of tasting events, live cooking demos, and music at this popular food festival downtown. Graze under the tasting tents and sample beer, wine, and spirits or meet some of your culinary crushes at Saturday's Harvest Night party in Hall of Fame Park. Nashville rockers Kings of Leon are curating the musical guests performing after Harvest Night, and this year's theme is disco, so bring your bell bottoms.
Cost: $85-$125
September 18
Bridgestone Arena
In what might be the biggest Canadian musical import to hit Nashville since Shania Twain first slipped on those leather britches, Drake is bringing his "Aubrey and the Three Amigos" tour to town for a show as part of a 41-date tour. Millions of fans can't be wrong, eh?
Cost: $49-50-$176.50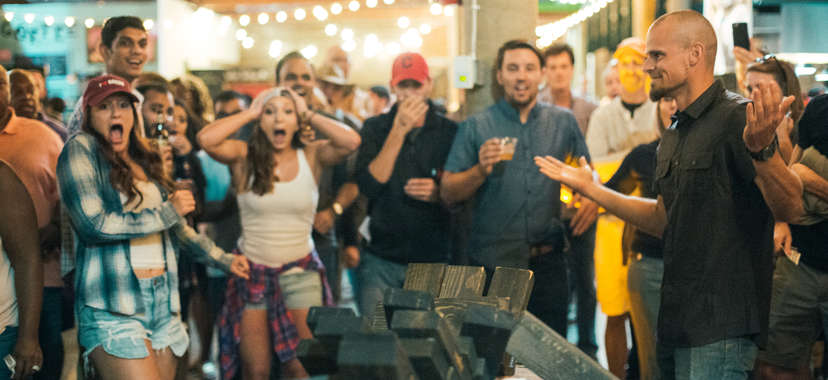 September 18
Green Door Gourmet
It's almost cheating to advertise an event based around bacon and bourbon, but you know what The Kinks said: "Give the people what they want!" Bacon & Barrel is an evening of food tastings featuring smoky, porky goodness provided by local restaurants combined with whiskey samples from a global array of fine distillers. Sounds like a good night for an Uber.
Cost: $39
September 30
Nissan Stadium
Hope springs eternal for Titans fans who have never again experienced the highs of their first season at their Nashville home field in 1999 when they fell a yard short of possibly winning the Super Bowl. So when the Eagles fly into town, we want what they have. Buy a ticket and arrive in full throat to taunt those dirty birds.
Cost: $127-$300+
October
October 2
Ryman Auditorium
Sure, some of their songs may just be extended dirty jokes (See: the lyrics to Pants) and they may depend on their schtick of dressing up disguised in gauze, but the lowdown is that Here Come the Mummies are one of the funkiest party horn bands touring today. The rumor is that they are all top session players who have to dress up to avoid breaking exclusive recording deals, but whatever the truth is, they are gonna flat out rock the Ryman.
Cost: $29.50-$49.50
October 4
Tennessee State Museum
If you've driven down Rosa Parks Boulevard over the past couple of years, you've doubtlessly noticed the huge construction project rising out of the ground behind the farmers market. The modern building will house the huge expansion of the Tennessee State Museum, a living monument to the history of your state. It will open with a bang on October 4 and then accept history buffs of all ages to visit their 137,000 square feet of exhibit space.
Cost: Free
October 9
Bridgestone Arena
Your hometown hockey heroes the Nashville Predators open their home schedule at the Bridgestone Arena against the Calgary Flames. As part of the celebration, they'll hoist banners to the rafters to commemorate their first Central Division title last season and their President's trophy as the winningest team in the NHL in 2017-18.
Cost: $40+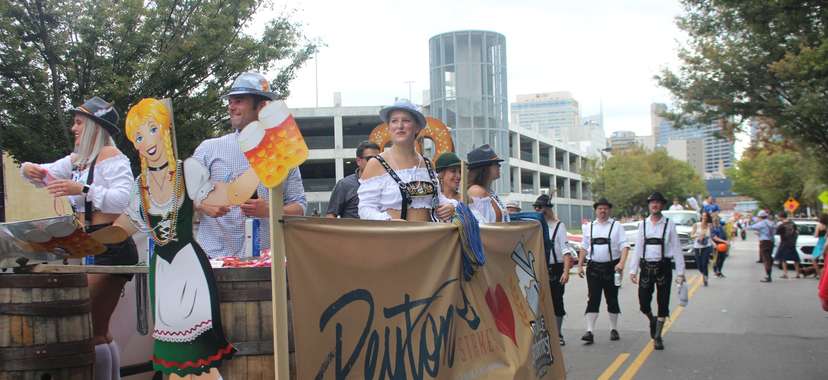 October 11-14
Germantown
Since 1980, Nashvillians have gathered in the Germantown neighborhood to celebrate everything Bavarian, especially beer and brats. Pretty much the whole section of the city shuts down for this massive street party with beer stands every couple of blocks, live German music, a Dachshund Derby, a 5K Bier Run, and all sorts of other fun activities. Go ahead and plan to take Monday off.
Cost: Free
October 12-January 6
Frist Art Museum
"Paris 1900: City of Entertainment" is the name of an exhibition at the Frist Art Museum that will take visitors back to the time of the Paris Exposition Universelle. The exhibit will feature more than 250 works including paintings, decorative art, costumes, posters, photographs, jewelry, and sculptures that have previously been exhibited in local Parisian museums.
Cost: $12.00
October 12
Bridgestone Arena
Actor, comedian, writer, director, rapper, and DJ: Whatever Donald Glover attempts, he's probably better at it than you are. So you'd better just give in and enjoy how talented this dude is by watching him perform as Childish Gambino at the Bridgestone Arena. Heck, he'll probably be his own opening act.
Cost: $45-$125
October 12-28
Nashville Zoo at Grassmere
Kids can come in costume and trick or treat while parents socialize at this fun alternative Halloween event at the Nashville Zoo at Grassmere. Many of the animals are nocturnal, too, so you might see some exotic zoo denizens up past their normal bedtimes as you stroll around the ground of Grassmere. The park fills up fast, so buy your tickets in advance.
Cost: $16
October 12-14
Legislative Plaza
For one weekend every October, downtown Nashville becomes the center of the Southern literary universe as authors gather to give lectures, readings, and sign books all around Legislative Plaza. Publishers and booksellers will have their wares for sale in tents around the plaza, and you'll have the chance to get up close and personal with all sorts of literary luminaries from the worlds of fiction and non-fiction.
Cost: Free
October 12-14
Centennial Park
You'll cancel your Etsy account after a visit to Centennial Park this weekend where true artisans display their wares for sale. The participating vendors are all selected by a jury of professionals, so you won't find the tacky college football-themed birdhouses or quilted baby headbands that proliferate other tackier craft fairs. If you only attend one crafts exhibition this year, make it this one. And bring money.
Cost: Free to browse
October 15-22
Douglas Corner Cafe
Nashville is a town of storytellers, so it's about time we finally get to be part of these two popular love storytelling series. The Moth is a national network of events where participants share experiences based on a theme, live and without notes. Tenx9 features nine volunteers getting up on stage for 10 minutes to open their hearts and recount events form their lives in front of an appreciative audience. Go just to listen or sign up to share.
Cost: $11 for the Moth, free for Tenx9
October 27
Tennessee Central Railway Museum Station
There's nothing more calming than the clack-clack-clack of a train running along the track, so you might have to struggle a bit to stay awake on this diverting train trip aboard a vintage engine and box cars from Nashville to Baxter, but luckily you'll have the lovely changing fall foliage to hold your attention. During your layover before the return trip you'll enjoy crafts and food booths spread around the streets of the quaint town.
Cost: $60-$160
November
November 6
Various locations
Tennessee prides itself on many things, but the state finished dead last in voter turnout during the last national election cycle. We don't care who you vote for, but there are some important races being contested in the state including governor, U.S. senator, and all of our congressmen, so be sure to visit your local polling spot to make your voice heard. Plus, the archaic law mandating the closing of liquor stores was repealed in 2013, so there's that.
Cost: Free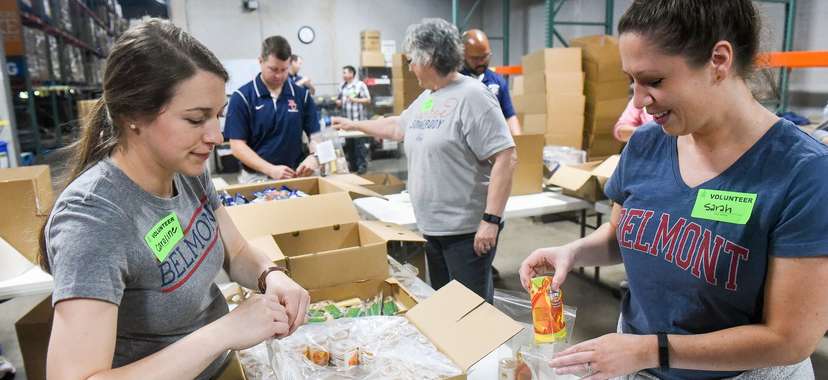 November 10
The Barn at Loveless Cafe
This is the 35th edition of the Second Harvest Food Bank's largest annual fundraiser. Head to the Barn at Loveless Cafe for an evening of food, drink, furious silent auction bidding, and music from one of Nashville's most rocking party bands while you help raise money to help fight hunger in our community
Cost: $250+
November 11
Schermerhorn Symphony Center
The Nashville Symphony Orchestra usually plays music written by composers so old that they're actually decomposing now. So perhaps that makes the fact that they will be playing a show of songs by the Rolling Stones a sign that time really is on their side. We wouldn't be surprised with Keith makes it another 50 years anyway.
Cost: $55-$95
Sign up here for our daily Nashville email and be the first to get all the food/drink/fun the Music City has to offer.