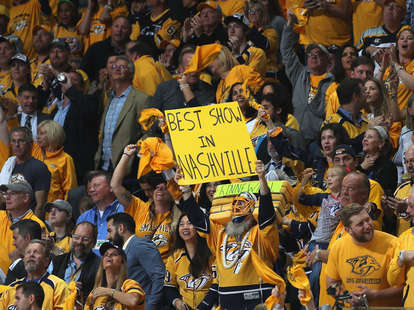 Dave Sandford/National Hockey League/Getty Images
Dave Sandford/National Hockey League/Getty Images
"He shoots, he scores, you suck!"
"It's all your fault! It's all your fault!"
"We're gonna beat the hell outta of you, you, you."
"He sucks! He sucks, too!"
Watch a Nashville Predators game and that's what you're going to hear. On top of tossing catfish onto the ice, the fans have another tradition they're insanely proud of -- mercilessly heckling the opposing team with a series of well-rehearsed chants like 17,000 schoolyard bullies.
It's a staple of Preds home games at Bridgestone Arena, and if you've been watching the 2017 Stanley Cup playoffs, you probably had to turn on closed captioning to understand what the announcer is saying. They're so intense with their coordinated insults that they nearly broke the Guinness World Record for loudest crowd at an indoor sporting event. So, if you've been wondering just what the hell they're yelling and why they do it when they do, here's a handy guide to the screaming in Smashville.
It all started in the nosebleeds
Before Nashville even had an NHL franchise, it was a decidedly minor league hockey town, with an ECHL team known as the Knights banging heads in the much more lowbrow Municipal Auditorium before the current EnormoDome was constructed on Broadway.
A corps of hardcore Knights fans made the jump to the big leagues when the Predators entered the NHL for the 1998-99 season, and three of them chose to establish a cheering section up in the cheap seats. Named after their section number, Cellblock 303 was born, led by music manager Mark Hollingsworth, aka The Warden. To make the games more exciting, the friends worked up a series of taunts and chants, some original, others lifted from minor league and college hockey traditions, and some cribbed from European soccer hooligans. What set them apart from other NHL fans was the enthusiasm and creativity of the heckling, more akin to the rabid SEC football crowds down here. Just like the catfish throwing, a random idea -- basically, "let's get some season tickets up in the rafters and come up with funny taunts" -- created a tradition.
They have specific targets
Their dedication and enthusiasm grew in popularity, and after a few years the entire arena started joining in the fun. At first, some fans were reticent about the Cellblock's frequent use of "sucks" -- this is the polite South, after all -- but eventually decorum gave way to the disdain of the visiting team. Now, they start the psychological warfare before the puck is even dropped.
You might have heard it before game three of the Stanley Cup Finals, when NBC aired the Pittsburgh Penguin player introductions live. It's the same routine every time: After an opposing player's name is called, the crowd screams "sucks!" A special variation is saved for the opposing coach's intro: "He sucks, too!" After six "sucks" and a "he sucks, too," the network decided not to include that portion of the broadcast for Game 4.
The main vitriol, though, is reserved for the other team's goalie. When he lets a puck get by him, the crowd erupts in a raucous, synchronized cry of, "He shoots! He scores! You suck!" Then the assembled Predators fans begin to repeatedly chant the goalie's name, just to remind him of his failure.
Penguins goalie Matt Murray got it rough during the latest games at Bridgestone. After each of the seven goals he let up this series, the Predators were quick to remind that he was not playing his best: "Murrrrraaayyy. Murrrrraaayyy. Murrrrraaayyy. You suck!" For good measure, they added, "It's all your fault! It's all your fault! It's all your fault!" To his credit, Murray was surprisingly even-tempered in his reaction to the ruthless chiding. "It was loud. It was really loud," he said. "Passionate fan base, and it's what we expected."
They're musically inclined, too
This is the Music City after all, so it's no surprise that Nashville locals excel at screaming in rhythm (and sometimes, in multi-part harmony). But it's after goals that the fans really show off their musical chops.
There's no muting it on TV -- when the Predators score, the crowd celebrates by singing along to a customized version of local hero Tim McGraw's "I Like It, I Love It," which then transitions into "Gold on the Ceiling" by transplanted Nashville rockers The Black Keys. Rather than use the latter tune's lyrics, the fans sing, "Hey, you suck!... We're gonna beat the hell outta you, you, you... " It's a surprisingly complex rhythm, but they've got it down pat.
They also chant for free food
Another refrain you might hear revolves around a promotion with local Wendy's restaurants, where fans receive a complimentary Frosty if the Predators score four or more times. And boy do folks here scream for a free cup of frozen dairy -- after a third goal, the traditional "Let's go Predators! (clap, clap, clap-clap-clap)" is replaced by "We want Frostys!" This once led to some confusion during a game against the Penguins a few years back, when a local sports writer thought fans were taunting Pittsburgh star Sidney Crosby by yelling "We want Crosby!" As one Cellblock regular said, "No one up there would chant 'We want Crosby!' unless it was appended with a suggestion Sid the Kid do something that is possibly pleasurable but anatomically impossible."
You might overhear some crasser things like that on Sunday, when the series returns to Nashville for Game 6. The Preds are facing elimination, so it's guaranteed the fans will be louder, rowdier, and madder than ever. If all goes to plan, the 17,000 people in Bridgestone and the 100,000-plus watching outside will be singing "you suck!" and "it's all your fault!" plenty of times throughout the night, and then making plans to watch the Game 7. And hey, maybe they'll even get a free Frosty, too.
Sign up here for our daily Nashville email and be the first to get all the food/drink/fun the Music City has to offer.
Chris Chamberlain is a food, drink, and travel writer as well as a Nashville Predators season ticket holder. He prefers his penguins locked up in zoos. Follow his opinions about the offside rule on Twitter @CeeElCee.