While dispelling some of these rumors may make one sound like a broken record, it would surprise you how many tourists still come to Nashville and are -- well, surprised, to find that Nashville is more culturally, culinarily, and sonically diverse than it gets credit for. We're proud to represent country music and hot chicken, but there's so much more to love about Music City. There are things you'll find to be true: free live music, anywhere, anytime; the chicken is that hot; no one likes a Blackhawks fan; all worship at the Mother Church. But the following eight rumors about Nashville are decidedly false.
Everyone wears cowboy boots and hats
Aside from Canadian tourists on Lower Broad, and a few old school country crooners, no one in Nashville walks around in a cowboy hat. And while a good pair of boots is a staple in every Southerner's closet, Nashville prefers less boots and bling and more high fashion (and preferably local brands). You're more likely to see labels like imogene + willie, Elizabeth Suzann, Otis James, Nisolo, Emil Erwin, Black by Maria Silver, Amanda Valentine, and Ceri Hoover represented in everyday street fashion. The city is steadily gaining traction as a fashion destination, and, through the Nashville Fashion Alliance (est. 2015), actively working to overcome previous obstacles like production and textile availability that may have deterred designers from opening shop before.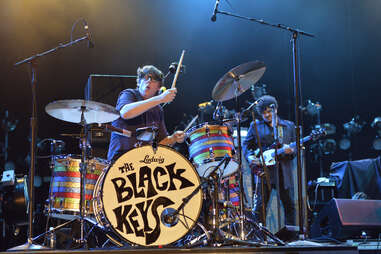 Music City is ALL country music
The nickname "Music City" originated in the '50s with WSM radio host David Cobb, referring to the city as a national hub for all varieties of music -- at the time, everything from country to blues, gospel, and pop were being recorded here. The Fisk Jubilee Singers were the first local musicians to give Nashville international recognition when they toured Europe in 1873. Artists of all styles, from Elvis (Presley AND Costello), Bob Dylan, Neil Young, Joan Baez, R.E.M., Lionel Richie, and Jon Bon Jovi to Paramore, The Black Keys, Kings of Leon, The White Stripes, Ben Folds, Ed Sheeran, and Meghan Trainor (among many others) have recorded here.
Nashville is definitely not a culinary destination
The Nashville food scene is more than just biscuits and bacon. While we proudly represent our hot chicken and meat & threes, our culinary landscape is as diverse as our music. And with the success of new restaurants and artisan food shops established by award-winning chefs and reality TV stars -- Maneet Chauhan, Jonathan Waxman, Richard Blais, Dale Levitski, and Sean Brock, among others -- the celebrity sightings are becoming as much about the chefs as the musicians.
Isn't music the only art Nashville really has?
Nope! There are extraordinary facilities bringing one-of-a kind experiences and world-class exhibits to town, like the Frist Center for the Visual Arts (its current exhibit, Treasures from the House of Alba: 500 Years of Art and Collecting, is a must-see); OZ Arts Nashville, with its year-round calendar of innovative, contemporary performance art; Cheekwood Botanical Garden and Museum of Art, a 55-acre estate and historical landmark dedicated to art and horticulture; the 5th Avenue galleries; and the historic Arcade (if you're visiting the first weekend of the month, the First Saturday Art Crawl is a unique experience). There's even the mobile site ExploreNashvilleArt.com, which will guide you through more than 120 public art installations.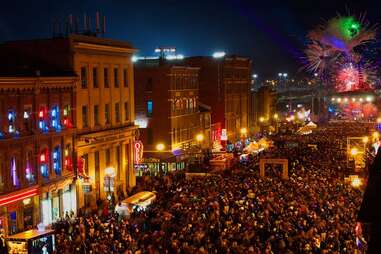 It's so expensive to visit
Crazy, right? Some people actually believe this. While hotel prices can be high in the busy seasons -- increasing the popularity of local AirBNB rentals -- rooms still average about $178 per night compared to New York's average, $246. Food and drink prices are relatively cheap compared to other major cities (though you shouldn't order anything with Red Bull on Lower Broad), and most of the entertainment in town is practically free. There's live music in almost every bar, every night of the week,and all it will cost you is a generous tip -- provided you like what you hear (which you will). And one of the greatest perks of Music City is that it's not uncommon for famous musicians to jump on stage at any given bar for an impromptu jam session. Those rumors are true.
The only place to party is Lower Broad
You're a tourist. You're thinking of hitting Lower Broad. ABORT ABORT. Here's why: the nightlife in surrounding neighborhoods is just as good, if not better, than what you get during the day. There are great restaurants in East Nashville, Germantown, and 12South (The Treehouse, City House, and Urban Grub, respectively), not to mention some of the best music venues and dive bars, like Marathon Music Works (Germantown), The 5 Spot (East Nashville), Springwater Supper Club & Lounge (West End), and The Bluebird Café (Green Hills). And walkability is no excuse with access to Uber and Lyft now available.
The traffic is terrible!
As painful as it is to admit, it's not, especially compared to the traffic in a larger city. Nashville is undeniably growing at an impressive rate -- approximately 80 new residents a day, according to the Nashville Chamber of Commerce -- so to locals, it feels like a constant gridlock. But to others, a 30-minute commute is perfectly normal, manageable even.
The best whiskey is distilled 90 miles away
Have we mentioned Nashville loves local? While Jack and George are pioneers in Tennessee whiskey, you're less likely to hear their names at the local bars. And visitors are catching on. Local favorites are Belle Meade Bourbon from Nelson's Green Brier Distillery, any variety from Corsair Distillery (try the quinoa whiskey blend), and SPEAKeasy Spirits Distillery, with its Pennington's Rye and Whisper Creek Tennessee Sipping Cream, which'll easily give Baileys a run for its money.
Sign up here for our daily Nashville email and be the first to get all the food/drink/fun the Music City has to offer.
Kendall Gemmill is a Nashville native who welcomes all tourists, especially ones with really big hats.