Everything You Must Do in Murfreesboro, Tennessee
A 45-minute drive in either direction from Murfreesboro will put you in Music City or between the mountains. But there's plenty to keep you busy in the 'Boro, and the Southern hospitality is just as alive there as it is across the state. If you're a Nashvillian needing a change of scenery, an out-of-towner exploring lesser-known Tennessee locales, or a native looking for some new adventure, this city has something for you. Here are our top picks for the best things to do in Murfreesboro.
Get a taste of Tennessee history
History buffs will love Murfreesboro for its ties to the Civil War. You can visit the Stones River National Battlefield, where the Battle of Stones River took place, as well as view the Stones River National Cemetery. If historic homes are more your thing, tour the Oaklands Mansion, a historic plantation home that hosted prominent visitors during the Civil War, or Cannonburgh Village, which depicts Tennessee lifestyles in the early 1800s.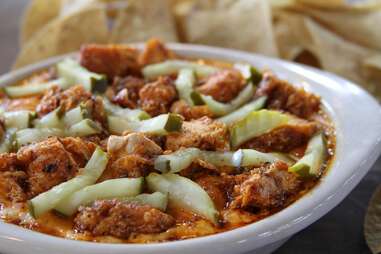 Grab some Southern eats
Murfreesboro has a bunch of great dining experiences, but here are the two you absolutely must check out. The Alley on Main is a scratch restaurant with hand-cut steaks and Southern staples like catfish and fried pork chops. (Don't forget the homemade desserts!) The Goat is a laid-back, upscale restaurant and pub known for its ranch, and beer cheese-soaked tater tots with a long list of brews, wines, and spirits.
Sample the pours at Mayday Brewery
Beer lovers will have a blast at Mayday Brewery, enjoying pints in the tap room or sampling the various beers during Saturday brewery tours for $12, and taking home a growler or two. Mayday hosts many events and parties, so check their schedule beforehand.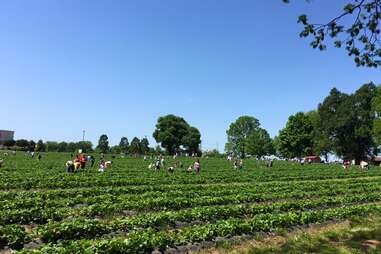 Pick berries at a centuries-old farm
Berry picking is a Tennessee tradition, and Batey Farms is the best place to do it here. It's an eighth-generation family farm producing berries, produce, and pork products, where you can hand-pick strawberries, blueberries, and blackberries. The venue provides the container, while you pick the goods and pay by the pound.
Walk a few of the many scenic trails
Murfreesboro is not short on scenic trails. Old Stone Fort Archeological Park features, naturally, a stone fort that was used briefly by Native Americans, but was built thousands of years ago. It offers several trails, but the main one travels along the wall of the fort itself. Plant enthusiasts will like the trails at Flat Rock Cedar Glades and Barrens, which wind along cedar woods, hardwood forests, and grassy & rocky glades. Or, if you plan to venture into the Stones River Battlefield area, hit up the Murfreesboro Stones River Greenway System for hiking, biking, fishing, and more.
Open your wallet at The Avenue's stores
If you want to shop till you drop, look no further than The Avenue. You'll find more than 100 stores within the open-air shopping center, including local food and clothing boutiques and bigger-name chains like Barnes & Noble and Old Navy. You can easily rack up a huge a bill here, so budget accordingly.
Be a kid again with thrill rides and arcades
Arcade-goers will love the family-friendly parks in Murfreesboro. GO USA Fun Park offers arcade games, batting cages, mini-golf, a driving range, and go-karts. (Batting cage sessions are $1!) Lanes, Trains & Automobiles features 32 bowling lanes, laser tag, arcade games, bumper cars, and a food menu with pizza, sandwiches, wings, and salads. Want an adults-only arcade scene? Check out Attack Barcadium, which offers a rotation of classic arcade games and a whole lot of beer.
See live music at the honky-tonks and bars
Murfreesboro doesn't have Nashville's music scene, but it does offer some live music joints. Hank's Honky Tonk offers a great menu, open mic and karaoke nights, and live music on the weekends. Wall Street often offers live entertainment, including music and comedy, and The Goat, Mayday Brewery and The Boro Bar and Grill also frequently have live music. You can also check to see if any shows are playing at Main Street Music during your stay.
Stroll through the beautiful downtown square
Murfreesboro has a quaint downtown area with a walkable public square. If the weather's nice, wander around and pop in and out of local boutiques, gift shops, and pubs. Shop, eat, and pamper yourself, and be sure to stop by Hattie Jane's Creamery for a cone, float, and/or espresso!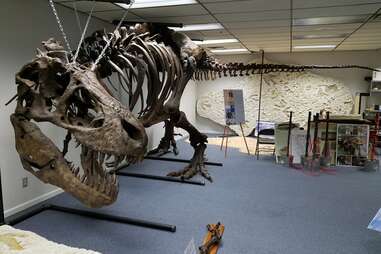 Check out dinosaurs and fossils at the museum
If you dig dinosaurs (pun intended) and other archeological finds, you'll appreciate MTSU's Natural History Museum. It's the state's first natural history museum and showcases dinosaurs, rocks, minerals, and fossils. The museum has displays from all over the world, including a cast of a 38-foot-long T. rex, but many of the exhibits are from right here in Tennessee. Admission runs you just $7.
Roam through (or drink at) the Wetlands
Murfree Spring Wetlands is a 25-acre park with trails and raised boardwalks winding through the wetlands. Nature lovers will appreciate the opportunity to see a variety of birds in their natural habitat, and kids will enjoy the on-site playground. The Wetlands also provide easy access to the Discovery Center, which visitors can enter for $8 and enjoy exhibits with animals, adults-only parties, and much more fun stuff.
Sign up here for our daily Nashville email and be the first to get all the food/drink/fun the Music City has to offer.
Lauren Hamilton is a Nashville-based freelance writer and a lifestyle and relationship blogger. Follow her on Instagram and Twitter, or check out her blog, modwife.co.